The Top 10 Roles We'd Like to See Domingo Take on Next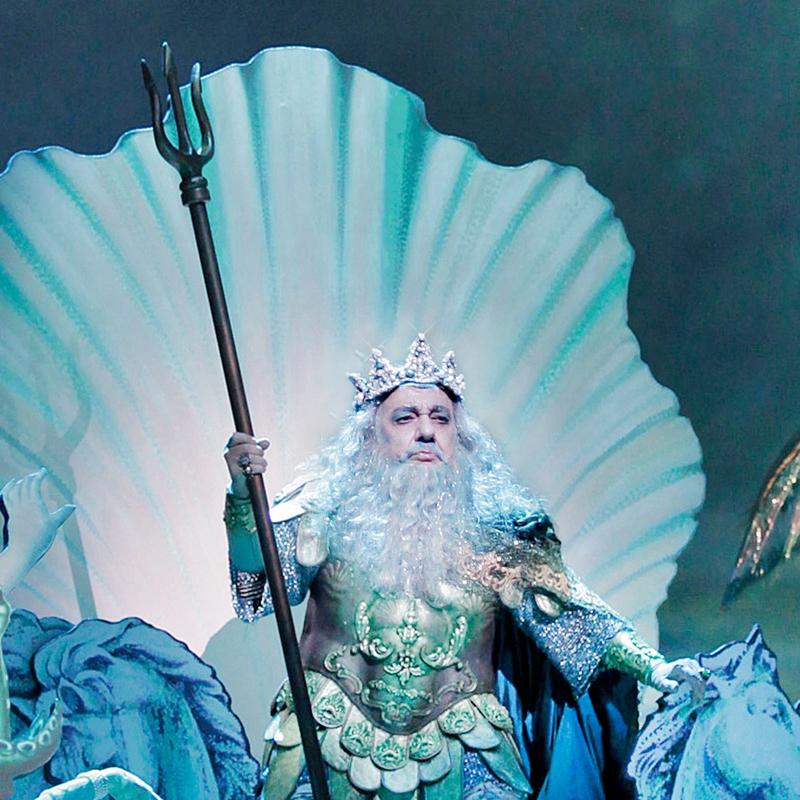 With his debut as Neptune in the Metropolitan Opera's world premiere of The Enchanted Island, Plácido Domingo tops off his repertoire list with a staggering 138 roles.
There are the obvious progressions—he jumped from singing Altoum and Pang in Turandot to taking on the starring role of the Calaf over the span of the 1960s—and the more unexpected turns such as going from a notable Duke of Mantua to the titular hunchback in Rigoletto. He's exceeded the boundaries of light dramatic tenor rep to take on baroque and contemporary works and lyric and heldentenor parts.
So what's next? A colleague of mine is fond of saying that Domingo, who turns 71 next week, will finally keel over at the age of 137 after completing the grandmotherly role of the Kostelnicka in Janacek's Jenufa. It's not too far off from reality, and so with that in mind we count down the top ten roles Domingo should add to his rep before then. Read on for our picks and let us know: What roles should Domingo take on in this new stage of his career? Leave your thoughts in the comments below.
10. Vere (Billy Budd)
I put this role low on the list only because Domingo's English diction is not up to snuff with his Italian or French, which proves complicated in Britten's intricate and eloquent libretti. But the composer's centennial is upon us, Domingo has yet to step into his territory and there's a whole casket of parts—Peter Grimes, Peter Quint, Aschenbach—that's waiting to be opened (aided by the hands of a diction coach, perhaps).
9. Baron Ochs (Der Rosenkavalier)
Since, in some fantasy worlds (this one included), Domingo can take on contralto and soprano rep, it only makes sense to conversely extend him even further into the basement of his voice as this basso bumbling baron. He's had a run in Rosenkavalier as the Italian tenor and took on Der Kaiser in Die Frau ohne Schatten, so this would up the Straussian stakes quite nicely.
8. Herod (Salome)
On the other hand, Domingo could stay in the tenor rep to play this Biblical king with a flair for excess and a wandering eye. His older age and stature would, like Neptune in The Enchanted Island, make this a role full of regality and renowned accrued over the course of a 50-plus-year career. And who doesn't want to see him play lascivious?
7. The Sorceress (Dido and Aeneas)
Tease out his upper register into the countertenor range and you could easily see Domingo wreak havoc as Purcell's witch—a role that would dovetail nicely with the tenor's recent Baroque work. That the opera is a cool hour would also mean that it's a stepping stone for the contralto and soprano roles that are bound to happen as soon as Domingo becomes a centennial man.
6. Toby (The Medium)
It's a fact well known among those who have sat within 50 feet of the prompter's box that Domingo, while musically proficient, is not entirely in command of the libretto. Solve that problem by having Domingo play a mute role. In lieu of a foundling, the servant boy can be a homeless man taken in by Monica and Madame Flora. This has regie wonder written all over it.
5. The Witch (Hänsel und Gretel)
The Met's current production of Humperdinck's fanciful classic makes good use of the men-dressing-as-women conceit (which is in stark disproportion to the number of women-dressing-as-men in opera). Philip Langridge may have left some mighty big shoes—and chest padding—to fill, but who wouldn't want to see Domingo go all manic and sugar-crazed?
4. Scarpia (Tosca)
Since Domingo has tangoed with two major baritone roles already (he reprises his interpretation of Simon Boccanegra later this month), why not take on one of the baddest and boldest jewels in the rep? You could even pull a Gheorghiu-Callas duet and have a video made of Domingo as Scarpia torturing a younger Domingo as Cavaradossi. You're welcome, Deutsche Grammophon.
3. Bégearss (The Ghosts of Versailles)
Here's a role actually worth grabbing while you can. In his older age, it would be fan-freaking-tastic to see Domingo take on "The Aria of the Worm." And it's high time that Domingo got meaner in his roles—even Boccanegra and Rigoletto, while flawed, are still pretty tame. Get nasty, Plácido. Get nasty.
2. The Countess (Pique Dame)
I mean, this role has Domingo written all over it. Tchaikovsky's elderly countess was once called the Venus of Moscow and Domingo has certainly earned his place as the Casanova of Opera. They're both legendary, mythical figures in their own worlds, and you can just hear him ooze over the words in her Act II aria aching for the halcyon days of yore. I may just get a Kickstarter page and make this happen myself.
1. Mazeppa (Mazeppa)
It's not the first role you'd expect someone to shout out, but think about it: A morally ambiguous old man marries his much-younger goddaughter to fatal scandal, fails in his attempts to usurp the reign of Ukraine and ultimately abandons his wife (who has gone mad after seeing her father killed at her husband's decree)? This is a dramatically delicious role and, whether or not you buy Domingo as a baritone, it would be pretty hard to not buy a ticket to this.