Better Know Ensemble Amorpha
From Q2 Music, Better Know an Ensemble introduces new music in new places, by bringing you in-depth, multimedia-rich portraits of young ensembles from across the globe. Through interviews with ensemble leaders, BKaE examines how groups have gotten started, what they're working on and the goals they envision for  the near future. We launch this series with a portrait of London-based Ensemble Amorpha. 
The London based chamber music twelvesome, Ensemble Amorpha, isn't your average English hat and cane. Besides their commitment to an international array of living composers, they also write and perform much of their own work. Under the direction of Artistic Director, Luke Styles, Ensemble Amorpha has performed concerts at Kings Place and the Austrian Cultural Forum. Between theater, film, circus and dance (POLAR Project) or partnering with Junior Trinity Music College, Ensemble Amorpha is expanding the avenues of accessibility to today's new music.
Here's a sample of their music: Slogan 1 by Luke Styles
An Interview with Ensemble Amorpha's Luke Styles
When and how did Ensemble Amorpha begin?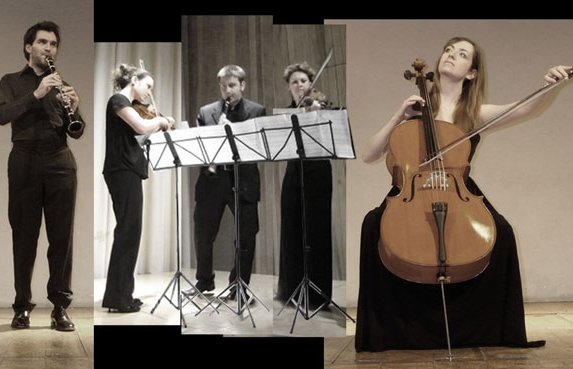 Ensemble Amorpha began in late 2009 early 2010. I had recently moved back to London from Karlsruhe/Germany where I had been studying with Wolfgang Rihm and I decided that I wanted to bring the plethora of diverse new music voices that I had heard on the continent to the UK new music scene. The musicians I brought together to do this were a mixture of friends and professional contacts all united by a genuine desire to perform new music and to explore cross-genre collaborations. The musicians were also driven by an urge to play some of the amazing chamber music that they had had opportunities to perform as students at music institutions but as professional musicians found such opportunities less frequent.
The name Amorpha is a plant but also sounds like the verb, morph. Where does your name come from and how does it accurately capture the type of ensemble you are?
Amorpha can also mean without form and this suites us as we are always changing shape. We have 12 musicians, but we are always appearing in different combinations of this core 12. Our projects are always different and change their approach/format for new music.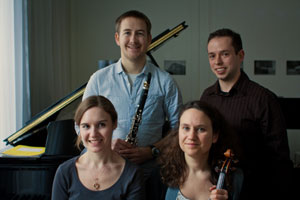 What composers or repertoire is EA most interested in and what is it not interested in?
Ensemble Amorpha is most interested in the music of living composers from around the world, as well as focusing regularly on composers based in the UK. We are also dedicated to working with composers who use the theatrical, cinematic and multimedia in their practice. We perform music from previous eras that falls within the concept of a project. We have performed baroque and renaissance music as part of a project for the ICA and will do so again in 2012 at the Handel House in London, we have also programmed Schubert and Schoenberg in our upcoming performance at the Austrian Cultural Centre in London. So we aim to unite all strands of music as long as it serves the concept of a project.
EA appears to be quite involved in theater and film? How did this symbiosis begin?
This began from a desire to put contemporary music into as many situations as we could make it work. We saw a lot of performance that used fairly generic pop or electronic music and we believed that the experimentation of the theatre should be matched by the innovation in new music. So we have formed partnerships with dancers, directors, filmmakers and artists that believe in this also or are willing to give it a try and we have only had successful collaborations thus far.
Will you talk a little in depth about the Modern Silence project and how this came to fruition?
Modern Silence was one of the first projects that I wanted to do with Ensemble Amorpha. I had been commissioned three times by the Karlsruhe Silent Film Festival and wanted to bring some of this work to the UK but also to put a new spin on the work I had done at this festival. The idea was to blend new music for new and historical silent films alongside music that is intimately connected to film. Hence we commissioned filmmakers and composers to work on new silent films together and I set about finding concert works that reflected this silent film aesthetic. I quickly remembered that there was a work Schoenberg had written as library music essentially; so film music for a nonexistent film. This work Accompaniment to a film scene, Op. 34 is an orchestral work, so we commissioned the American born, UK-based composer Darren Bloom to arrange the piece for us. We threw in George Benjamin's Piano Figures to the mix, which I find particularly visual and we had our programme.
What plans or dreams do you have for the future of the ensemble?
As we look towards 2012 and 2013 we have ambitious plans to tour Switzerland, produce our first opera project and continue our partnership with the British Film Institute amongst many others. We wish to be able to offer more and more commissions to composers and artists and perform in new spaces and take new music into areas that are genuinely new.
Ensemble Amorpha is led by Artistic Director, Luke Styles. The musicians inlude Alexandra Wood, violin; Fiona Winning, viola; Louise McMonagle, cello; Eilidh Gillespie, flute; Timothy Orpen, clarinet; Thomas Lessels, clarinet; Catriona MacKinnon, oboe; Lauren Weavers, oboe; Alison Farr, piano; Erika Ohman, percussion; Damon Lee, electronics; Luke Styles, electronics.
A Fetus In America from Ensemble Amorpha/Luke Styles on Vimeo.