Seasonally-Appropriate Opera Programming
The end of the world may still be 11 months off, but there's nothing like a little early Armageddon in the dead of winter.
While Götterdämmerung is famously associated with the summer Bayreuth Festival, when it opens at the Met on Jan. 27 there will be something pretty poignant about spending a long January evening trekking through the five-and-a-half hour finale to Wagner's Ring Cycle. Much of any opera house's scheduling depends on who (and, in the case of production rentals, what) is available when. But there's also a chef-like sensitivity at play, with the keenest companies fashioning their seasons as Michelin-worthy menus.
We just came out of a stretch on the calendar dominated by family-friendly operas built around Christmas, as my Operavore colleague Fred Plotkin recently discussed, and bubbly operettas like Die Fledermaus taking center stage on New Year's Eve (a particularly beloved tradition in cities like Vienna and Budapest).
But what about the rest of the year? There's something about the eternal sunshine of Mozart's flawless scores that lends them to work especially well in the summer (hence the Mostly Mozart Festival). But that excludes Don Giovanni, which, perhaps because of its ghostly aspects, is a frequent fall presence—recent productions at New York City Opera, the Met, Dallas Opera and San Francisco Opera have all opened in October. Conversely, the bleaker and thornier works of Berg and Britten seem to go down better in Spring when long days and milder weather cushion the downfalls of Lulu, Wozzeck or Billy Budd—all of which have run (or, in Billy Budd's case, will run) at the end of the Met's season in April and May.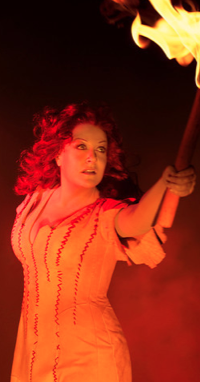 "There is no scheduling dictum that requires less popular fare to only be placed at the end of the season," says the Met's general manager Peter Gelb at the mention of this. "We attempt to offer our varied repertoire in different combinations throughout the breadth of our season from September to May."
However, other artistic directors and general managers view things differently. In cases like Houston Grand Opera or the Minnesota Opera, which present far fewer productions than the Met, there's some variation with an eye on the calendar.
"If we had a repertoire slot available for Le Nozze di Figaro in the winter, it wouldn't occur to me not to do it in the winter because it would be better in the spring," say Patrick Summers, music director of the Houston Grand Opera. "But it does come up."
Summers added: "We have these strange traditions in opera of performing something like Hansel und Gretel for Christmas, which of course has absolutely nothing to do with Christmas or holidays." (The company counts among its future goals a series of commissions for holiday-themed works to play in their smaller theater.)
In HGO's case, presenting six to eight operas a year means that there is a lot of work focused on longer-term goals. The company presents its first Ring Cycle in 2014, a work that Summers points out was conceived by Wagner on some surface level as the four seasons. It demands a trajectory leading up to it that leaves the orchestra in a place to play such an opus.
"What we think about are significant birthdays like Verdi and Wagner," says Dale Johnson, artistic director of the Minnesota Opera, whose 50th anniversary season next year will include "a big celebratory piece." The company's goal to produce one new or modern work a year often leaves the work in the spring, which in Johnson's view gives them a chance to "build up an audience," though their world premiere of Kevin Puts's Silent Night this season ran in November, with in a tie-in to Veteran's Day.
This month, Minnesota showcases another seasonally-appropriate opera, Massenet's Werther. Not only is it a hot and heavy, albeit unhappy, romance that will leave many couples steamed for Valentine's Day, but its lush orchestrations and winter setting will complement the biting cold inherent to the Twin Cities at this time of year.
Cast availbility is also a factor, of course. Werther would not be a part of this season were it not for its two leads, with James Valenti in the title role and the doe-eyed Roxana Constantinescu as Charlotte. In a similar sense, HGO is producing Maria Stuarda this spring for Joyce Di Donato, much in the way that the Met has programmed Armida and Anna Bolena for Renée Fleming and Anna Netrebko, respectively. 
So is there a specific formula for a rock-solid season? Perhaps, but like any diet there are some specific concerns for each individual company. Works may seem to "feel" right at different times; just in the way that a hearty root vegetable stew is more likely to please on a blustery January evening than a dead-hot August afternoon or pumpkin sells around the pie-heavy holidays in November and December. And while most companies keep this in the back seat of the programming car, it never seems to take the wheel.
No word from the Met as to whether or not Götterdämmerung will play on December 21.
Are there works that you prefer to hear at different times of the year? What are your favorite winter operas? Leave your comments below.