Met's Götterdämmerung: Raging Against the Machine
Before we talk about the end of the world, let's talk about the end of the Ring.
After four installments that premiered over 17 months, the solvency of Robert Lepage's radical (depending on who you ask) new staging seems as dubious as Hagen's moral standing. The 45-ton set's creaks and thuds, more noticeable now than in September 2010's Das Rheingold, echo a theory postulated by this reviewer in the months leading up to this cycle's premiere: If Otto Schenk's Ring for the Met was a storybook set, Lepage's is a YouTube.
Unfortunately, while we keep returning to our familiar, beloved storybooks over the course of our lives, YouTube videos have a flash-in-the-pan shelf life. And, while Götterdämmerung does show the most inventive use of Lepage's so-called Machine so far, this Ring has nonetheless begun to turn, as the opening-night performance on Friday demonstrated.
One of the biggest problems has been the buzz surrounding this production. The word-of-mouth and all-press-is-good-press theorems are a boon to many Met departments, but they rumplestiltskin into a boy-who-cried-wolf phenomenon for the final artistic product. Instead of marveling at the set's oscillating centerpiece -- a series of 24 planks that pivot individually along a lateral crossbar -- we cringe at the possibility that one of those planks could detach or send a Norn (like the powerhouse Heidi Melton) into the Grand Tier.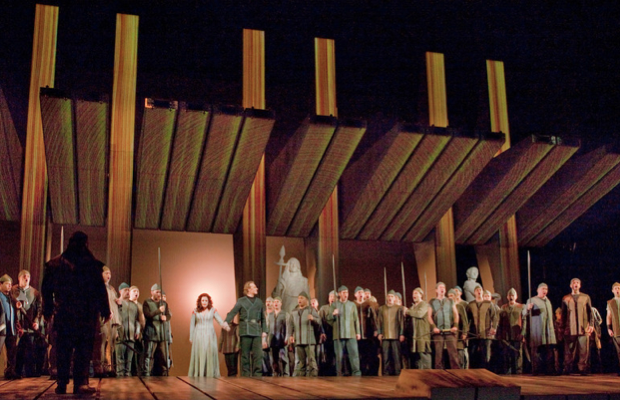 Act II of Götterdämmerung
Impressive are moments like Siegfried's raft journey and the transition from Brünnhilde's cave to the hall of the Gibichungs, moments tempered with abstract beauty and hints of literalism that dominated Siegfried. However, when it comes to the final blaze of glory—an immolation scene that destroys Valhalla and earth—the result is a damp squib. In Wagner's gesamtkunstwerk ideal, we would see the interior of Valhalla and the gods swallowed up by the flames. Here, a quintet of statues fashioned after Wotan, Fricke and other characters from Das Rheingold snap, crackle and pop under a heat that seemed on par with an overactive radiator.
All of this would be forgivable were the singers in the Ring cast making up for the bloodless Machine with some vibrant acting. Lepage has bemoaned the fact that, while his casts are eagerly received at curtain calls, "the guy who worked on that comes out and suddenly you're just the guy who has this big set that makes noise." In the same interview with the Seattle Times, he said of audiences, "Do these people know that some of that good singing and good acting they just saw came from hours and hours of introducing somebody to the part, or to confronting contradictory ideas with people who had been doing it for a long time?"
Okay, Lepage, let's play on your terms.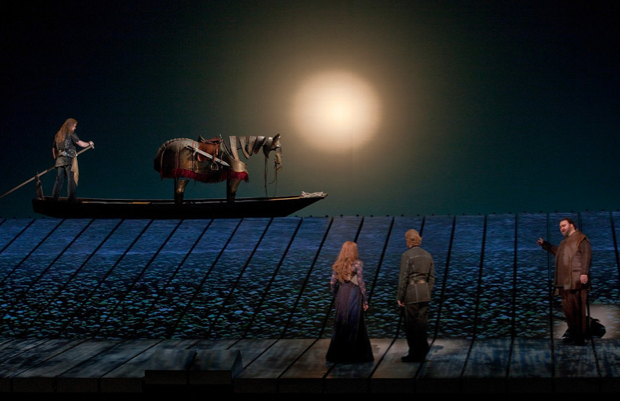 Jay Hunter Morris as Siegfried, Wendy Bryn Harmer as Gutrune, Iain Paterson as Gunther and Hans-Peter König as Hagen
It's perhaps more fair to attribute the superb singing—the cycle's best—on the Met stage last night to conductor Fabio Luisi. Beginning with the Vorspiel, he spun nebulous clouds out of Wagner's foreboding music and made a long, exposition-heavy first act a bearable step on the way to the luscious meat of Acts II and III. The lines are limned from the craggy imperiousness of Levine's Ring accounts, which will win Luisi both fans and detractors, but to my ears there was plenty of Wagnerian ravishing to go around—especially when the male chorus stormed into Act II with the force of a battering ram.
Much pressure is placed on Deborah Voigt and Jay Hunter Morris as the eponymous lovers from Die Walküre and Siegfried, respectively. In terms of character development, Morris (who sounds much more at ease with the role here than he did as a last-minute replacement for October's Siegfried) was the biggest letdown. His continued Ken Doll posturing and posing made the fearless character seem as heroic as the high school quarterback. Certainly Morris has prom king good looks and a look of eternal reassurance, but did Lepage seem to think that the product of sibling inbreeding would have to subsequently be bland and brainless?
More interesting was Voigt's Brünnhilde. It's a triumph for the soprano, whose ability to take on the role in Walküre and see it through to the end was questioned by many. It's been a striking, frankly beautiful transformation and on vocal terms she let loose here, occasionally sacrificing a pure top for emotional catharsis. No matter, as we needed something more interesting from her than slumped shoulders and a downcast head in her Act II return to the Gibichungs and an Immolation Scene more deferential than determined. Blame Lepage. (By the way, Debbie, you should seriously consider going firebrand redhead in real life.)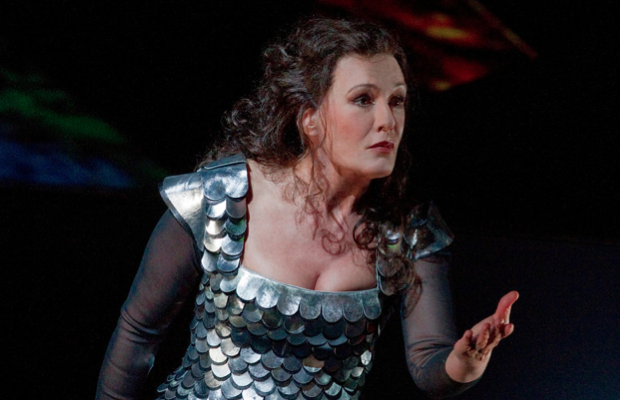 Waltraud Meier as Waltraute
The supporting cast knitted together as a solid ensemble and, in tandem with Voigt and Morris, saved Götterdämmerung from going over the edge. You live to hear singers like Waltraud Meier and Eric Owens in the momentary yet monumental roles of Waltraute and Alberich and their singing provided two of the evening's biggest highlights. Equally mesmerizing were Iain Paterson as a conflicted and commanding Gunther and Wendy Bryn Harmer as the clueless yet charismatic Gutrune. Tying it together was Hans-Peter König as evil mastermind and Niebelung progeny Hagen. How much of this all came from Lepage and how much can be credited to simply a sterling cast, however, is debatable.
As Siegfried tells Gunther in the first act, "Sturdy limbs are all I have and only now while I am young." The final caveat is what signals the genuine flaw of Lepage's Ring. In the course of roughly 15 hours, there are sturdy visual moments that perhaps accumulate to one-third of that time. In the meantime, there's not much about the Machine that's still young.