Meade is More in the Met's Ernani
There's more to the Tudor connection at the Met this week than meets the eye.
On February 1, David McVicar's season-opening Anna Bolena returned to the house for a quickie encore run with Anna Netrebko reprising her role as the star-crossed queen. When the production opened this fall, rising soprano Angela Meade shared in the role, and she is also back at the Met this week, this time in Verdi's Ernani, which opened Thursday night. Her role is Elvira of Aragon, the same provenance of Henry VIII's first wife, Catherine (whom he divorced to marry…Anne Boleyn).
As an even further link, Marco Armiliato leads both performances, showing only minimal signs of strain under the pressure of a cumulative seven hours of bel canto rarities. At times, the orchestra overpowered the male chorus in the opening scene—which seemed somewhat anomalous to a group of men who recently brought subtlety and assurance to Wagner's Götterdämmerung—but for the most part it was supportive and expressive, bringing a charge to Verdi's overlooked score.
In spite of some inconsistencies with brass, other players shined including bass clarinetist James Ognibene, who gave a sonorous introduction to Act III. It's only a pity that the manifold mobile phones that went off in the audience weren't able to follow along with the conductor.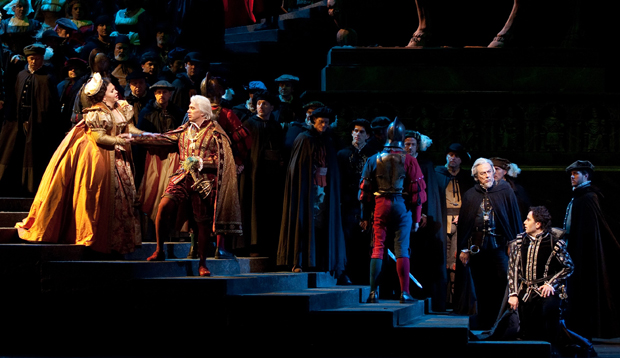 But what drew people to this revival, its first since 2008 brought Pier Luigi Samaritani's 1983 production back to life, was the old-school vocal power on display. Meade, who won the Met's seventh annual Beverly Sills Award this week, had made her professional debut as Elvira on the second night of the Met's 2008 revival of Ernani after Sondra Radvanovsky became ill. While somewhat shaky as Donizetti's titular Tudor, there was a greater assurance in Meade's Elvira. Perhaps the pressure was lessened from the Bolena run and unavoidable comparisons to Netrebko. Whatever the reason, we were thankful for it.
In her first act blockbuster aria, "Ernani! Ernani, involami," she turned from doleful urgency to a warm and tender girl in love (particularly in a syrupy, expressive lower register), adding in some Sills-ian trills for good measure. At times, she took her judicious temperance too far, stopping a triumphant top note in the same act's trio before it could fully bloom, but those are mere quibbles with what should be a true star-making Met performance.
The new talent was complemented by an old faithful in bass Ferruccio Furlanetto's de Silva, the uncle and fiancé of Elvira. A tireless presence on the Met stage this month, Furlanetto is perfectly suited to the Verdian old man repertory (Filippo, Zaccaria, Fiesco). In his own first aria, Furlanetto allows his stealth voice to wither with a hint of gray age, before pulling back the wrinkled layers to fully show off his alluded-to young, ardent heart driven wild by Elvira.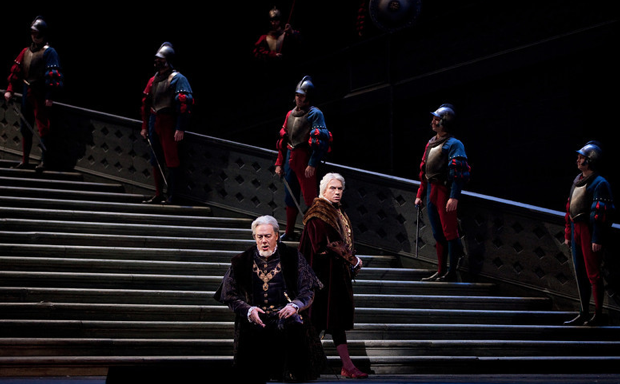 Filling in the four-play were newcomer tenor Roberto de Biaiso and venerated baritone Dmitri Hvorostovsky. For a singer who made his singing debut in 2006, de Biaiso's heft and maturity of tone was remarkable. He quickly took the reigns on his vibrato in his longing ode to Elvira and his desire to die if she cannot be his. Towards the end, there was a fine line tempered with a continued, sustained clarion note that evoked a warm, late-spring sunset—enveloping, balmy and radiant. It says a lot when fellow audience member Eric Owens, the Met's own Alberich, let out a stupefied "bravo" under his breath in between the final shade of overtone and the audience's applause.
Dmitri Hvorostovsky who, like Furlanetto, is a dream-come-true for the Verdian rep, seemed to be fighting off a seasonal cold last night. The phrasing was still there, with the Siberian tiger's trademark blend of tender and foreboding charisma, but it was bereft of heft. There were some chilling, growled "Non's" in his duet with Furlanetto and he brought out the big guns for his Act III contemplation of power and passion. It was muted, but still satisfying. Even more muffled at times was the women's chorus, but to be fair just about anyone against Meade last night was asking to be blown off the stage.
Most awkward was the reanimation of this impressive, but tired production full of stock gestures—phallic handling of swords and stabbings that would have garnered chuckles in Verdi's time—and short on directorial clarity. Ernani is an opera full of muddled loyalties, clunky reveals and sudden changes of heart, supplemented by an intricate score that makes up for the libretto's shortcomings. Rather than watching the singers navigate a treacherous and unending set of stairs that evokes little of Moorish Spain, it would be more prudent to see these four characters and their multifarious dimensions fully realized and accounted for in a more realistic and immediate way. What's truly remarkable is that, for a production that's nearly 30, it bears much in common with this year's new shows in McVicar's Anna Bolena and Michael Grandage's Don Giovanni. The more things change...
Photos by Marty Sohl/Metropolitan Opera