A Shrinking Violet Gains Some Strength in New York City Opera's La Traviata
New York City's waltz with La Traviata has yielded some complicated steps over the years.
Recently, Franco Zeffirelli's 1998 production for the Met, which explodes with giddy excess endemic to its title character's "live-fast-die-young" modus operandi, hung up its fainting couches to make way for a stark Willy Decker import from Salzburg, dominated by an ultra-symbolic ticking clock. And then next door, there was the case of New York City Opera's opposite about-face: A 1991 production by Nicholas Muni placed Violetta's death in an AIDS ward and surrounded Verdi's heroine with sex, drugs and bel canto music.
The company quickly retired the production four years later for a less imposing version by Renata Scotto that resembled a quaint pop-up book. Violetta's trademark shift from a white dress in the first act to a black dress in the second incurred fewer outcries, but didn't do much to capture the balance of intimacy and grandeur that has made the opera one of the most popular nearly 160 years after its premiere.
That the beleaguered City Opera chose this same work to open their crucial, make-or-break season touring Manhattan (and, in this case, Brooklyn) with this same work was perceived by many to be a safe choice, offsetting an adventurous new work by Rufus Wainwright opening next Sunday, also at the Brooklyn Academy of Music. However, brainy opera lovers—one of City Opera's main, and most vocal, demographics—have a supernatural devotion to Verdi's tart-with-a-heart. A failed production could ruin this season before it got off the ground.
And with the cacophony of labor disputes still ringing in many ears, there was a sense at yesterday afternoon's opening of "Is this really happening?" It seemed at any moment the full house, thanks to a donation that made all remaining tickets a steal at $25, could be turned around and sent back to the gate at any minute. The anxious atmosphere was heightened with an overture overshadowed by coughing to rival Violetta's and an odd amount of audible conversation.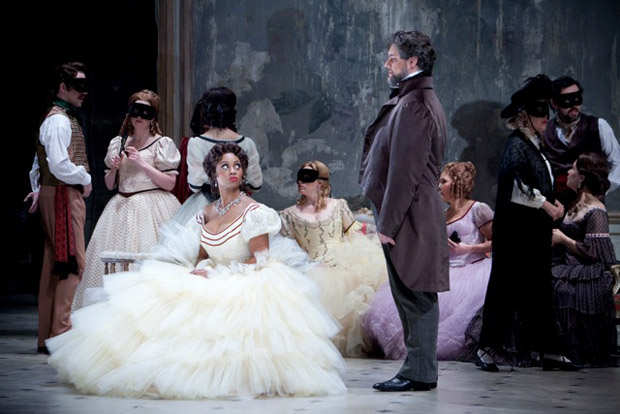 Laquita Mitchell as Violetta. Photo: Pavel Antonov
But then the B-section of Verdi's overture, a nostalgic and hearty "oom-pa-pa" offsetting a haunting, ethereal introduction of gauzy strings, came like a sock to the jaw courtesy of conductor Steven White and his nuanced, glittering read of the score. The undercutting cello line, disrupting the idyll with a jagged memento mori was fraught with tension before dreamily descending into the waltz.
That's how you make a comeback.
This newest production of Traviata, coming via Glimmerglass and Vancouver Opera, attempts to strike a balance between previous incarnations. Director Jonathan Miller adopts a typically austere—apparently everyone in 19th-century Paris had the same wallpaper supplier—approach, one that seems on par with City Opera's new fiscal mantra under George Steel. Here there is no black and white; just pastel shades of grey. Violetta's Act I dress, worn at a party in her Parisian salon, seems more like something out of her Act II country wardrobe. Likewise, her dress worn at Flora's Act II party is a preposterous five-tiered yellow organza number that makes her look like a grandiose cupcake.
But for the aesthetic shortcomings of Jonathan Miller's world are some of the most affecting moments of acting you're likely to find in a contemporary Traviata. A trained physician, Miller favors a naturalistic approach to opera. Here you believe that a love that percolated for a year comes to fruition in one duet, caressingly sung in part by David Pomeroy whose caramel-hued tenor allowed each note to stretch out in a buttery blend of dark and light, barely touching Violetta in observance of contemporary social mores.
It made up for a Brindisi whose long-awaited opening was marred by a nonsensical late seating by the BAM ushers (Pomeroy also knocked his Act II aria out of the park with a dolce tone and lusty immediacy, charging into an agitated cabaletta). When Violetta faints, her protector in the Baron Douphol checks in on her as he would any other investment, before going back, disaffectedly, to his newspaper. The revelries for which he presumably pays are maintenance costs for his love life.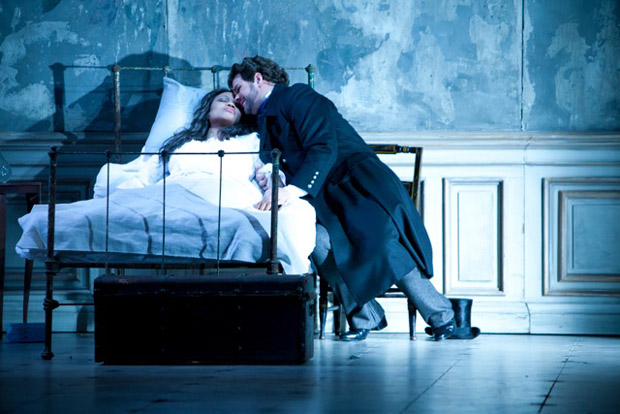 Laquita Mitchell and David Pomeroy as Violetta and Alfredo. Photo: Pavel Antonov
Social consciousness permeates the opera, with Downton Abbey–style interactions between courtesans, the men who keep them and their servants. Miller punctuates iconic moments in the opera, like the pause between the departure of the guests in Act I and Violetta's internal monologue "È strano." Then there's a moment following Violetta's duet with Alfredo's father in which the two look a downward, desolate glance at each other, and then stare ahead once again before Violetta sighs, "Ebben?" ("Well, then?"). And you don't dare breathe when Alfredo, after cursing out Violetta, turns to find himself face-to-face with his father.
There were, of course, missteps. A moment where a messenger delivers Alfredo his fateful Dear John from Violetta overstays its welcome with the man waiting for a tip and taking away from Alfredo's nervousness. In the following scene, a riding-crop-brandishing Flora and the Marquis d'Obigny flirt with warped kinkiness but, frustratingly, never consummate the relationship. But on the whole, Miller's explorations of the intimacies and intricacies of a work dominated by grand emotions and even grander orchestrations shone remarkably well in BAM's opera house. One wonders if the same effect would have been achieved at the former New York State Theater.
Likewise, Miller eschews what many sopranos look forward to the most when singing Violetta, a final victory lap as they feel their strength returning before dropping dead in the opera's final moments. Instead, Violetta is bedridden, barely moving throughout the final act. When Alfredo enters, he is struck in the doorway, dumbfounded, and you can imagine the stench of death and the shock of seeing a loved one wasted away. It's riveting when Violetta actually does make subtle movements or pulls herself up by the footboard to let out a ringing "Gran dio!" True to character, her final note is cut down in its prime, and you have to stare hard to see the moment at which she expires, making for one of the most affecting Violetta deaths I've seen.
All of this leads up, of course, to City Opera's newest Violetta. Homegrown soprano Laquita Mitchell carried a significant burden on her shoulders yesterday, taking on a challenging role with a company that sits at the eye of a media hurricane. And she did periodically buckle under the pressure. Her response to Alfredo in their first love duet, "Un di felice eterea" was measured with octave jumps that did not always land with precision. What should have been a tour-de-force in "Ah! Fors'è lui" and "Sempre libera" was muted with unsustained, raspy top notes and shrinking violet moments that left her off-key and shaken in spite of a mesmerizingly acted performance.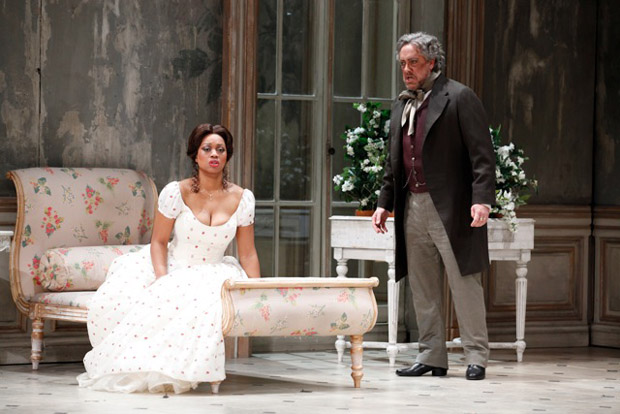 Laquita Mitchell and Stephen Powell as Violetta and Germont. Photo: Carol Rosegg
Mitchell brightened up in the subsequent acts, aided in no small part by Stephen Powell's powerhouse Germont (his "Di Provenza il mar," a sunsoaked andante bid for his wayward son to return, was one of the highlights of the performance). She gave a martyred, wrenching "Dite alla giovine" in response to his pleas of ending her liaison with his son. Ironically, she was at her strongest in the final act when she is mere moments away from death, with earthy final "E strano" to contrast a soulful "Addio del passato."
It begs the ultimate question: If this is indicative of the season ahead for New York City Opera, one with less than 20 performances, can it sustain a survival for the company? One could make the argument that George Steel himself is in a Violetta-like position at the moment, programming from a place of passion and pleasure and, according to detractors, not thinking enough of the partner in his relationship: his audience. City Opera needed the wild applause it received yesterday; whether or not that's indicative of a cure for the company's financial TB remains TBA.