Old-Time Religion Lives in the Met's Khovanshchina
Curiously enough, with an all-star Russian, Ukrainian and Georgian cast, the biggest name in the Met's revival of Mussorgsky's Khovanshchina is a Frenchman.
Choreographer Benjamin Millepied, who helmed the dance numbers in Black Swan (and also co-helmed a child with the film's star, Natalie Portman), was tapped to create a new ballet of Persian slaves, his debut with the Met.
But, as Napoleon learned in 1812, the French have nothing on the Russians. Millepied's reimagined response to Mussorgsky's dramatic epic fell flat with uninspired fetishism. It sighs in the direction of orientalism but cannot be bothered to arouse or offend, more content to passively writhe. Fortunately, it's a mere ten minutes or so out of an opera that clocks in at just over four hours. And the remaining 240-ish minutes (depicting the 1682 Moscow Uprising) are some of the best heard at the Met this season.
The struggle between traditionalism and radicalism still rings vitally relevant today, and one cannot help but feel the parallels in the story of warring factions within an opposition to Peter the Great. Prince Ivan Khovansky, head of the elite military Streltsy, and Dosifey, a noble who turned in his fortune to become a monk and leader of the Old Believers predate the GOP by over 300 years. Continued breakdowns between the two parties leads to exiles, executions and a final immolation scene that showcases Mussorgsky's hand for writing Russian choral music. There's also, unsurprisingly, unrequited love and enough drama to make Chekhov blush.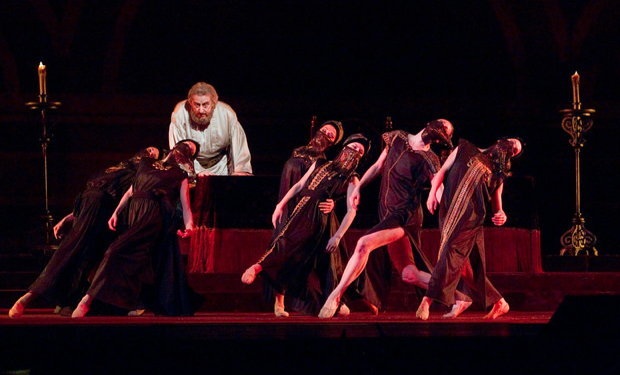 Photo: Ken Howard/Metropolitan Opera
Such a disjointed, episodic plot is reflected in August Everding's 1985 production, last seen at the Met in its 1998-99 season. A grand scale Red Square is cast in sepia-scale tones, imposingly chaste without the glittering jewel tones of St. Basil's Cathedral. Conversely, claustrophobic interiors in scenes two and four are sensory overload with full-bled blues and reds and a splendor that hints toward the age of Catherine the Great. The public and private elements combine in the forested, fiery finale.
Unifying it all is conductor Kirill Petrenko, from the breathtaking and enveloping overture to a finale that crackles with religious fervor. Under Petrenko, the orchestra explored Mussorgsky's full, ravishing synesthetic spectrum of colors, creating a balance between progressive aristocrats, zealous believers, Tsarist loyalists and conspirators. No mean feat.
In some cases, it took the vocalists onstage some time to catch up with the maestro—notably the chorus, who fared better in moments of majesty or solemnity than cathartic outrage, though the male end of the spectrum became considerably more Russianate and testosterone-filled in a boisterous mid-opera drinking number. The real heat, however, started with the entrance of mezzo soprano Olga Borodina, singing the role of Old Believer Marfa, a woman torn between her love of God and her jilted love of Khovansky's son, Andrei (the manically mesmerizing Misha Didyk).  
Maligned by side characters, Borodina remains at once gloomily Russian and lucently Zen-like. Her foretelling of her own death is mystical, but with grounded reassurance and an otherworldly determination. A preceding song of her love for Andrei is hushed and incandescent. Even earlier, a prophecy for Prince Golitsin is hypnotically spun around the clarion clarinet of Jessica Phillips.
Matching Borodina is Ildar Abdrazakov as Old Believers leader Dosifey. In the 35-year-old bass, you cold hear the shadows of what's bound to be a consummate Boris Godunov in due time. For the meantime, his role as a prince who gives up his riches for monastic poverty embodies religion within the limits of reason alone. Orthodox in style but catholic in delivery, Abdrazakov cedes his overpowering, onion-domed tone to the words of his priestly character, performing with unshakable faith and prepossessing doctrine.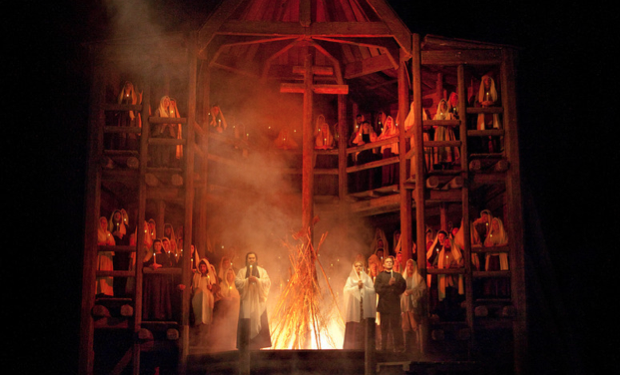 Photo: Ken Howard/Metropolitan Opera
Ukrainian bass Anatoli Kotschegra sounded at his most venerable and much like a man teetering on the brink of losing power, but often came off as bellowing, barbaric and brash. It serves him well for the role, but one wonders if this was an affectation or an affliction. George Gagnidze, last seen as Scarpia earlier this season, was more in his element in Mussorgsky's world than Puccini's, gaining steam as a morally ambiguous chauvinist. As exiled aristo and lover to the Tsarevna Sophia, Met regular Vladimir Galouzine was an exciting rediscovery. His tenor was an imperial Winter Palace with manifold rooms, all closed far too early for the exiled prince. Out of the USSR, tenor John Easterlin and soprano Wendy Bryn Harmer made equally winning contributions as the sinewy Scribe and Emma, the woman for whom Andrei spurns Marfa.
With a glaring lacuna of Russian rep at the Met next season, Khovanshchina is the last of its kind for at least the next eighteen months. Fortunately, there's here plenty to tide us over.