SXSW: Where Rockers Meet, 'Indie Classical' Gains a Foothold
This week, music fans, critics and industry folks of all stripes — including the burgeoning crowd experimenting with a new, elastic definition of classical — will descend on Austin, Texas, for the annual South By Southwest Music conference and festival, commonly shortened to SXSW. It's a non-stop whirlwind of live music, expert panel discussions, record label and music magazine showcases, tacos, Lone Star beer drinking, long lines, tacos, not sleeping, tacos and dodging the pedicabs.
SXSW Music began in 1987, primarily as an industry event, with 700 registrants. Today, it's a sprawling, must-see-experience-say-you-were-there-multi-week festival encompassing the latest in technological geekery (Twitter and Foursquare made big waves there), film, and, of course, music. It used to be that SXSW was where bands, crammed into rented vans, hoped to be discovered. It still is, along with a keynote address from the likes of Bruce Springsteen and concerts from big-name indie rockers such as The Magnetic Fields and Built to Spill, both around since at least the early 1990s, and even recent Best New Artist Grammy nominee, Skrillex.
Representing one of the more micro-niche musical genres at SXSW, though, is indie classical. Even world music and gospel have more artists represented at SXSW than this new, fluid brand of classical music that's hard to define but incorporates elements of chamber music, electronica, avant-garde experimentation and indie rock.
"One thing about Austin people probably don't think about is the emerging indie-classical scene," says 29-year-old Ian Dicke, a composer and one of the three founders of Fast Forward Austin, an all-day new music festival that debuted last year. The Austin American Statesmen said it "is probably the first classical music event in Austin to simultaneously make its own beer koozies and receive 100 submissions to a competition for new music."
The other two founders are 31-year-old Brooklyn-based composer Robert Honstein, and 30-year-old composer Steven Snowden, who's finishing up his doctorate at University of Texas at Austin, as is Dicke. Honstein earned his master's degree from UT. "We see ourselves as a connector and answering the demand for this music that hasn't been met," adds Dicke.
Austin bills itself as the "live music capital of the world," and even when SXSW isn't in town, the live music scene is diverse. In this relatively small city, there's going to be some overlap in styles, influences and inspiration.
"A lot of people are meeting each other and realizing they have the same passions," says Snowden.
***
New music is no stranger to SXSW. In 2008, minimalist composer Steve Reich sat down for a chat with Sonic Youth songwriter and guitarist Thurston Moore, and Reich was the host and guest of honor at classical music publisher Boosey & Hawkes' inaugural SXSW showcase.
Last year, Gabriel Prokofiev (yes, the grandson of Sergei) once again brought his UK-based label Nonclassical to SXSW, which isn't much of a stretch, being an organization that hosts monthly "classical club-nights" in London.
This year, indie classical's presence is the biggest it has ever been at SXSW, says Honstein.
Nonclassical and Fast Forward Austin are teaming up to co-curate the first night of a two-day indie classical showcase at SXSW. The second evening is presented by Innova Recordings.
The lineup includes percussionist Owen Weaver; Austin favorites Line Upon Line Percussion; UK cellist, composer and Prokofiev collaborator Peter Gregson; and Todd Reynolds, a violinist, composer and longtime player and innovator of what he calls "present music," among others.
This year at SXSW there's also a panel discussion titled "They Used to Call it Classical." The panelists include Janet Cowperthwaite, managing director of the the Kronos Quartet/Kronos Performing Arts Association; Justin Kantor, founder of Le Poisson Rouge in Greenwich Village, a venue with the tagline, "serving art and alcohol;" and New Yorker music critic Alex Ross.
"Obviously, this is something people are talking about," said Snowden. "First and foremost, SXSW is an industry meeting, that's how it started. And the industry, to some note, is taking notice."
Called everything from present music, as Reynolds prefers, to new music to indie classical, alt classical, concert music, scored music — or, the worst of them all, say the Fast Forward Austin founders: contemporary classical — defining the music is almost useless, said Dicke.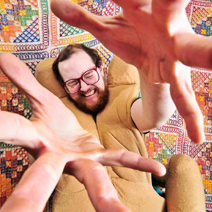 Almost as useless is trying to pigeonhole the musicians making the music. They're classically-trained artists, electronic experimenters and indie-rock darlings crossing back and forth. You can find indie favorite electronic composer Dan Deacon (pictured), playing a couple different, very different, artist showcases as SXSW. Deacon has also written new works for the chamber groups NOW Ensemble and Calder Quartet. The pieces will be performed this month at New York's Merkin Concert Hall as part of the Ecstatic Music Festival, billed as "collaborations that re-define music for the post-classical generation." (Full disclosure: WQXR and Q2 Music are the media partners of the Ecstatic Music Festival.)
It's not just the sound that separates this new wave of classical musicians from their traditional counterparts, it's also a growing DIY (do-it-yourself) ethos in young chamber groups that are treating themselves more like bands; they're going on tour and using Kickstarter and other crowd-funding sites like it to fund albums and projects.
Like the Ecstatic Music Festival's spirit of collaboration, Fast Forward Austin — the second annual event is next month — grew out of the founders' desire to be a connector of people with different musical tastes but similar passions.
For 25-year-old Gregson, this new music is the manifestation paying attention to what's happening — right now.
"For a long time I think we forgot how to listen in the present tense — everything was compared to Beethoven, or worried about how it'll play out in 75 years, as opposed to it simply being 'A Good Thing' in its own time," says Gregson. "From where I'm sitting, it feels like we're getting back to a place where the present tense is valid again, and that's really exciting to me."
Photo: Dan Deacon (joshsisk.com)