At City Opera, an Uncozy Così With Some Qualified Rewards
In the realm of operatic staging, Mozart's Così fan tutte is one of the most oft-cited examples of troublesome finales for directors.
As musicologist Julian Rushton writes of the socialite-thin plot, "The conclusion represents not a solution but a way of bringing the action to a close with an artificiality so evident that no happy outcome can be predicted. The music creates this enigma, but cannot solve it." Regardless of what outcome is chosen, one reason to keep seeing Così is to see how each individual director interprets this finale—is it bubbly, miserable or something in between?
Yet in a new production by New York City Opera—which opened at the Lynch Theater at John Jay College on Sunday—Christopher Alden seems to have abdicated the onus entirely. His finale is maddeningly ambiguous and static: The characters sit on a bench throughout the wedding scene, motionless save for the continued passing of a champagne bottle. It seems all four have already caught onto the ploy (unsurprising as very little attempt is made to disguise the men). Rather than reconcile, the four lovers remain caught in their own disillusionment, disenfranchisement and disenchantment.
In his own way, Alden has created his own unsolvable enigma with his Così, the second (following 2009's Don Giovanni) in the director's Mozart/Da Ponte cycle for City Opera. Set in an Edwardian-era park—an urban stand-in for the Garden of Eden—with aesthetics equal parts Caillebotte and Seurat—the action goes from bucolic to sadistic as day turns to night. It's easy to be baffled and smitten at the same time by the vast majority of Alden's staging, rife as it is with counterintuitive movement and unsettling stage pictures.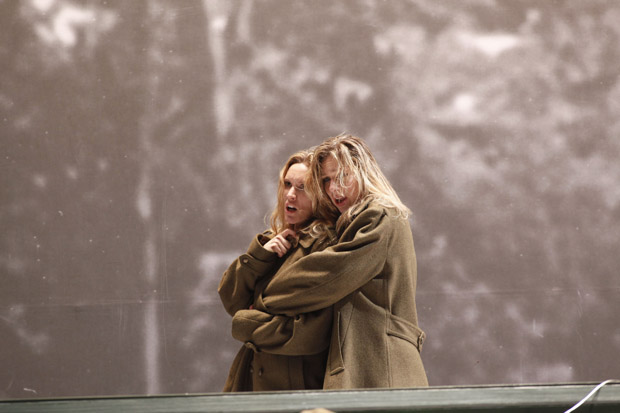 Sara Jakubiak and Jennifer Holloway, photo: Carol Rosegg
Alden is not one to shy away from an Artaud-ian theater of cruelty in his works, and here is no exception. It is, however, purposeful to a plot that is predicated upon willful deception and breaches of trust. Don Alfonso is the Mephistophelean master of ceremonies—perhaps with an emphasis on the Mephistophelean: His bet struck with Guglielmo and Ferrando is sealed with a handshake that temporarily cripples the men, as if some supernatural force ran through Alfonso's veins. In a move straight out of Gounod's Faust, he compels the chorus to sing its first entrance about the joys of military life. A commanding actor and virile singer, Rodney Gilfrey brought all the requisite divine despotism to the role.
Beguilingly, Alden also looks beyond stock gestures for individual character development and representation. British tenor Allan Clayton, in his American opera debut, was a scruffily emo Ferrando with Philip Cutlip a fastidiously confrontational Guglielmo. Ironically, Sara Jakubiak's Fiordiligi was the earthy and free-spirited counterpart to her sister, the straight-laced and bookish Dorabella of Jennifer Holloway, since it's Holloway's character that is first to cheat.
Clayton showed great promise with a fluid tenor though his restrained top occasionally sounded a bit raw. He was a youthfully ardent counterpart to Cutlip's more assured and hotheaded baritone. However, it was a women's show with Holloway's autumnally sensuous Dorabella and Jakubiak's diaphanous yet radiant Fiordiligi. While the latter's benchmark aria "Come scoglio" is often played satirically, one of the most electrifying moments of the afternoon was Jakubiak's rendition, sung as an inner monologue that reconciles an immediate attraction with longstanding fidelity.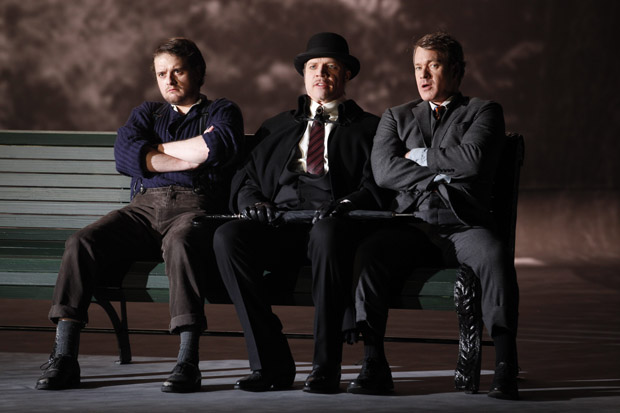 Allan Clayton, Rodney Gilfry and Philip Cutlip, photo: Carol Rosegg
Perhaps most controversial, and most compelling, is Marie Lenormand's supple, albeit sardonic, Despina. Here, we see her as a homeless woman who also assumes the role of park-dwelling prostitute before filling in—per Da Ponte's libretto—as doctor and notary. In the finale, she appears in a resplendent evening gown, perhaps in true form a Persephone to Alfonso's Pluto. Uniting the musical action was Christian Curnyn, a specialist in Baroque and Classical music who brought a judicious read to the score in keeping with Alden's directorial vision despite some moments of veering off course, especially in the second act.
It's unsurprising that Alden's bow on Sunday afternoon was met with at least one vociferous boo among the bravos. This isn't a happy Così, and flies in the face of what has come to be regarded as a comedy of manners and errors. Yet, foggy finale aside, it's a mostly solid and assured vision; qualities that many productions this year have lacked.
As dawn hit the characters and the house lights came on, I couldn't help but think of Alden's Mozart/Da Ponte cycle in tandem with Peter Sellars's same take on the triptych, which captured the zeitgeist of Reagan-era America and says as much about the 1980s as Mozart's original works revealed truths of the 18th century.
In a similar way, Alden's productions seem to be capturing the spirit of 21st-century youth in revolt, an awakening from coddled self-absorption to a more cynical rage. A criticism I've often heard lobbed at Alden's incisive brand of regietheater is that he makes us think when he should make us feel. But the funny thing is, in the midst of thinking about everything Alden had to say with his Così, I realized that I was also feeling a great number of things—for better or for worse.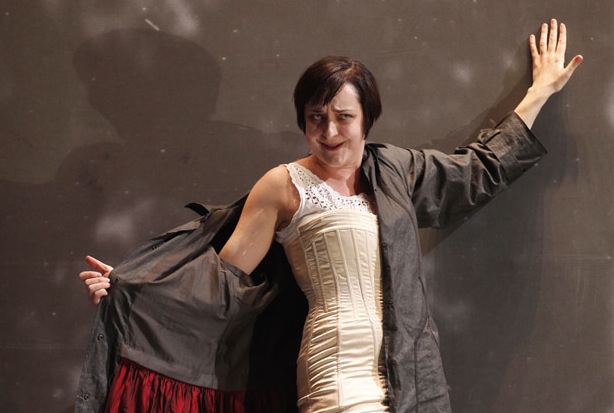 Marie Lenormand, photo: Carol Rosegg
Did you see City Opera's Così? Leave your impressions on the performance below, or tell us: Should operas make us think, feel, or a combination of both?