March Madness! The Sweetest Sixteen
The NCAA Tournament is in full-swing and -- like in the world of college basketball -- the sound of marches is in the air. We're bracketing out 16 of the best. Using the list below as a guide, give us your 'final four' favorite marches in the comments box below. We'll play your picks throughout the NCAA tournament.
The West Regional (Pre-1850)

Berlioz: La damnation de Faust: Marche Hongroise

Chopin – Funeral March from the Piano Sonata #2

Strauss, Sr: Radetzky March

Mendelssohn: Midsummer Night's Dream - Wedding Ma

The East Regional (1890-1950)

Elgar: Pomp and Circumstance March No. 1 in D


Sousa: Stars and Stripes Forever

Sousa: Liberty Bell

Prokofiev: Love for Three Oranges - March

The South Regional (1850-1900)

Liszt: Rákóczi March from the Hungarian Rhapsody No. 15

Tchaikovsky: Marche Slave


Verdi: Aida - Triumphal March

Wagner: Lohengrin - Wedding March

The Midwest Regional (1950-present)

Rodgers: The King and I - March of the Siamese Children

Walton: Crown Imperial (rev. 1953)


Williams: Empire Strikes Back - Imperial Death March

Williams: Raiders of the Lost Ark - The Raider's March

What's in a March?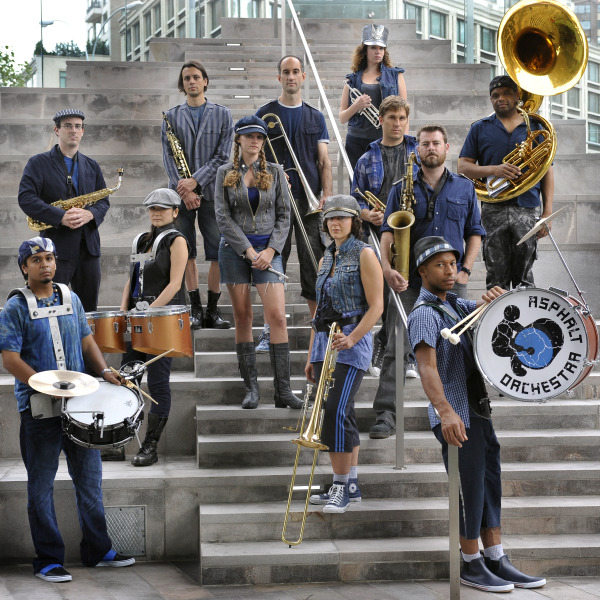 Just like basketball is defined by dunks, free-throw lines and zone defense, marches have their own categories and lingo. The New Grove Dictionary defines the march as "music with strong repetitive rhythms and an uncomplicated style usually used to accompany orderly military movements and processions."
There are marches for processionals and coronations, funerals and dancing. Mozart wrote one for priests in The Magic Flute. Some marches, such as those of Turkey and Russia, were designed to scare the enemy in battle. But the march also has a prominent place in the mainstream of classical music, jazz and rock, not to mention the music of Asia, South America and beyond. Discover more in our 2010 series "Hot Air."
Above: New York's Asphalt Orchestra strikes a pose (Photo: Stephanie Berger)