Opera at the Swipe of a Finger
Fans of Apple's iPad believe that the sleek device makes everything look sexier. Maybe even an opera.
And who has been trying for the last several years to make opera sexier more than Metropolitan Opera general manager Peter Gelb? So it's no surprise that the Met unveiled its new iPad app last week, thus replacing its previous streaming service, Met Player, which launched in 2008. And it's sexy -- oh yes it is sexy. Even the Met's serif logo looks like Christina Hendricks wearing a low-cut, curve-hugging T-shirt.
The company's trove of Live in HD broadcasts (many of which that are yet-to-be-released on DVD) along with classic videos such as Leontyne Price's farewell Aida, Sills's farewell Don Pasquale and Pavarotti's 30th Anniversary Gala are all available at the swipe of a finger. Audio is also well-represented with performances going back to a 1936 Götterdämmerung with Lauritz Melchior.
And the Met has plans to continually roll out additional content each month, building upon a collection that already contains over 100 video and 250 audio broadcasts. Considering the $15-a-month subscription cost for the app is less than a Met in HD movie ticket, it also mitigates the smaller-screen experience (though iPad subscribers can also play the content on their computer, which one could in turn hook up to a television for a bigger screen experience).
"We want opera to be as widely available as technology permits," said general manager Peter Gelb in a Met statement last Wednesday. It may be that technology does, in fact, permit reaches wider than the iPad—a January 2012 study by the Pew Research Center reported that 19 percent of Americans own a tablet—but, as Anastasia Tsioulcas writes for NPR's Deceptive Cadence, "That may be the way of the world right now." (As of last May, only five percent of Americans owned a tablet, which is a considerable jump for just over six months.) The Met also told Tsioulcas that they were planning on expanding the content to other, non-Apple tablets in the future.
Currently, opera fans aren't restricted to tablets. Individual Met HD broadcasts, such as last season's Don Carlo, are available for rental or purchase on the iTunes store. With many people forsaking television for Hulu Plus and Netflix Instant, and with Hollywood studios offering films for paid online rentals during the cinematic run, we've become a culture that wants our entertainment available at times that suit us. Imagine the Saturday mornings I spent living in Los Angeles braving traffic to make a 10:00 or 11:00 am Met simulcast at USC that I could have spent sleeping in, opting instead to watch Doctor Atomic or La Rondine poolside at 4:00 in the afternoon.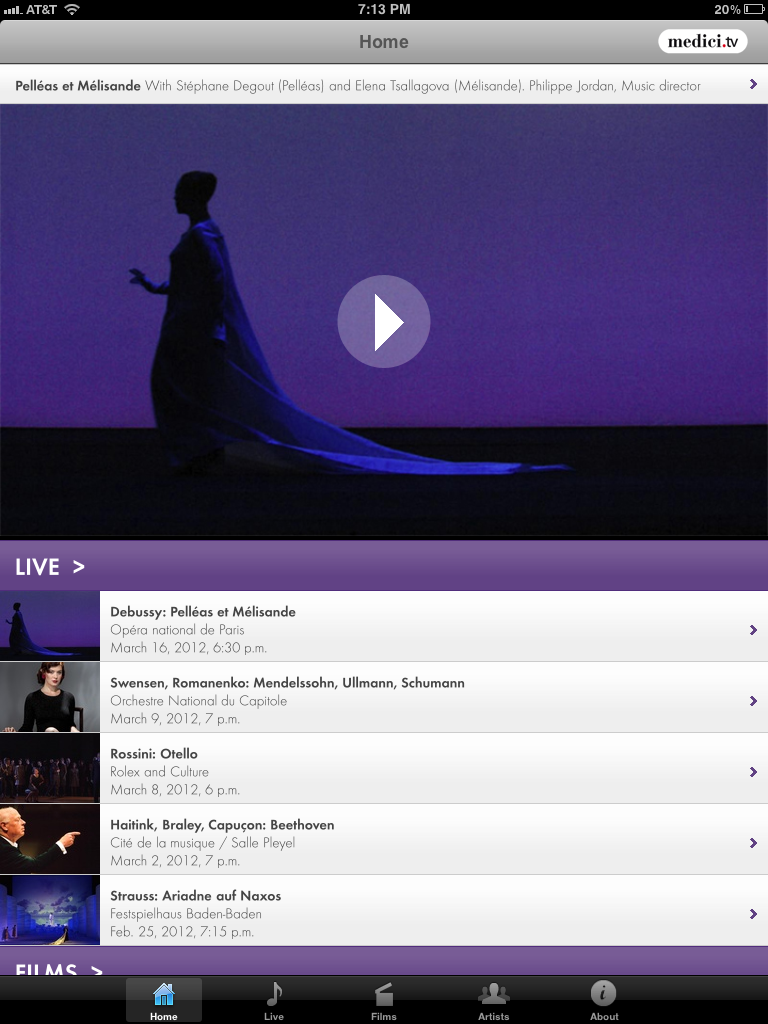 Beyond the Met, other companies (Sydney Opera House and the Royal Opera House among them) have launched apps, though many have stuck to offering essentially smartphone-friendly versions of their websites, with access to calendars, ticket sales, show descriptions and artist biographies. The ROH, perhaps hoping to cash in on classical-loving Angry Birds fanatics, has also created a game in which the user is the stage manager (how glamorous?) trying to maintain order on the day of a show. English National Opera has an iPad app designed to teach users to sing, though the app itself is so slow to load it almost crashed my iPad in the process.
Under Peter Gelb, who is undeniably a shrewd businessperson, the Met has tapped in to what audiences really want: They want the singers, they want the music, they want the performances. Though the Met still stands to net a nice profit from this subscription service, the app is less of a marketing ploy and more of a value-added benefit (though one wonders if this service, like the Live in HD series, will drive up actual ticket sales).
The company has also capitalized on an idea that has made medici.tv a widely popular source for European performance content. Medici.tv's own iPad app (pictured, right) is equally engrossing with its concerts and operas, such as Rossini's Otello with Cecilia Bartoli as Desdemona, the Opéra national de Paris's recent Pelléas et Mélisande and Les Arts Florissants performing Monteverdi's Madrigals at the Salle Pleyel, all for free.
When you look at the Met and medici.tv's apps side by side, you see that the Met is not trying to be simply an opera company, but rather a full-on media enterprise. It may be more tempting to pick up medici.tv and see performances from a wider spectrum than one house. But while their reach is tantalizingly lateral, the Met goes deep, reaching back as far into the archives as they can reach to present one company's history through its performances.
True, neither may offer the communal aspect of sitting in a theater and bonding with a group of strangers over shared artistic reactions, and it is at times hard to mitigate that gap. Reading a newspaper is one thing—an activity often performed in a lavatory. But given the number of public frays in opera houses and concert halls as of late, perhaps the privacy of one's own home isn't the worst thing in the world.