Chances are, if Donizetti's L'Elisir d'Amore had been pitched five years ago, it would have turned into Forgetting Sarah Marshall, Nicholas Stoller's comedy about an earnest, lovesick putz and a swagger-laden Adonis competing over the same sexy spitfire.
Ideas like Bridesmaids and The Artist, which have begun to receive significant attention from the Oscars, would have conversely been successful operas in their own rights. But no longer do we have contemporary operatic characters disguising themselves as drunken soldiers or nuns. Gone are plots of mezzos and bass-baritones tying the knot in a drunken frenzy.
Of the ten operas to be heard at New York City Opera's VOX festival last year, only one—David T. Little's Vinkensport—was comic in its own quirky way. Like Little's operatic finches, these constructs have flown off. And they've gone where everyone else with promise tends to go: Hollywood.
"Comic operas are the templates for the great set-up and pay-off, misdirection, comedy of manners, comedy of errors and the old kersplat," said Terri Edda Miller, who writes for and produces the ABC procedural dramedy Castle (and who, in the interest of full disclosure, is my mother-in-law).
What is last summer's film "Horrible Bosses" if not the story of three Leporellos rising up against despotic Don Giovannis? What is the eponymous event in "Dinner for Schmucks" if not a riff on the party scene in Die Fledermaus? What is the climax of "Crazy, Stupid, Love" if not the second act of Le nozze di Figaro? Even Mozart's comedies would have fared better, on business terms, had a wider form of mass communication existed at the time, for while they received mixed reviews among royals, tunes from Figaro and Giovanni were whistled in the streets of Prague upon public premiere.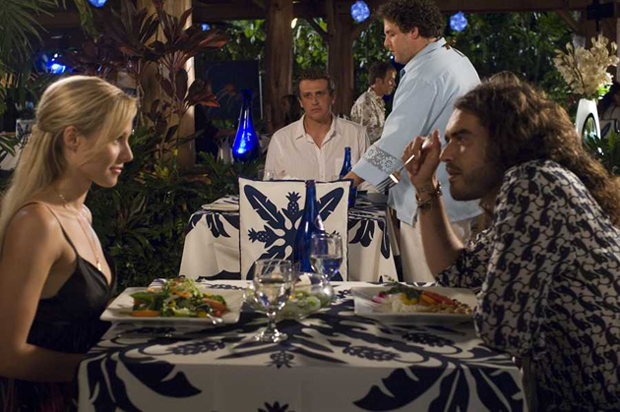 Kristen Bell, Jason Segel, Jonah Hill and Russell Brand in 2008's L'Elisir d'Amore, Forgetting Sarah Marshall. ©Universal Pictures
Miller also points out that a resurgence of fairy-tale comedy and books like Pride and Prejudice and Zombies stems from a similar combination of familiar characters with contemporary humor as a means of illustrating, "what humans have always struggled with: love, lust, anger, survival."
"Certain aspects of storytelling migrate to the particular form that's most effective," says Andrew W. Marlowe, the creator and executive producer of Castle (he's also Miller's husband, which makes him…you guessed it). "If you want to laugh, you have a lot of places to go. And because there's a lot of competition, why wouldn't you artistically explore a blue ocean strategy and plant your flag in an area where the other mediums can't compete?"
"People have always gotten their comedy the easiest way possible," said Steve Hely, who has written for Late Show with David Letterman, American Dad, 30 Rock and The Office and who received the 2010 Thurber Prize for American Humor (no, I'm not married to any member of his family). "If you're in the mood for comedy, you probably don't want to think about it too hard."
In fact, comedies can be a greater risk for opera companies to stage, much less commission. As Barry Wernick, most recently a writer for the sitcom Rules of Engagement (which in its own way mimics the coupling dynamics of a Mozart-Da Ponte work) notes, however, the laws of comedy are much more binary. "It either works or it doesn't," he said. Even then, there's room for subjectivity, but ultimately it comes to a very simple formula: "If you're going to a comedy to laugh, and it makes you laugh, it doesn't matter how shoddy the rest of it is."
Seeing a shoddy movie in order to laugh at Will Ferrell or Jim Carrey, however, means the loss of roughly $20 (including popcorn or soda). A similar precedent is seen on a show like Saturday Night Live, which can vary heavily from week to week, landing flat with a host like January Jones but picking up the next week with a vibrant Joseph Gordon Levitt. But with opera tickets still an investment and companies relying more on those willing to buy $150 to $350 seats than those picking up the cheap seats in the back of the house or the movie theater, there has to be a return comparable to that investment. "If you spend $75 to $150 on something that is fluff—wonderful fluff, delightful fluff, but fluff nonetheless—I think that there's a basic disconnect that the audience is going to have," said Marlowe.
And that's if the comedy works. "Sometimes it doesn't work and you don't know that until you're in front of an audience," added Hely, the television writer. "So it tends not to be a big, huge, expensive operation. Sometimes it gets that way, but from the ground-up." With new commissions often being the priciest aspect of an opera company's annual budget, and such works being risky enough, why in this economy would anyone choose to compound that risk with a tricky genre?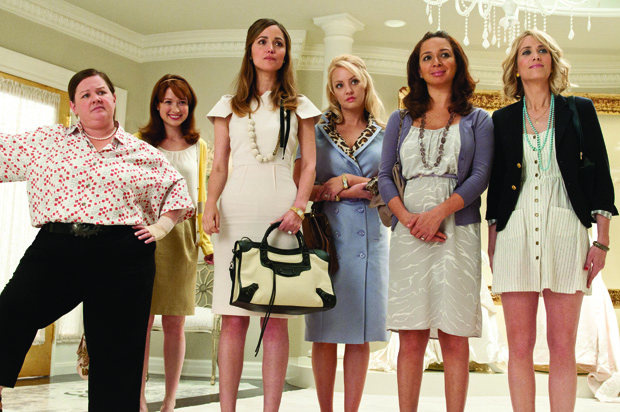 Melissa McCarthy, Ellie Kemper, Rose Byrne, Wendy McLendon-Covey, Maya Rudolph and Kristen Wiig in 'Bridesmaids' (Suzanne Hanover © 2011 Universal Studios)
If the success of a comedy is partly predicated upon its practitioners (try picturing "Bridesmaids" with another cast), then that also signals a tricky situation for operas: The success rate of a new work is in its own way predicated upon the ability of a number of singers being able to take on each of the roles. What's more, a lack of chemistry between singers onstage can bring the pacing of a comedy to a halt. These drawbacks are what in turn contribute to comedy flourishing in the film and television spheres, in which the product is fixed and non-ephemeral.
"One reason Friends could never be replicated was that you had a cast of six good-looking people who are funny," said Wernick. "I can't tell you how difficult it is to find good-looking people who are funny." Now add to that wish list a good-looking, funny person who could sing a high C.
Moreover, Hollywood-produced comedies (big screen and small) are, as Wernick points out, made in the editing room. Uggie, the favorite canine star of "The Artist" would not reliably turn out the same performance onstage as he did on screen, even in a Zeffirelli-helmed extravaganza. Moreover, a trend in comedy now to come out of the Judd Apatow school is for performers to give several takes of one line, improvising and riffing with their castmates and leaving it up to the director and editors to find the best take. "You can really dig in and find it and not worry until the editing room what it looks like," said Wernick. "If you're working with an actor onstage, you've got to come to a decision on how to play it every night, even if the actor can vary it a little."
But if comedy has found its home for now, does that preclude it from vacationing from time to time? As Marlowe points out, recent years have seen an influx of humor even in non-comic genres. "We're coming into a time now where we have a slew of new comedies that seem to be resonating with the audience," he noted. "The Artist" was the first comedy since 2003 to win an Academy Award. Likewise, on Broadway, 2011's The Book of Mormon was the first all-out comedy to win a Tony since Spamalot in 2005.
"Comedy is always more relevant in an economic downturn," added Miller. "I think Preston Sturges captured it brilliantly in the 1940s film 'Sullivan's Travels': Life is tough and we need a release. We need to laugh at human foibles. Laughter saves us." If that is the case, then is it possible to have a post-millennial Preston Sturges fuelling an opera libretto?
"To a modern audience, there's something ridiculous about [opera] from the get-go," noted Hely. "And it's just a weird thing to have comedy that starts out where the medium itself is ridiculous.… The future of comedic operas could involve taking advantage of the fact that this is a bit weird and unnatural."
There's your Prima Donna rewrite, Rufus.
Does comedy still hold up in opera, contemporary or otherwise? Or is it better suited to film and TV? Leave your thoughts in the comments below.