A Gesamtkunstwerk Grows in Brooklyn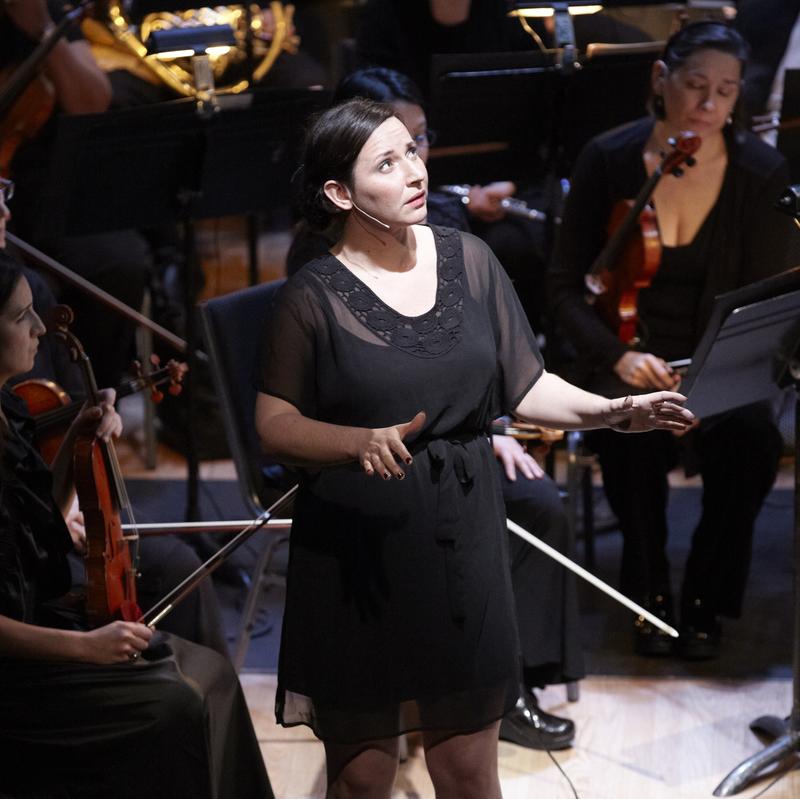 Due to some celestial math-work and cosmic balance, occurrences—be they jokes, celebrity deaths, or a combination thereof—are most likely to come in threes.
Yet in this weekend's three-way with the Brooklyn Philharmonic, the Brooklyn Youth Chorus and Roulette (a long-regarded Manhattan institute for feisty music, dance and art that relocated to Brooklyn last summer), there was more than metaphysical arithmetic at work.
With its new, traveling season under its new music director, Alan Pierson, the Brooklyn Philharmonic has been rapidly reasserting itself as an essential aspect of the borough's (and, indeed, the city's) artistic and cultural makeup. There were sonic explorations of Russian cartoons in Brighton Beach. There was a concert in Bedford-Stuyvesant featuring native son Mos Def. And this past weekend the orchestra dug into its Brooklyn roots even deeper with Brooklyn Village, a co-production with the Brooklyn Youth Chorus that also bore the creative fingerprints of Beth Morrison Projects, director Ted Sperling and librettist and Royce Vavrek. The result was a wholly immersive gesamtkunstwerk* that should keep certain directors of similar ventures up at night.
Pierson took the stage in turn-of-the-century tails on Saturday night to thank the audience for coming, stating that in the midst of an economic crisis, we needed music and the arts more than ever. He was referring, of course, to the Panic of 1857, a defining economic moment in the first year of the Philharmonic's existence. After thanking many of us for braving the frozen East River and traveling by sled from Manhattan (no problem, Alan), Pierson led the orchestra in a buoyant scherzo from Beethoven's "Eroica" symphony.
In a program fashioned after a vintage copy of the Brooklyn Daily Eagle (which ran from 1841 to 1955), an article describing the 19th-century event concludes with the admonition that the orchestra "should avoid devoting its energies to a particular European school of art, which can never become indigenous here, and are only exotic rarities, the exclusion of the strains to which the popular heart beats time." Taking its cue from that, the scherzo cedes (never quite finishing) into the first of several commissions for the concert, Sarah Kirkland Snider's choral work Here.

The Brooklyn Youth Chorus performs Sarah Kirkland Snider's Here. Photo: Joshua Simpson
With music set to a vivid and vaguely Victorian text by Nathaniel Bellows, Snider knows how to expertly play with nostalgia and memory, layering remembrances with contrasting rhythms and lines that collide and divide with an affable ebb and flow. The Brooklyn Youth Chorus brought out the purity and unpretentiousness of the text (you'd be hard-pressed to find the current Brooklynite trend of ironic yearning here), their voices bearing the same genuine warmth and innate goodness of children in Christmas fables.
And that's where the "gesamt" part of the gesamtkunstwerk truly came in. Here was no traditional concert format, no call-and-response of performance and applause. Rather, there was an organic progression (punctuated by the occasional curtain call) of music—Snider's work was followed by the Prelude to Aaron Copland's Symphony No. 1, which then gave way to Matthew Mehlan's Canvas, crooned by a quintet of BYC gentlemen with the stratospheric and forever-youthful soprano Lauren Worsham (it was hard not to imagine Alban Berg's Lulu when she sang "I wish I could rip the stars from the sky") and then flowed into a selection Sufjan Stevens's The BQE, a work that premiered at the neighboring Brooklyn Academy of Music in 2007.
The highlight of the second half was the third world premiere of the evening, David T. Little's Am I Born, deriving Francis Guy's 1820 painting Winter Scene in Brooklyn (on display—where else?—at the Brooklyn Museum). At the crossroads of sound and sight, it's a wonder of artisanal artistry that enhanced and even overpowered the projections that accompanied the whole of the performance. At times it even violently exploded with an epic mysticism. Soprano Mellissa Hughes, against the BYC, painted in tones that contrasted furry warmth with a sharp coolness, black ice and white noise. Hughes's voluptuous artistry has always made her a bright spot in both new and classical music, but she especially shone in this performance with a seemingly effortless and nuanced performance that strove less for authenticated style and more for genuine expressiveness.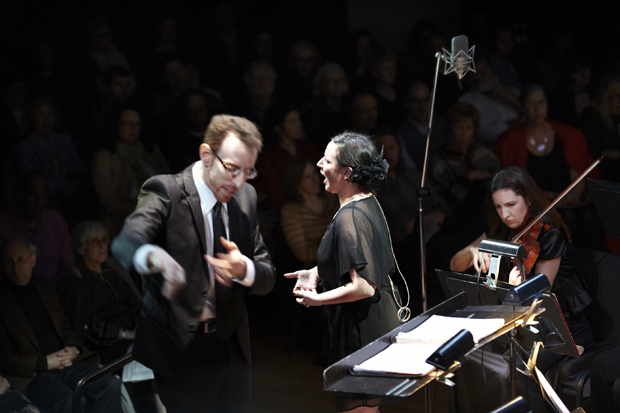 Alan Pierson and Mellissa Hughes. Photo: Joshua Simpson
Little's Am I Born also owes much to American shape-note hymn singing, particularly Charles Wesley's Idumea. The BYC led the audience in a sing-along of this hymn, with descending dissonances and choppy ascensions that were later mirrored in Little's own work. Librettist Royce Vavrek (also the words behind Canvas and the connecting vignettes, including an act-two opener that imagined the closing of St. Ann's Church in 1869 to make way for the Brooklyn Bridge) picked up on the hymn's line "Am I born to die?" and explored further in Little's work. Such a weighty question was left to the individual listener to answer, but given what was on display in Brooklyn this weekend, it's inarguable that there are other things besides death to warrant being born. Music is chief among them.
* Gesamtkunstwerk: a "total artwork" that often synthesizes elements of music, drama, dance, etc.