Pleasure Supplements Vision in the Met's New Manon
Leaving the Met last night, I passed a smart-looking couple with their heads hung in disgust. "Terrible," the man said. "That was the worst thing I've ever seen at the Met."
I'm not prone to dismiss the opinions of others (how Orwellian it would be to agree on everything), but I would like to know which production of Manon the gentleman saw—and what productions he's been seeing at the Met lately.
True, Laurent Pelly's Second Empire take on Massenet's romantic tragedy isn't going to win any awards for out-of-the-box iconoclasm or revolutionary rethinking. But it also isn't going to offend or take away from the music. While the updating of Manon from its 18th-century setting to the time in which it was composed makes perfect sense, it doesn't force a radical rethinking of the characters. Manon is still a headstrong young woman whose earthly delights turn her songs from innocence to experience (indeed, too much experience). Her chevalier Des Grieux is still a man grappling with an innate goodness and a corrupting and corrosive love affair.
Pelly, who made his Met debut in 2008 with a similarly arid La Fille du Régiment, imbues his Manon with just enough meaning to keep it from being visionless. Ramps and staircases dominate the solvent sets, capturing the dizzying highs and descending nadirs of the ill-fated central, on-again, off-again love story. He takes the Act III line, "These elegant women have nothing to do but be beautiful" literally, making the fairer sex the majority of the set decoration. The muted colors in the sets and in the men's costumes allow the women to shine, contrasting severe masculinity with gossamer femininity, hard edges with soft shoulders.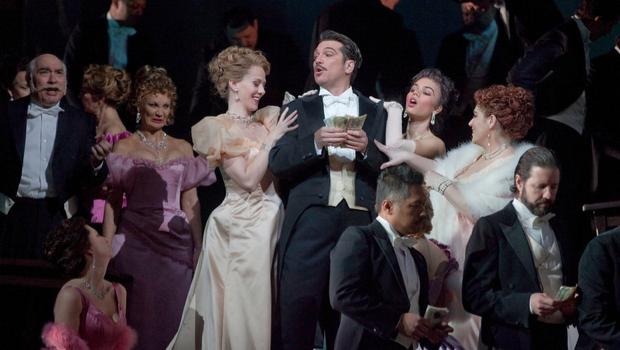 Anne-Carolyn Bird as Poussette, Paulo Szot as Lescaut, Ginger Costa-Jackson as Rosette, and Jennifer Black as Javotte. Photo: Ken Howard
Pelly's construct serves to enhance these splendid singing actors much in the same way that fellow Frenchman Michel Hazanavicius's use of the black-and-white silent-film genre gave way to radiant performances by the cast of The Artist. But, frankly, with the vocal power on display at the Met last night, the cast of Manon could have performed on a bare stage and still pulled off a transformative performance, the likes of which serve to remind us (especially in seasons as listless as this one has been) why we go to the opera in the first place.
Paulo Szot and David Pittsinger, who at one point traded off as the role of Emile de Becque in Lincoln Center's South Pacific, each brought an elegant theatricality to their respective roles as Lescaut and the Comte des Grieux, Manon's cousin and Des Grieux's father, respectively. Szot continues to live up to his Ezio Pinza comparisons with a rich baritone and a fully rounded characterization of Lescaut. If his voice was a shade too small for the cavernous Met, he ably substituted performance and presence for power, proving that it's not the size of the instrument but what you do with it. Pittsinger was an equally welcome presence, offering a grounded gravitas and a warm, smoky bass-baritone as Des Grieux's well-meaning father.
The buzz of the evening, however, was the continuation of soprano Anna Netrebko's coronation season at the Met as she sang Massenet's misguided heroine for the first time in New York. Netrebko's gradually darkening astrakhan soprano can still reach girly highs (high D's be damned) in the first two acts and still provide a youthful glow. But she also dives headfirst into hedonism for Acts III and IV before finding some middle, redemptive ground in the final moments before her death. With age, Netrebko's voice—while boasting no specialized style beyond Anna's Style—glitters even more prismatically with scintillating tonal nuances.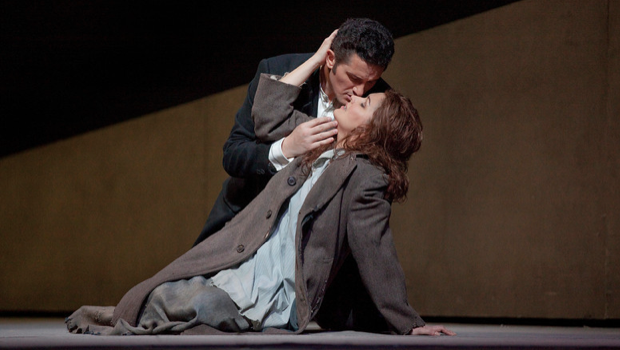 Piotr Beczala as Des Grieux and Anna Netrebko as Manon. Photo: Ken Howard
But, of course, that's only half of Anna's allure: Her cinematic presence, with every flick of her hand bearing significance, amplifies her vocal power. In a striking moment in Act III, Netrebko's Manon wishes to pray. After two futile attempts on two traditional kneelers, she stands, turns away from the pulpit and bursts forth with a "Pardonnez-moi," a small moment of staging business that neatly sums up Netrebko's Machiavellian charm: She won't play by the rules, but still manages to stop you cold. In other words, Anna Netrebko is Manon. And, like love, she conquers all.
Almost all, at least.
Polish tenor Piotr Beczala has made himself indispensable to the Met in recent years as a reliable singer of high standards, a modern-day Carlo Bergonzi who is often lost in the shuffle of Kaufmanns, Callejas and Alagnas. Here as Lescaut, he revealed his starry magnetism and expressive zealousness, proving to be more than a reliable fallback. In his dreamy "En fermant les yeux," he ended with a deafening pianissimo that trumped the heartbreak of Manon's preceding aria, "Adieu notre petite table." His Act III renouncement of his onetime love lacerated with martyred ardor, leading to a St. Sulpice duet that, on musical terms shouldn't be prescribed without smelling salts (a bit of stage business, resulting in Beczala mildly shirtless, generated a small titter but had nothing on the sonic steaminess).
In one of the performances he was originally slated to conduct before taking on additional work as the Met's newest principal conductor, Fabio Luisi proved to be the most erratic component of the evening. Perhaps preparations for the Ring Cycle have taken their toll, as the first act plodded along at a limpid, Wagnerian pace. While Luisi gradually brought the orchestra up to speed, this Manon remained a singer's performance. Which was a welcome change.