In the Met's Traviata Revival, the Lady Vanishes
Willy Decker's bold, modern-dress production of Verdi's La traviata returned to the Metropolitan Opera Friday night, a staging that divided audiences when it premiered at the house on New Year's Eve 2010. For this performance, a last-minute casting change helped to bring out new subtexts in the story.
Decker's production was renowned for its 2005 Salzburg premiere, which featured Anna Netrebko, Rolando Villazón and Thomas Hampson all performing at the top of their games. Its Met debut -- complete with stark white set, symbolic ticking clock and sparseness -- served as a jarring contrast to the Zeffirellian opulence that accompanied the opera's last two runs with the company.
Save for the party scene in Act II, which is solidly conceptualized as a fever dream for the heartbroken Alfredo, Violetta is onstage at all times, privy to all that happens around her and aware of the trajectory of the opera as early as the prologue. Almost as omnipresent is the normally sidelined character of Doctor Grenvil, reminding Violetta constantly yet subtly of her mortality.
In fact, the tragedy here isn't Violetta's, but rather Alfredo's. And, just as Abbé Prévost layers the narrations in his Manon Lescaut -- currently playing at the Met in Massenet's operatic version -- so too here do we see similar artful storytelling at work with Alfredo's story coming to us via the omniscient narrator of the doctor. Violetta isn't transformed by her love for Alfredo but rather the opposite. It's easy to believe here that Alfredo starts as a naïve outsider to the glittering society of Paris and is transformed (most likely losing his virginity to Violetta) as an ardent lover. Upon losing her, he suffers a petulant breakdown mitigated by the grief of impending death and loss. Decker solidifies this vision with unusual but convincing touches, such as Alfredo's re-entrance in "Sempre Libera," causing the refrain of Violetta's anthem to living freely and for pleasure being sung to him as a cautionary monologue rather than an affirming soliloquy.  
With such a vision, it's somewhat fitting that last night's Violetta shrank from the spotlight. Filling in at the last minute for an ailing Natalie Dessay, soprano Hei-Kyung Hong had a pretty, pleasing tone and a glittering youth-like quality that belied her age. However, the 52-year-old soprano has also taken on some caution in her vocal performances, which often left her inaudible (indeed, there were times in the first act in which the backstage crew's conversations carried more audibility than her singing). Some of her high notes didn't RSVP to the party and in her first notes she struggled to keep pace with the orchestra; you occasionally wondered if this was the best the Met had on hand for the role.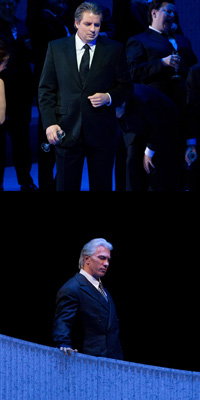 She did, however, blossom towards the end with a finale in Act II and an Act III winningly spun and wholly affecting. Still, with such a production that leaves its singers naked, having presence and charisma is not optional. Hong would have fared more commendably ensconced in Zeffirelli's fainting couches, velvets and silks. Reliable, she is. Revitalizing, she is not.
No matter, as the evening belonged to Matthew Polenzani, who started off strong with a faultless "Brindisi" that set the tone for one of the tenor's finest performances at the Met. Polenzani capitalizes on his less-than-prepossessing stage presence, capturing Alfredo's outsider status as a young romantic uncomfortably navigating the world of high society -- a putz in paradise.
It makes his outbursts of emotion more affecting and his ultimate downfall more poignant. He perhaps becomes a little too brash, too unbridled in the second act, but with a higher climb comes a higher fall as he is left by Violetta. He throws himself into a rage that is only somewhat quelled by one over-the-top slap from baritone Dmitri Hvorostovsky as his father, Germont.
The result is one of the most beautifully acted moments at the Met this season, with Polenzani knocked to the ground and scrambling to get away from his father, while Hvorostovsky reels from his own outburst. These are two men who are as equally bound by social mores as the women in their lives, grappling with that stagnancy and making their own sacrifices. Hvorostovsky supplies his own rage in Act III at this setback, cloaked under a layer of cool disdain that supplies a persuasive "Di Provenza." While Hvorostovsky lacks fatherly warmth, he makes up for that with a gravitas that can't help but stop you cold.
With a cohesion among principles (commendable in any situation but especially so with the casting change), the largest disconnect seemed to come from the pit. Fabio Luisi is normally at his best in the Italian rep, but struggled to keep singers and orchestra on the same page and fought even harder to keep the horns in tune. Perhaps they had the wrong Jewish holiday in mind last night: the shofar is blown on Rosh Hashanah and Yom Kippur, not on Passover.
Photo, above right: Matthew Polenzani (top) and Dmitri Hvorostovsky (bottom). Credit: Marty Sohl/Metropolitan Opera