Review: Gotham Chamber Opera's Winning Pajama Game
Lately, it seems that live opera often comprises a trio of circles that come just short of forming a Venn diagram, leaving the spectator to pick two out of three: Good opera, Good production, Good musical interpretation. Appropriate, then, that Gotham Chamber Opera's Il Sogno di Scipione—an opera all about choosing—should be one of those ambrosially rare moments in which all three factors come together to make for a dynamic and stimulating night of theater.
Gotham arrived on the New York operatic scene in April 2001 with this fresh production of a one-act work by a 16-year-old Mozart, directed by Christopher Alden (last seen, funnily enough, helming a production of the same composer's Così fan tutte at the same theater for New York City Opera). Viewed just over a decade later, it retains its vitality, perhaps even ringing more poignant in an election year.
The plot concerns Scipio Aemilianus, a Roman general, being forced, in a dreamlike state, to choose between two high-singing goddesses, Fortune and Constancy. He then turns to the spirits of his ancestors for help in making the decision. That he goes for the latter and her spiritual virtues over the former and her material wiles is enough to make one cry when viewed against our contemporary political scene (a wife-beater tank worn by Scipio for the majority of the one-act's duration is a suitable stand-in for a sweater vest).
Musically, the work is a wonder. Coming in nine years before Idomeneo, 14 years before Le Nozze di Figaro, and nearly a full 20 years before La clemenza di Tito, Scipione bears presentiments of Mozart's full operatic trajectory. The composer relies on the da capo style of arias big in Handel's time, but bridges that gap with melodic nods that would be more deliberately fleshed out in his later years. Conductor and Gotham artistic director Neal Goren fully realizes this multilayered score with an engrossing read, aided in no small part by a fiery presence from Sibylle Johner and Keun-A Lee on the cello continuo and harpsichord, respectively. Recitatives have never been so riveting.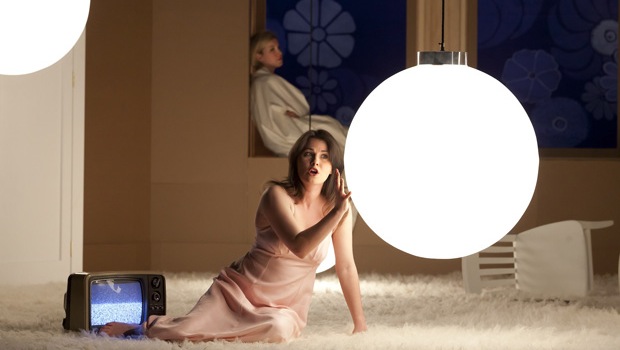 Susannah Biller and Marie-Ève Munger. Photo: Richard Termine
The work's strength is also brought out through Alden's incisive directorship over the Mozartean canon—how tantalizing is the idea of seeing him produce a complete set of the composer's operas around the city. With a challenging score that could verge on static, there is always movement with purpose. In an early aria, as Fortuna sings her beguiling plea to Scipio, she goes through a wardrobe and a litany of costume changes, reflecting her materialistic prowess. Simultaneously and contrastingly, the enlightened Constanza goes through a series of pure and simple yoga-style movements.
It's constant touches like this that keep the energy glowing. Costumes by Fabio Toblini add to the characterization buried deep in Mozart's classically coded score. Allen Hahn's lighting and Andrew Cavanaugh Holland's half-Eames, half-Ikea set provide an illuminating (no pun intended) aspect of the visuals, with overhead lights and freestanding lamps alternating in brightness and placement as emotional cues, signals of changing tides. They also provide balances in shadows that created ethereal doppelgangers, appropriate to the otherworldly setting of the work.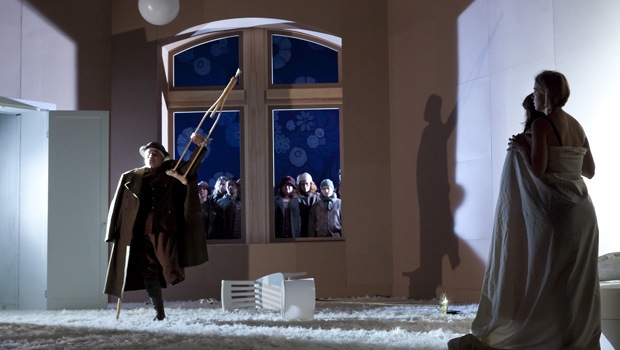 Arthur Espiritu and company. Photo: Richard Termine
As the title character, Michele Angelini took time to wake up vocally to the role, and while his tenor still showed occasional signs of restraint and failing to keep up with the orchestra's lightning pace, he still showed an impressive agility with fearless delivery.
Similar laurels go to Marie-Ève Munger, whose springy squillo thrust her dove-white soprano into the stratosphere. Susannah Biller's own bubbly coloratura came with a dizzying, despotic personality that came in handy when she sang her final aria while doling out martinis like a secretary at Sterling Cooper Draper Pryce.
But perhaps the real standout was Arthur Espiritu, who not only juggled two riveting arias as Scipio's ancestor Publio, but sang both of them with a daredevil execution as he hobbled around on crutches as part of his costume. It seems like a convoluted character trait on the part of the director, but ultimately it embodies what opera should be all about: Continually pushing a performance to the edge in hopes of achieving spiritual and emotional transformation over fleeting fame and fortune. Alden, like Scipio, chose wisely.