Downtown, Wotan Gets Ready to Rumble
The last few decades have brought a litany of alternate realities for Wagner's Ring Cyle, from science-fiction version to 75-minute condensations of the 16-hour music drama. Writing for the New York Times, Anthony Tommasini recently noted that the "metaphor of Wotan as the CEO of the Valhalla Corporation is becoming a cliché."
One metaphor we'll probably never need worry about turning cliché, however, is that of Wotan as wrestling icon Randy "Macho Man" Savage. But that's just as well. It would be disappointing indeed to lose that singular buzz that comes from seeing fresh and engaging theater such as Performance Lab 115's The Ring Cycle (Parts 1–4) at Incubator Arts Project in the East Village. And if you're going to have the audacity it takes to do the Ring in the first place, why not add a little more cojones to the equation?
Director Dave Dalton, who cowrote the 135-minute show with Jeremy Beck, writes in his program note that the unexpected pairing of Wagner and Saturday morning wrestling yields some juicy parallels, particularly for modern American audiences who can identify with "incredible spectacle, characters with huge egos, and devoted fans." Wotan, as Dalton and Beck discovered, "with his epic struggle between right and might, is surprisingly at home in the squared circle." And the show does in fact live up to its director's vision, performed as it is with integrity, conviction and commitment by a cast of ten often doing double– and triple–duty to account for Wagner's endless cast of characters. Some, like Erda, the Norns, Hagen, Gunther and Gutrune, are left on the cutting room floor, with others filling in the gaps.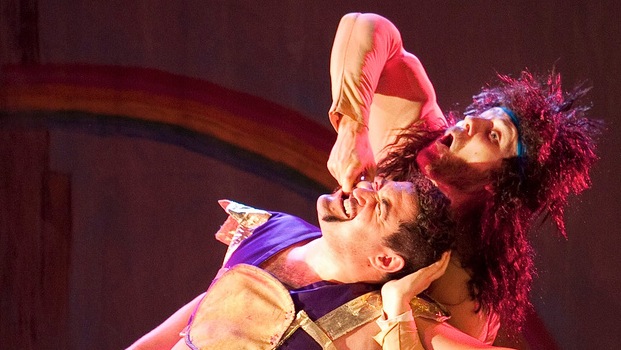 Marty Keiser as Alberich and Jeff Clarke as Wotan. Photo: Sue Kessler
No matter: While PL115 makes a case for the gods becoming icons of '80s excess (and hair) and for finding witty connections. Fricka, for example, is a stiletto-heeled trophy wife, Sieglinde is the wan wife assembling Miracle-Whip-and-Wonder-Bread sandwiches for her redneck Hunding, Siegfried is a He-Man–esque Eagle Scout who forges not a sword but a champion belt. Even the opening use of "The Final Countdown" is a surprisingly apt stand-in for the Rheingold prelude—they don't seek to nail (or body-slam) every minute detail down into a direct, oversimplified translation. Freia still has golden apples that give the wrestling gods their powers. The Rhinemaidens may be strippers, dancers or escorts, but they still worship their Rheingold, an apt metaphor for the heady era of Reaganomics.
As an audience member, you happily roll with each joke, whether it's an inside Wagnerism or something as overt as a Loge reimagined as something reminiscent of Hank Azaria's character in The Birdcage. In fact, in the grand tradition of wrestling culture, you're encouraged to continuously respond with catcalls, trash talk, cheers and jeers as the myriad of conflicts and confrontations are settled in the ring, far from Wagner's ideal of a silent, submissive audience allowing nearly a day's worth of opera to wash over them.
But that's where PL115's vision truly merges gesamtkunstwerk with zeitgeist. The contemporary audience is an interactive beast, looking to invest in the art and become the master of its own artistic fate. We still want the ride, but rather than merely go along, we want to occasionally take the wheel, sharing in the glory of the gods. 
Yet there are moments in which the performers are in full control. As Wotan, Jeff Clarke embraced a growly baritonal intonation—an affectation of über-manliness—and initially made frequent trips to the front row of the audience for a round of high-fives. This made for an even more affectinge Walküre finale, in which he makes a truly terrifying entrance among the valkyries and abandons his favorite, badass daughter Brünnhilde (the charming and indefatigable Sara Buffamanti) in a way that's truly heartbreaking.

The Company. Photo: Sue Kessler
Sly, too, are the assignations of actors to varied roles; leaving Jeremy Beck to play, among other roles, those of Siegmund and Mime, illustrating a dichotomy of fatherhood in Wagner's text that is traditionally unnoticed. And when a strobe-lit immolation-slash-electrocution scene destroys all but Alberich (a sympathetic Marty Keiser), he quickly realizes that supreme power is only relative to how many people are around to be denizens of such power. It's not a grand spectacle of hellfire and brimstone, but it still delivers a poignant moral. And while this Valhalla may have crumbled for the last time Sunday at the Incubator Arts Project, it begs for a revival: Here is a Ring worth reliving.