The Sun Yat-Sen Also Rises
"It's hard to portray a good person," said composer Huang Ruo last night in a pre-performance talk at the Asia Society. The Don Giovannis, Scarpias, Hagens and Mephistopheleses of the opera world practically write themselves with full-blooded musical meat, but it's the virtuous heroes that pose a greater challenge in an attempt to still create drama without verging into propaganda.
The propaganda part gets sticky when Ruo's opera, Dr. Sun Yat-Sen, missed its initial bow last September at the Beijing National Center for the Performing Arts. The official reason was for logistical issues, but rumors—reported by, among others, an anonymous source speaking to the New York Times—immediately brewed that it was more political than logistical. Regardless, the opera went off without a hitch at Opera Hong Kong in October and, following a workshop at New York City Opera's Vox festival, came back to Gotham for a third time yesterday, following a January reading at (Le) Poisson Rouge.
But politics weren't on the table last night, and when you strip away the infamy of Huang's work, what remains is an opera of striking artistic value that should be taken on its own merits. Framing introductions and interviews presented by the Asia Society helped to illuminate this fact, reaching beyond contemporary flash-in-the-pan scandal culture and plunging into the roots of opera's four-century tradition. Likewise, the opera itself doesn't necessarily seek to illustrate the political life of the founding father of modern China (though much of his words in the libretto, poetically crafted by Candace Chong, come from his own speeches), rather his humanistic side. And while Huang notes that 98 percent of the story is still fact, all of the art lies in that remaining two percent.
Presented as it was, with excerpts arranged more thematically than chronologically, what was shown of Dr. Sun Yat-Sen Tuesday night had the effect of viewing various sections of a Monet up-close without ever stepping back to take in the full waterscape. Still, the in-depth look at these brush strokes (intensified by a score reduced to chamber size, with Huang leading Ensemble FIRE) brought out elements that float somewhere between China and the Western world.
A section from the Hong Kong performance, showing the chorus and orchestra in full force, was boldly assertive, showing this to be a work that lives for a crack percussion section. There's a heady charge to the vocal ensembles not unlike early Adams circa his Nixon and Klinghoffer years. In solo lines, however, like an Act I aria for Sun, there's another twist of the 20th century with vocalise lines straight out of Stravinsky's The Nightingale.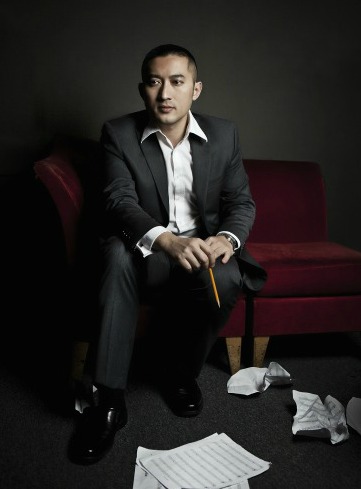 On the other side of the equation, Chinese elements are very much ingrained in the score; Huang (right) himself notes that an aria for Sun's first wife, Lu Muzhen, treads musically as if its own feet are bound, but then boasts a liberated emotional outburst when Lu serves her husband with divorce papers. There's a recurring synesthetic theme with musical elements underscoring precise words in Chong's Mandarin libretto; a particularly engrossing moment was the vocal line of Sun singing "Trapped in exile" being ensconced in a complex orchestral cocoon. Another moment had a cello wailing and eking out every possible resonance in long, doleful, bows during the intensely personal aria of Soong Chingling, Sun's second wife, sung as she miscarries while fleeing an assassination attempt.
Orville Schell, the director of the Center on U.S.-China Relations, noted in his introduction to the event that, in his own time, Sun and his political ideals "seemed to be a bit old-fashioned," but that in actuality the same ideals are those espoused by the Chinese Communist Party today, leaving Sun the country's "first unabashed nationalist." The period in between was one of adjustment necessary to facilitate a transition from the status quo of the Manchu Dynasty into republicanism and democracy.
In some ways, that time of incubation is similar to opera's own gestational periods. Look, for example, at works like Puccini's Madama Butterfly, now repertory staples that flopped upon their premieres. Take the opposite of that with an opera like Meyerbeer's Les Huguenots. Or look to contemporary pieces already a couple of decades old just now starting to pick up significant steam (again: Nixon in China). How Huang Ruo's Dr. Sun Yat-Sen will be viewed in 30 years is impossible to predict now, but it will be interesting to see how those decades pan out. In between, it deserves every chance it gets to leave its mark.
Huang Ruo Photo by Wenjun Miakoda Liang