Somewhere in my twisted, regietheater-laced fantasy opera world lies the idea for a Madama Butterfly in which Cio-Cio San is a teenaged Harajuku Girl, kitted out in gothic lolita fashion, whose youthful and naïve sense of rebellion lands her with a Don Draper-esque American businessman in contemporary Tokyo. Chaos, invariably, ensues.
Contemporary Japanese culture boasts a collusion of art and artifice that would leave Puccini's heart-on-its-sleeve, full-throated theatrical bonanza at home in the country.
Starting with China and moving into Europe and the United States, the country has borrowed and mixed international identities since first opening its gates to the western world (an opening depicted in Butterfly itself) in the 19th Century. Such an identity crisis was also reiterated following the devastating conclusion of World War II.
Puccini strove as best as he could for native authenticity with crafting the work: a 1902 visit by Madama Ohyama, a Japanese ambassador's wife, to the composer at Torre del Lago resulted in his exposure to traditional Japanese music and verification that the story of Butterfly was rooted in real-life events ("She is very intelligent and, although plain, is attractive," Puccini concluded in a letter following the visit to Giulio Ricordi).
However, Madama Butterfly is, at its heart, an overtly Italianate opera, aided by the fact that it portrays a universal story. Like the Japan of the early 20th Century, it is a mix of both east and west. For a time, Puccini even considered splitting the work's setting between Japan and the United States.
Since then, a multitude of directorial touches have sought to underscore the setting of the work. And now an anime-influenced production opens this week at the Nevada Opera, under the directorship of Monica Harte.
The production concept came to Harte after a donor commissioned poster artwork for the performances.
"When I looked at it, it all made complete sense," Harte explains. "Personally, I wasn't hugely into cosplay and anime… but when I realized a huge element to that artwork is youth and the exaggerations of the macho-ness of the men and femininity of the women, it seemed a natural fit."
The production team, which includes a costumer who designs cosplay attire on the side, has sought to accentuate the underlying connections between the at-times-operatic anime story-world to that of Puccini's. The Bonze and Goro are both bellowing, urban-style tough guys in their own ways, while Cio-Cio San's cotillion will be decked in spike heels and short kimonos.
Yet Harte hesitates to consider this a wild turn.
"We picked the characters that are more urban-like, or who can easily be played like that without stretching the story. We didn't take it and put it in Nazi Germany or something crazy like that," she says. "In the characters themselves, it's more about their costume, makeup and wigs than the specific motion except for a select few."
"Our real anime fans are going to see the motions and see the poses and recognize that, whereas our opera audiences are going to see those same motions and it simply works," she adds. "They may not see the same thing as someone else, but it's not going to be distressing to the show."
Like a marketing initiative to link local yoga instructors and Philip Glass's Satyagraha, such a production concept (replete with an anime art contest and a slew of other social media connections) is one of those instances in which two cultural niches can bond together and fortify one another, appealing in their own ways to their home-team audiences while reaching out to newcomers.
In New York, the Brooklyn Philharmonic had a similar result last fall with a program played in Brighton Beach that was dedicated to Russian Cartoon Music. Carnegie Hall linked manga and anime into its 2010-11 season's Japan festival.
Due north, the Vancouver Opera, tapping into its own large and local Japanese population, also has embraced art form and its sizable following with stories of their seasonal offerings reflected in manga form.
Under the editorial supervision of Roy Husada, the opera mangas originally were Japanese-only and ran in the local paper Vancouver Shinpo, but quickly expanded into being bilingual works that are hosted online.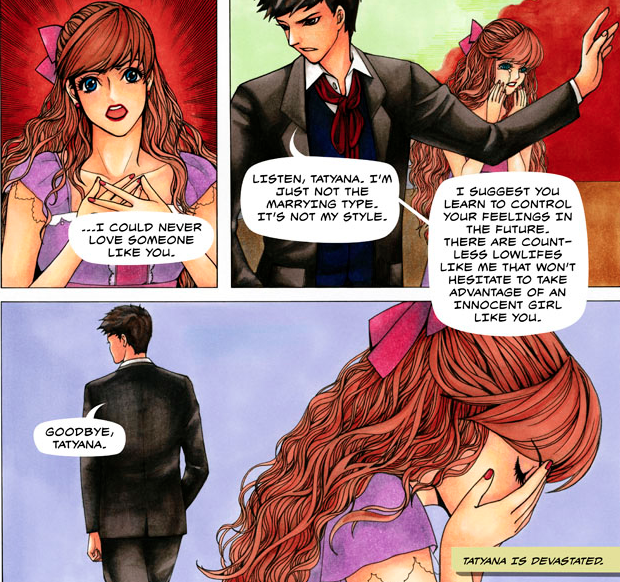 A sample of Vancouver Opera's opera manga, here detailing the plot of Tchaikovsky's Eugene Onegin. Courtesy of Vancouver Opera.
The connection is also not entirely one-sided: One of the more popular manga series in Japan, Yukari Ichijo's Pride, tells the saga of two girls from opposite sides of the tracks who compete as opera singers. A subsequent film of the same name was made in 2009, directed by Shusuke Kaneko and starring Shio Asami and Midorikawa Moe (a non-subtitled trailer can be viewed here). Pride ran in New York that same year at the IFC as part of the New York Asian Film Festival, and I remember it being a sort of inverse Butterfly: An intensely Japanese story of honor and image, tempered with the less-stoic and overtly emotional world of Italian divas and liberating Mozartean coloratura, with no small nod to the latter's own catty-diva work Der Schauspieldirektor.
Ten days following the cataclysmic premiere of his work at La Scala, Puccini wrote to his friend Don Panichlli, "You will be horrified by the vile words of the envious Press. Never fear! Butterfly is alive and real, and will soon rise again." And so it has.
More than a century later, his unique specimen of Lepidoptera has not only risen, but flits around the globe, changing its wings and external appearance with a chameleon-like fluidity and enduring stability. In many ways, an opera sung in Italian and featuring strains of the American national anthem, is much like Japan itself. Nevertheless, it seems to perennially return to its roots.