Ringside Results: Your Reviews of The Met's Ring Cycle
When the Metropolitan Opera concludes its Ring Cycle on Saturday, it will go down as one of the most hotly debated opera events that New York has seen in modern times. Richard Wagner's four-part, 16-hour saga was rolled out over a couple of years and culminated this spring, when the Met presented the full cycle three times.
While music critics have spilled much ink over the production, directed by Robert Lepage (read our reviews of Die Walküre, Seigfried, Das Rheingold and Götterdämmerung) audiences too have been arguing its merits.
We asked WQXR.org readers to give us their Ring reviews, an exercise that provoked a range of responses.
The Raw Numbers
Of the 32 reviews submitted, by far the most commentary focused on the Lepage production, with its 45-ton set consisting of 24 moving planks (dubbed "the machine"). Twenty-four readers gave it a negative review, three were mixed in their marks and two were positive (three others didn't comment on it).
Then there was the singing itself. Nine reviewers gave the performers positive marks, three were mixed and one was negative.
A third broad subject area focused on the overall music-making (i.e. the orchestra, conductor, general ensemble and cast). Five reviews were positive, two were negative.
A Range of Views
We asked readers to give us their overall impressions of the Met Ring but also to consider some specific points: their favorite or least favorite use of the machine, the aspects they would change, and what they felt were the most overrated or underrated contributions to the cycle.
C.S. Levin from Boston echoed a few readers when he wrote that Lepage's directorial concept overwhelmed Wagner's ideas: "To me the main offense of the Lepage Ring cycle is that, in its attempt to be a 'storyteller,' it forgets that Wagner was one of the greatest storytellers that ever lived. It is all in the music."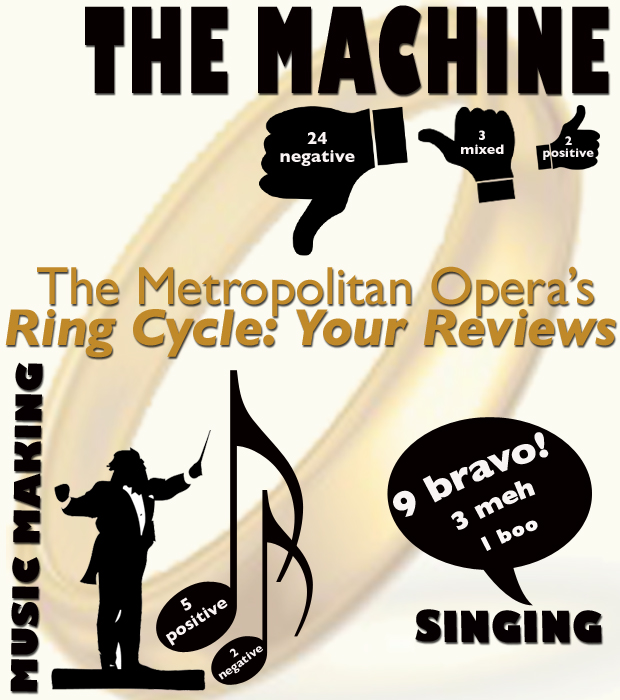 Similarly, Alexandra from Milan, Italy, said "Lepage, like most directors these days, wants everyone to talk about HIS work. The music is now last on the list of priorities."
Christy from Providence, one of the two reviewers who applauded the cycle, had the opposite reaction: "As a lover of minimalism, I enjoyed the Lepage Ring. More than anything, the simple approach to staging allowed those of us in the audience to see the work through our own prisms – something that wasn't as possible previously."
Other comments focused on the machine's perceived noisiness, Lepage's use of body doubles, the costumes, and what was deemed to be limited stage action. 
We also asked readers for their "MVS," or most-valuable singer.
Christy from Providence, RI, nominated Bryn Terfel. "While other singers moved in and out of the productions, Terfel simply kept showing up and singing amazingly," she wrote. Patrick from Wallington, NJ praised several singers: "[Jonas] Kaufmann, [Eric] Owens, [Hans-Peter] Konig and [Stephanie] Blythe were stunning, and [Wendy Bryn] Harmer was a lovely surprise."
Stu Angels from Sydney, Australia said, "For me, the best thing about this production was simply the performers who suddenly had roles that showed what they could do, who had never been on my radar before (e.g. Eric Owens)."
Below are full reviews. If you didn't get a chance already, please share your thoughts in the comments box at the bottom of this page.
---
The Reviews
David M. Gerstein from New York, NY

My wife and I have seen more than ten complete Ring cycles including those at the Met and others in Copenhagen, Washington D.C., Deutsche Opera, San Francisco, Chicago and Seattle, and have seen many of the Ring operas separately. We saw the individual Ring operas at the Met during the past two seasons and were so disappointed that we did not come to see any of the current Met cycles. While the singing was generally good (and, in some instances, great), the machine, even if it had worked perfectly (which it did not), was a great distraction. It was a pleasure to be able to hear the radio broadcasts of Siegfried and Walkure during the last two weekends without that distraction. This production was particularly painful for those of us who had enjoyed the Met's beautiful previous Ring with the finest Götterdämmerung finale that I have ever seen. In 2010, the Met cancelled its scheduled revival of the wonderful production of the Corigliano Ghosts of Versailles for financial reasons and yet it spent untold millions on the Lepage monstrosity. Something is wrong.
Frederico G. from Sunnyside, NY

I saw Die Walkure this past Saturday. I was stunned at how amazingly it ends, with the use of the Machine to dangle sleeping Brunilde upside down facing the audience, while the rest of her surroundings change to fire. Brilliant! I think the Machine is perfectly suitable for Wagner's psychological drama. Its rigidness and metallic plates evoke the overall feeling and traits of most characters. The most valuable singer was Bryn Terfel, Wotan. His voice is tremendous! I would say that the most underrated contribution to the cycle was the orchestra playing. I'm not sure if it's because Fabio Luisi and the Met Orchestra are still getting to know one another, or if they were tired or what. I personally missed hearing that extra vigor and brilliance in the sound which I often heard under Levine which was so emphatic and thrilling. Perhaps it's Luisi's own personal approach to the score. But overall it was an amazing experience. Bravo to the Met and everyone who made this production come to life!
Tony from Sacramento



An ambitious idea that is executed poorly. The machine does wonderful things, but the drama is missing. And certain aspects of the machine leave me feeling flat, particularly the end of Götterdämmerung, which was completely laughable and anticlimactic. What's the point of a huge piece of machinery if there is little to no work with the characters?
Brenda Slade from the Upper West Side

All things considered, artistically and aesthetically, I prefer the old Otto Schenk production, although I applaud the innovation and daring of this current one. My MVS (most valuable singer) was Eric Owens (Hans-Peter Konig was great, too.) Favorite use of the machine: Wotan's and Loge's descent into Nibelheim. Least favorite: end of Das Rheingold, gods very wobbly going off stage on the rainbow. Above and beyond everything for me are the music and the singing.
Michael Davey from Flatbush, Brooklyn

For all the noise made on stage by the now-legendary "machine", it was nothing compared to the noise made about it off stage. Every discussion, review, and snarky comment about the Lepage production has focused on it. On the one hand this is a sad commentary on the audience's appreciation, but it's forgivable in the light of the fact that the Met has repeatedly made it the focus of it's promotion of this Ring. The only unforgivable aspect of Peter Gelb's contribution to New York opera culture is his constant, tacky reminders of the cost of the scenery. It's even the focus of the Ring souvenirs in the gift shop.

So let me start by saying that if you judge it (for the sake of charity) from the point they got all the bugs worked out, it, the Machine, was OK. It had a few stellar moments I thought, especially the final scene of Die Walkure. Had I not known about the resources that went into it's construction, or been told it was "revolutionary" I would have been favorably impressed. The real failing of this production was the total lack of ascetic or philosophical focus. Like the production it replaced, it was so miserably literal. The only person who seemed to be able to bring anything unique was Fabio Luisi, who brought out a lightness that seems to have been buried beneath the Teutonic baggage of the work's performance history. Of the performances, very few were really memorable. While Eric Owens and Hans-Peter Konig were standouts, I thought that Bryn Terfel was a fantastic Wotan in every aspect and has been somewhat underrated.
Blanche from New York, NY

I attended both live and HD performances and was appalled by the ugliness and the cumbersome and unimaginative nature of the "concept", if Lepage's design can even be dignified by that word. The singers looked awkward and bunched, the projections were pallid (excepting a terrific effect of blood spreading in water after the death of Siegfried) and the attention to character non-existent. The quality of the singing was spotty but often soared; D. Voigt and J.H. Morris made valiant and often successful efforts, and there were sublime moments from E. Owens, J. Kaufman, W. Meier and B. Terfel. If I ran the Met I would scrap the Machine and hire a director who understood and revered this transcendent music.
Richard from Flushing

I saw the entire four operas over the last two seasons. Last year had James Levine at the helm. This year, Fabio Luisi. I liked both. Levine had long experience and love of the music. Luisi brought crystal clarity without losing propulsion. There were passages I never fully heard before. My first Ring opera was in 1957! Singing was on a very high level throughout, though I wish Voigt and Terfel had started warming up to their roles a few years earlier. I always admired Lepage's work but the set mostly obscured the operas.
Darlene Moak from Ravenel, SC

I was seriously underwhelmed. There were some "highs" but there were also a lot of "huh?" Brunhilde's dress in Die Gotterdamerung comes to mind; you have one of the most beautiful singers in the world and that's all you can come up with? That may sound "trivial" but it's emblematic of what was wrong with the whole production. MVS? Eric Owens hands down. Fav use of Machine? The steps used mostly in Part I. Overall: it could have been so much better.
Pierce Brennan from New York, NY

The opera should not be staged in a way that requires body doubles. This seriously compromises dramatic continuity. In Walkure, for instance, we want to take the entire journey with one performer as Brunhilde. The whole "machine" concept works nicely at times, but mostly not. It is possible that this set is not salvageable. Lepage's comments suggest that he is not really very knowledgeable about the Ring. A lot of things that might work fairly nicely for Cirque de Soleil, do not work at all for the Ring. The set is distractingly noisy, and these problems should have been worked out long before the thing was brought before the public. There are also very distracting whirring sounds from projectors or cooling fans which are especially audible during quieter moments. This might be overlooked in a Vegas Cirque, but the quiet moments in the Ring must be allowed to have their impact. The costumes are for the most part weak or ugly. I can't think of one that's really good. It's hard to make Jonas Kaufmann look dumpy and unattractive, but they did. They missed a good opportunity there. The giants' costumes were just silly. The dragon in Siegfried was just ludicrous and distracting. MVS: Eric Owens. J.H. Morris.
Alexandra from Milan, Italy

Lepage, like most directors these days, wants everyone to talk about HIS work. The music is now last on the list of priorities. He is in competition with Star Wars and Harry Potter. Why would you want a review of these operas, since "the operas" are the last thing on the list?
Stu Annels from Sydney, Australia

My take on this Ring cycle is that it is a Ring for the Wagner inexperienced. It uses a mix of familiar and unfamiliar singers, all of whom bring vivid characterizations to life. It is big on spectacle but small on depth, a Ring for beginners if you will. While watching the production via the Met in HD, I was struck at once, by how well The Machine worked to bring some scenes to life (to my mind, the Rhinemaidens were possibly the best) while also in other situations how it seemed to become a case of "let's do this because we can" rather than should. I think hanging Brunhilde upside down was probably the most egregious example of that. But yet, what saved this Ring and made it work for me, was the music. Both the singing and the orchestra (in the HD versions) came across well. There were no shockingly badly cast singers (despite some people's opinions) and some stunning ones. I think for me, the best thing about this production was simply the performers who suddenly had roles that showed what they could do, who had never been on my radar before (e.g. Eric Owens).
Patrick from Wallingford, NJ

I found this a distressing, depressing waste of talent and resources. It all looked like the work of someone who had never attended live theater before. The trench in which so many important scenes were played was typical of the disgracefully inept staging, the costumes seemed like leftovers from any number of discarded eyesores, and the machine itself was, more often than note, a creaking distraction. Rarely was it used in a remotely intriguing way, but rather as a backdrop for projections. The singers were on their own, and looked it. Kaufmann, Owens, Konig and Blythe were stunning, and Harmer was a lovely surprise.
Christy from Providence, RI

As a lover of minimalism, I enjoyed the Lapage Ring. More than anything, the simple approach to staging allowed those of us in the audience to see the work through our own prisms - something that wasn't as possible previously. I also found it an easier "sell" to non-opera loving friends because of the less specific staging. I adored Bryn Terfel - my Ring MVS – throughout the Cycle. While other singers moved in and out of the productions, Terfel simply kept showing up and singing amazingly. Despite a sometimes dodgy middle register, I also came to appreciate Voigt's Brunnhilde. Her vocal stylings won't go down as one of the best, but what a wonderful, sympathetic and current character she created. My niece identified with the character and wanted to learn more about her. This performance, for me, was most underrated. Both Terfel's Wotan and Voigt's Brunnhilde had a "humanity" I haven't seen as fully before, although that may be because the staging allowed me to see it. I cried as Wotan prepared to put his chosen daughter to sleep.
This brings me to what I would change. First, I would countermand the decision to use a body double for a Machine special effect at the end of Walkure. My tears quickly dried up as I thought, "Wait, that doesn't look like Voigt." I also would have staged the fight leading to Siegmund's death more severely, burned the ridiculous Fafner puppet on a real pyre to make way for something genuinely frightening, and given Brunnhilde a more glorious way to die. Having said all this, however, I applaud the Met for trying a new approach, even if it was not entirely successful. I enjoyed it and would return to see this Lepage Ring again.