Experiments in Opera Reopens its Laboratory with Some Mad Musical Scientists
Often the biggest challenge for an upstart opera company isn't the maiden voyage, but subsequent performances. Like new works themselves, much money and effort is funneled into the debut, often at the expense of guaranteeing longevity.
Bucking this unsettling trend is Experiments in Opera, a composer- and performer-driven collective whose ambitious goal is to offer evening-length performances that often sample several new works and explore the boundaries of the art form. The company debuted in January with a concert at (Le) Poisson Rouge and resurfaced this week in Brooklyn at Roulette.
Some works also returned for second viewings. A highlight of the first evening (May 10) was EIO cofounder Jason Cady's Happiness is the Problem, which fused opera with comic-book art, angsty philosophy and an Orwellian or Huxley-esque subplot of finding happiness through the secreted juices of slugs. The canned orchestra (and laughter) accompanying this chamber work for three disillusioned, yet entrepreneurial, roommates evoked an apt layer of sitcom saturation to the work. While opera is often the dourest, most cathartic and least sunny of performance media, the sitcom is perhaps its purest opposite: Bubbly, bright, harmless and allowing any of its problems to be solved in roughly 23 minutes.
It also kept the energy hovering at 11 consistently, fusing the stilettoed coloratura of Mozart's "Queen of the Night" with Glass at his most hyper-caffeinated; you're left gasping at the end for a reprieve, while admiring the psychological underpinnings of Cady's work. While our three heroines find that there is a euphoric happiness that comes from their slugs, and are able to market it to a point that their financial woes are eradicated, they themselves are miserable. Just as it takes money to make money, so too does it seem to take happiness to make happiness.
Happiness was first heard in January, but a newcomer on Thursday night's bill was To Scale, a remarkable fusing of the 21st-century zeitgeist and 17th-century musical tradition, co-written by a collective called Cough Button (Dave Ruder, Aliza Simons and WNYC Radiolab producer Lynn Levy). To Scale explored the relationship between an architect (Paul Pinto, singing with a cult-leader-magnetism) and the two-dimensional models in his to-scale rendering. Several audience members were given radios that picked up localized transmissions, often sending lines from characters offstage and creating a staticky, surreal atmosphere that further begged questions about who the people in the architect's rendering really truly were, hinting at the tantalizing idea that they may be ghosts, past memories, of their own creator.
The technology wasn't always successful. The sound system seemed to be at odds with the cavernous space of Roulette, often over-projecting the orchestral ensembles at the expense of the singers, giving the human voice an occasional metallic tinge and muddying diction as a result.
Such was the case with cofounder Aaron Siegel's intriguing, luxuriously sung, but ultimately incomprehensible Brother Brother. The following night (May 11), dedicated solely to the third EIO cofounder Matthew Welch's Borges and the Other, seemed to have some of the technical issues partially resolved—both baritone Jeff Gavett and mezzo-soprano Amirtha Kidambi shone musically and were easy enough to understand—but enough text was still lost to require a second listen of this poetic work.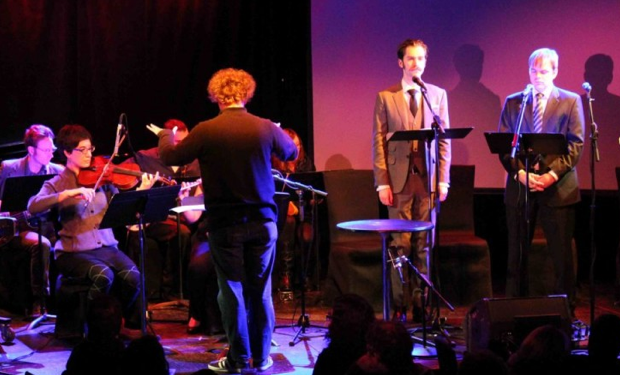 Welch conducting Borges and the Other at Experiments in Opera's January 2012 concert, with Jeff Gavett and James Rogers (left). Courtesy of EIO.
Not that a repeat of Welch's opera, fused from modular acts written over the last five years, wouldn't be entirely unwelcome for other reasons. Inspired by the Jorge Luis Borges aphorism that if you read Shakespeare, you become Shakespeare, Welch gives his audience four versions of Borges (one baritone and tenor and two mezzos) at different periods of the author's life, set against another quartet in a Greek-style chorus. The result is a dizzying, Dickensian reconciliation of past, present and future that casts a dreamlike haze of (intentional) electric cacophony, musical tautness and dramatic stimuli.
Welch's score is sprinkled adroit references: Smetana's Vltava is echoed with piano ripples here signaling the Charles River, vocal lines wink at Britten's Holy Sonnets. On the whole the piece has a bit of an Ivy League quality to it -- think tweed blazers, leather patches, green desk lamps and pipe tobacco. But it also has a heart more on par with a loosely structured liberal-arts college that assigns no grades, preferring instead to dole out life credits. It's not a bad combination, and as for its logistical shortcomings, that's all part of the experiment: Sometimes you don't know where the wall is until you run smack into it.