City Opera Revives Telemann (and Itself) with Orpheus
"The music seems to be getting closer," sings Pluto in Act II of Telemann's 1726 opera Orpheus. As the action unfolded Saturday night, a cold, corporate version of hell gradually warmed up with reddening tones, signaling the entrance of Orpheus. The lord of the underworld and his sycophants are stupefied by the shift.
All in all, it's not a bad metaphor for the revamped New York City Opera, which capped off its truncated, traveling season with this Baroque rarity at El Museo del Barrio on Museum Mile. Not only was the music literally closer in this boutique theater, but the ideals of the company under general manager and artistic director George Steel also seem to be solidifying, creating a fair amount of optimism for the company's future.
Following the iconoclastic Così fan tutte in March, this unearthing of Orpheus marks the work's New York premiere after its discovery in 1978 (a 1998 recording for Harmonia Mundi is led by René Jacobs and features Dorothea Röschmann). Directed by Rebecca Taichman, it shows the company at its strongest this season. The set features the company's inventive, trademark Baroque aesthetic of oversaturated colors—reds, magentas, oranges and violets in the first act were seemingly well-suited to the flame palette of many of the Museo's artworks—set in a vaguely dreamlike realm.
Rendered by designer David Zinn, the wedding of Orpheus and Eurydice looks like a celebration rendered for a particularly sumptuous Anthropologie photo shoot. It merges with the power-brokered underworld in Act III when Orpheus returns without Eurydice, serving as a visual limbo that leaves the work unsettled until its conclusion. The costumes, also by Zinn, further this sense, moving from gauzy, diaphanous pastels to hard-edged suits as the company switches from one world to the next.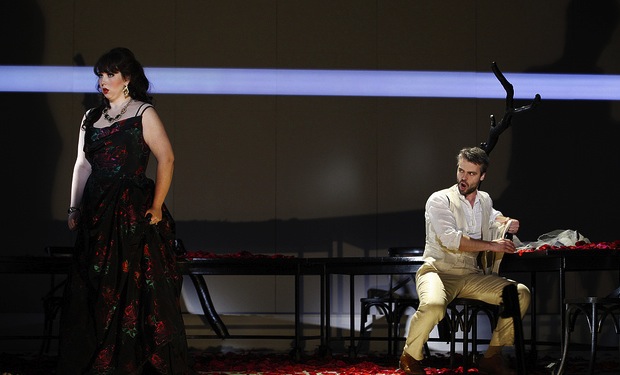 Jennifer Rowley as Orasia and Daniel Teadt as Orpheus. Photo: Carol Rosegg
The one exception to this rule is the black taffeta-clad queen Orasia. An anomaly in the Orpheus myth, Orasia is the driving force of conflict in Telemann's work, killing off Eurydice so that she can have Orpheus to herself. There's even a touch of German fatalism in the final act, in which it's revealed that even if Orpheus had been able to rescue his dead wife, she would have only been revived to be killed off again.
In fact, this may be one of the more incisive Orpheus operas, doubly so in Taichman's hands. Even with a readily identifiable villain, Orasia is nevertheless a complex figure. Jennifer Rowley, a recent winner of the Richard Tucker Career Grant, lent her creamy yet supple soprano to the role. Equally spellbinding, however, were her dramatic impulses, imbuing the character with sympathy and pathos. Initially, Orasia doesn't seem evil, just complicated in a time when emotions—and their ensuing breakdowns—were verboten. 
And what breakdowns they are. In one of her first act arias, Rowley hits a delirious high while commanding her heart to rouse itself, simultaneously crushing a champagne flute in her bare hand. The subsequent aria is all eyes and guns blazing as the queen steels herself for revenge. It's no small wonder that this singer earned the highest accolades of the evening when it came time for curtain calls.
Likewise, Orpheus himself is a character more richly complicated than we've come to expect from the hero of Gluck. Here, he's practically proto-Goethean in his Romantic antihero leanings. While baritone Daniel Teadt sounded at times too restrained in comparison to his castmates, he brought some espresso-rich expressiveness to the role. The size of the theater was also conducive to each of his telling facial expressions and buoyed his (as well as the rest of the singers') diction in the libretto's multiple languages. He was also an ideal mate for Joélle Harvey's sensuously sung and acted Eurydice, who brought a rosy bloom to her brief but beautiful arias.
The biggest addition to this production was that of dancer Catherine Miller in the added role of Thanatos, the personification of death in Greek mythology. With blazing red hair and a dark tulle number that screamed Black Swan, Miller moved with Mark Dendy's Jorma Elo or Pina Bausch-like choreography both with and against the music, seducing Eurydice into death with one heartstopping kiss before bringing Orpheus and Orasia down as well. It enhanced, rather than detracted from the plot, once again reinforcing the themes of kismet and determinism in Telemann's work.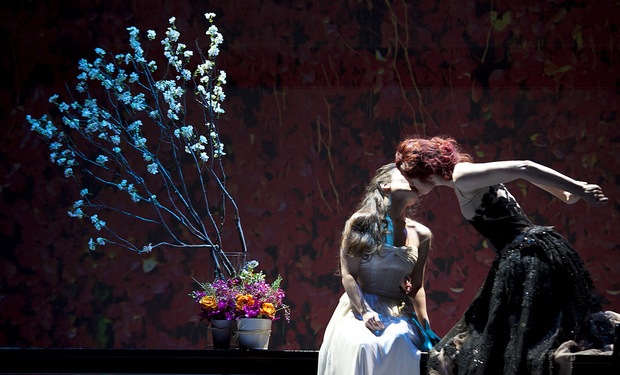 Joélle Harvey as Eurydice and Catherine Miller as Thanatos. Photo: Pavel Antonov
Of course, no Orpheus story is complete without a caveat, a hitch, or some fine print, which was unexpectedly delivered at the start of act three when it was announced that soprano Joanna Ruszaladue would take over the role of Orasia's handmaiden Ismene from an ailing Michelle Areyzaga. Ruszaladue's part may have been minor, an outsider to the central love triangle, but she brings the opera to a close with a hymn begging the queen to live, a little necessary outside perspective in this heated story.
Conductor Gary Thor Wedow made a compelling case for Telemann in the pit while bringing out the best in and creating balance between his uniformly strong singers and orchestra while also supplying support in the continuo. Further musical credit is due to the tireless Lawrence Lipnik, who did double duty on recorder and viola da tenor gamba with a disturbingly elegant ease.
In his landmark work of Gestalt therapy literature The Paradoxical Theory of Change, Arnold Beisser argues "that change occurs when one becomes what he is, not when he tries to become what he is not." With this Orpheus, it seems cautiously optimistic to say that the company is slowly becoming what it is, and perhaps what it once was. If anything, it bodes well for its next, and even more ambitious, season.