Recording Roundup: Gloom, Doom and Some Luscious Lieder
I like to think of lieder as the bacon of the opera world: Versatile, welcome at any time of the day, deftly balanced when done right and hard not to love (even vegetarians find ways to circumvent their dietary beliefs in order to accommodate that salty-sweet thing of beauty).
But I digress (and digest). In a time of year when opera seasons are winding down and the festival months have yet to kick into high gear, we're left with a dearth of full-length works but a comparative influx of high protein musical works that cut out the carbs and, often in five minutes or less, cut to emotional truths that other works can take five hours—delicious though those hours may be—to reach.
Mark Padmore, tenor
Britten Sinfonia; Jacqueline Shave, conductor 
Britten: Serenade, Nocturne; Finzi: Dies Natalis
 Take, for instance, tenor Mark Padmore's newest release on Harmonia Mundi. Padmore's previous recordings of Schubert cycles (chief among them a haunting, essential, Winterreise recorded with Paul Lewis in 2009) and Britten works have made him one of the hottest art song commodities  around, blessed as he is with a balance of right-brained intellect and left-brained sensitivity when it comes to his keenly-picked material.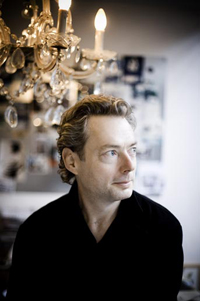 This latest collection continues in that vein with a jarring rendition of Gerald Finzi's Dies Natalis. Premiered in 1940, the work is ideally suited to Padmore with its setting of 17th-century poetry about a newborn child's innocent worldview to the music of a composer who was witnessing Europe on the brink of the Second World War. Padmore pairs this cycle with two complementary Britten works, the Serenade for tenor, horn and strings and the Nocturne for tenor, seven obbligato instruments and strings.
Padmore's performances of Britten's nightscapes lack the heft and emotional density of his Winterreise but they nevertheless arrive polished and at times persuasive—such as the stirring call of the "Nocturne" in Serenade—expertly accompanied by the Britten Sinfonia and featuring hornist Stephen Bell. And the Finzi is the perfect antidote to those who find this current weather in New York to be altogether too pleasant (especially after a winter that never was).
Matthias Goerne, baritone
Christoph Eschenbach, piano
Schubert: Schwanengesang, Sonate D 960

Casting a similar pallor of delightful doom is German baritone Matthias Goerne, recently heard live in New York working similar downcast magic at Carnegie Hall with pianist Leif Ove Andsnes. He continues a cycle of Schubert recordings with a shiny new two-disc set that pairs Schwanengesang with the composer's Piano Sonata, D. 960, played by Christoph Eschenbach. Padmore recorded this same cycle last year, (also for Harmonia Mundi), with Lewis at the keyboard and a haunting tone that, like Dresden china, threatened to crash at any moment.
Goerne's take on Schubert's swan song, however, is already broken on arrival. Taking tempos a hair slower than his label-mate and filtering the music from the prism of his gentle giant of a baritone, there is very little hope of redemption suggested in Goerne's interpretations. "Ständchen," one of the cycle's standout works in which the singer implores his lover to "beglücke mich" (to please him), is almost ironic in how little it expects the subject of the pleas to follow through. Goerne, it seems, can't get no satisfaction—but the listener certainly does. Christoph Eschenbach is a sympathetic partner, and the two create an unflinching vision of Schubert's sound-world (very similar, in fact, to the joint-custody held over the work by Padmore and Lewis).
Marlis Petersen, soprano
Jendrik Spinger, piano
Goethe Lieder - Das Ewig Weibliche
German soprano Marlis Petersen brings her own brand of dourness on a collection of 19 Goethe settings from the motley likes of Tchaikovsky and Ives. However, that's not the central focus in Petersen's world. Her star power is immediately apparent in the opening Monolog der Stella by Ernst Krenek, a work that calls to mind the mesmerizing kinkiness of Berg's Lulu (a choice role of Petersen's).
Indeed, the beguiling strength of Petersen's recital is looking at Goethe, the epitome of 19th-century Romantic poetry, refracted in the 20th-century context. Liszt, Schumann and Tchaikovsky all sound formidable in Petersen's fearless interpretations, but it's when she treads the territory of Wilhelm Kempff, Alphons Diepenbrock and Hans Sommer that she truly shines. Particularly engrossing are three versions of "Wandrers Nachtlied," which serve as a thesis for the rest of the recording and a chance to show off her manifold abilities to make the same words sing as if they have never been sung before time and again.
"Love & Longing"
Magdalena Kozena, mezzo-soprano
Berlin Philharmonic; Simon Rattle, conductor

One of the latest discs that I cannot stop consuming, my Vosges Mo's Bacon Bar of current lieder releases, is to be found on Deutsche Gramophon and in the voice of Magdalena Kozena. I'll admit upfront to being a longtime fan of Kozena's earthy, Czech mezzo and her ability to supply make it fit in a variety of unusual settings, be it a Bach cantata, fragments of a Martinu opera, Mozart's soprano and mezzo heroines or the Gallic treasure trove of French opera heroines.
Love and Longing, recorded with the Berlin Philharmonic under Kozena's husband, Sir Simon Rattle, shows the singer at her eclectic best. She dons the guises of French (Ravel), Czech (Dvorak) and German (Mahler) art songs. Of the latter, the Rückert Lieder, the midway installment, "Um Mitternact" sounds especially yearning and regal.
But sung with a special layer of warmth and benediction are Dvorak's ten Biblical Songs, a song cycle based on various Psalms and sung in her native Czech. Soaring lines like "And I said: Oh, that I had wings like a dove! For then I would fly away and be at rest" that lead into an agitato conclusion to Psalm 119 are miniature arcs of operatic beauty. And the composer's take on "The Lord is my shepherd" is exactly the sort of thing saints and sinners alike wouldn't mind hearing if the world did come to a conclusion on December 21. It's rendered even lovelier when it followed by the opulent yet pure "I will sing a new song unto you, O God," which is laden with Bachian reverence.
L'Olimpiade
Arias by Vivaldi, Cimarosa, Pergolesi, Leo, Hasse, Cherubini, Galuppi, Sarti, Myslivecek, Perez, Gassman, Caldara, Traetta, Jommelli, Piccinni
Various singers; Venice Baroque Orchestra

Handel: Theodora 
Dawn Upshaw (Soprano), David Daniels (Counter Tenor), Frode Olsen (Bass), Lorraine Hunt Lieberson (Mezzo Soprano), Richard Croft (Tenor)
Orchestra of the Age of Enlightenment; William Christie, conductor
Of course, there are also some full-length recordings that are not to be missed. Ideally timed to some boutique sporting event going on in London this summer is Naïve's L'Olimpiade, a pastiche of music by the likes of Caldara, Vivaldi, Pergolesi and Cherubini based on the Olympic theme. And from the Glyndebourne vaults comes a must in Handel's Theodora performed live in 1996 by the Orchestra of the Age of Enlightenment under William Christie and featuring the vocal trifecta of Lorraine Hunt (pre-Lieberson), David Daniels and Dawn Upshaw. Even bacon can't compare to that sort of a vocal lineup.