Twelve New York-Area Music Festivals in 2012
Whether you're headed to Vermont, the Hamptons or points upstate, it's the season for music festivals to flourish. Here are 12 highlights. Tune in to WQXR on Tuesdays at 9 pm for our weekly Summer Concert Showcase.
Bard Music Festival
Annandale-on-Hudson (Aug 10-12, 17-19)
Details>>

In a season that celebrates froth, the Bard Festival is known as a thinking-man's summer festival. This year's theme, "Saint-Saëns and His World," spans a dozen concerts, plus lectures, panels, and scholarly commentary. Among the novelties is a program that promises listeners "a radical reconsideration" of Saint-Saëns's Carnival of the Animals (Aug 10). The beloved piece will be heard in its original chamber format featuring a glass harmonica. Located along the rolling banks of the Hudson River, a trip to Bard can be combined with visits to area wineries, antiques shops and state parks.

♪ Our pick: Saint-Saëns's Carnival of the Animals (Aug 10)
Berkshire Choral Festival
Sheffield, MA (July 8-Aug. 5)
Details>>
Founded in 1982, the BCF offers amateur singers the opportunity to rehearse, take music classes and perform under some respected conductors. This year's festival includes Beethoven's Missa Solemnis (July 14) and Haydn's Lord Nelson Mass (Aug. 4). The festival also takes place in Edinburgh and Salzburg, Austria.
♪ Our pick: Haydn's Lord Nelson Mass (Aug. 4)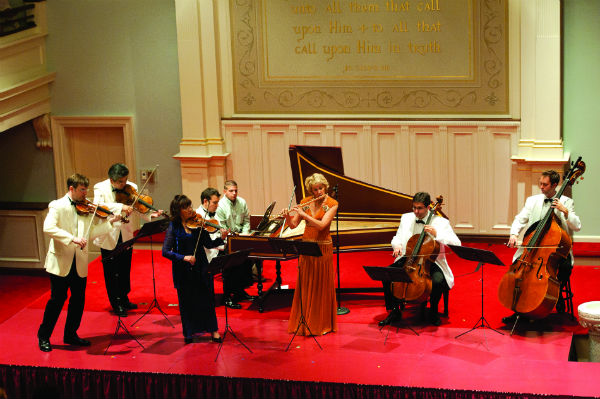 Bridgehampton Chamber Music Festival
Bridgehampton, NY (July 26-Aug. 19)
Details>>
The Bridgehampton Chamber Music Festival was founded in 1984 by the flutist Marya Martin, and it has become the longest-running summer music series on the East End. The festival's 29th season features a roster of New York musicians like pianist Alessio Bax, violinist Ani Kavafian and cellist Carter Brey. Highlights include a free outdoor concert by the string quartet Brooklyn Rider (July 26) and a performance of Copland's Appalachian Spring at the Channing Daughters Winery (Aug. 11). Other concerts take place in the Bridgehampton Presbyterian Church.
♪ Our pick: Brooklyn Rider - free outdoor concert (July 26)
Caramoor International Music Festival
Katonah, NY (June 23-Aug. 8)
Details>>
Variety is the spice of this festival set on a lush estate just an hour north of Manhattan. Chamber music takes place in the charming Spanish Courtyard, with groups like Brooklyn Rider (July 20) and the Pacifica Quartet with clarinetist Anthony McGill (July 27). Meanwhile, opera buffs won't want to miss Rossini's Ciro in Babilonia featuring Ewa Podles in its American premiere (July 7). For a blue-chip orchestra concert, consider Emanuel Ax with the Orchestra of St. Luke's in Beethoven's Piano Concerto No. 3 (July 15). Jazz, Latin rhythms and roots music round out the offerings. Insider tip: picnics are serious business here.
♪ Our pick: Rossini's Ciro in Babilonia featuring Ewa Podles (July 7)
Connecticut Early Music Festival
New London, CT (June 8-23)
Details>> 
The festival's 30th anniversary season features six different ensembles playing works from the medieval through classical eras. Highlights include members of Boston's Handel and Haydn Society evoking the music of a 19th-century Boston salon (June 8) and Mozart's Abduction from the Seraglio performed by the Connecticut Early Music Ensemble (June 23).
♪ Our pick: Connecticut Early Music Ensemble performs Mozart's Abduction from the Seraglio (June 23)
Glimmerglass Festival
Cooperstown, NY (July 7-Aug. 25)
Details>>
Aida opens this annual opera fest in a production by its new general and artistic director Francesca Zambello. Zambello promises a more intimate take on Verdi's warhorse emphasizing the love story at the grand opera's core. The production includes Eric Owens as Amonasro. He returns later in the summer in the role of Stephen Kumalo in Kurt Weill's Lost in the Stars.
♪ Our pick: Verdi's Aida (July 7-Aug. 25)
Lincoln Center Festival
New York, NY (July 5-Aug. 5)
Details>>
The air-conditioned halls of Lincoln Center are home to a number of non-standard fare this summer including a collaboration between the orchestras of Juilliard and London's Royal Academy of Music. Composer John Adams will conduct the joint ensemble in his jazz-inflected symphony City Noir, plus Ravel's Piano Concerto in G with English pianist Imogen Cooper (July 11). Soprano Elizabeth Futral stars in Kaija Saariaho's opera Émilie (July 19-22); and the Paris Opera Ballet presents Pina Bausch's version of Gluck's Orpheus and Eurydice (July 19-22).
♪ Our pick: Juilliard Orchestra and the Royal Academy of Music Orchestra, John Adams conductor (July 11)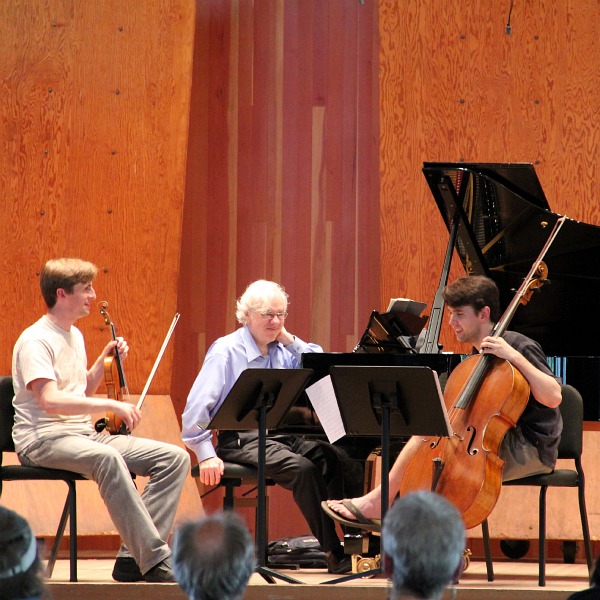 Marlboro Music School and Festival
Brattleboro, VT (July 14-Aug. 12)
Details>>
Marlboro, in southern Vermont, is a no-frills festival that resists trendy programming and an overt star system of performers. But its reputation remains consistently strong, and every summer some 60 to 80 musicians convene here to polish chamber-music repertoire over the course of five or six weeks. Although concert programs are announced only a few days before the concerts you're on safe ground booking tickets for any of them. Read more in our report from last summer.
♪ Our pick: Season finale (Aug. 12)
Mostly Mozart Festival
New York, NY (July 28-Aug. 25)
Details>>  
The 2012 Mostly Mozart Festival includes a focus on birdsong and its influence on classical music as well as heaps of Mozart, Beethoven and Schubert. Highlights include a pair of opening all-Mozart programs by the Festival Orchestra featuring pianist Nelson Freire and tenor Lawrence Brownlee (July 28-29); Yannick Nézet-Séguin conducting Haydn's Nelson Mass (Aug. 4); a program of Bach, Mozart and Mendelssohn featuring pianist Stephen Hough (Aug. 21); and the Mark Morris Dance Group's performance of Purcell's Dido and Aeneas (Aug. 22-25). 
♪ Our pick: All-Mozart programs featuring pianist Nelson Freire and tenor Lawrence Brownlee (July 28-29)
Music Mountain
Falls Village, CT (June 17-Sept. 9)
Details>>
Founded in 1930, Music Mountain is billed as the oldest summer concert series in the country. Its focus is string quartets, starting with four concerts by the St. Petersburg Quartet opens with four concerts featuring guest pianists Misha Dichter (June 17) and Tanya Bannister (June 24). But for our money, the hottest tickets are by the young Voxare Quartet (Aug. 11); an all-Beethoven program by the Juilliard Quartet (Aug. 26); and the Daedalus Quartet playing Haydn, Mozart and Brahms with pianist Soyeon Lee (Sept. 9).
♪ Our pick: Daedalus Quartet and pianist Soyeon Lee play Haydn, Mozart and Brahms (Sept. 9)
Tanglewood Festival
Lennox, MA (June 22-Sept. 2)
Details>>
Tanglewood turns 75 this year and accordingly, the Boston Symphony will be recreating a concert from its very first season: a meaty selection of Wagner overtures and scene music, affording the Valkyries to ride through the Berkshire Hills of Western Massachusetts (July 21). There's also lots of pops, a contemporary music festival (August 9-13) and a program pairing the premiere of John Harbison's Koussevitzky Said with Beethoven's Ninth Symphony (Aug. 26).
♪ Our pick: John Harbison's Koussevitzky Said with Beethoven's Ninth Symphony (Aug. 26)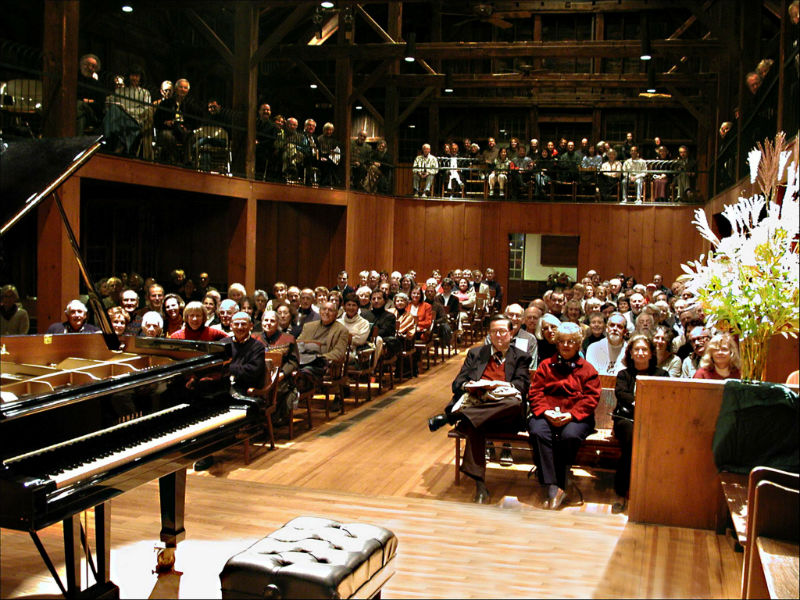 Tannery Pond Concerts
New Lebanon, NY (May 27-Sept. 22)
Details>> 
Concerts at this festival take place in a 300-seat, wood-lined room that was a former Shaker tannery. The modest schedule of seven events keeps going well into September with an intriguing recital of Schubert and Ricky Ian Gordon by clarinetist Todd Palmer, soprano Elizabeth Futral and pianist Ran Dank (Sept. 1); and the Brentano String Quartet (Sept. 22). The latter features Beethoven's Op. 130 Quartet.
♪ Our pick: Clarinetist Todd Palmer, soprano Elizabeth Futral and pianist Ran Dank play Schubert and Gordon (Sept. 1)
Photos: Bridgehampton Chamber Music Festival (Brian Hatton); Richard Goode rehearsing with student musicians at Marlboro; Tanglewood: Flickr/Joebrent; Tannery Pond Concerts