Warm Up: Nicholas Phan Goes from Page to Stage
Yoga, Bach and a gin martini are all in a day's work for Nicholas Phan.
With a tenor voice that's made him an in-demand concert performer, his 2011 debut album Winter Words, is so Britishly Britten that it's hard to believe he grew up in Michigan, the child of a Greek mother and Chinese father. But he's also a fast-rising presence in opera, having recently concluded a run as Don Ottavio in Atlanta and appearing on the new Olympics-themed pastiche L'Olimpiade.
Phan is also one of the more down-to-earth performers you're likely to encounter. And there's more opportunity to hear him this weekend when he sings Carmina Burana with the New York Philharmonic.
How does he juggle it all? Read on for Phan's pre-performance routine of writing, talking and meditating in this newest installment of our Warm Up series.
Early Riser
I prefer to wake up around 8:30 or 9 am to be up and do something. The worst part about performance days is just the waiting. It's hard for me to sleep in; I've just accepted that I can't. So I get up, I go through my morning routine with coffee, breakfast; I do my morning pages and pretend it's a normal day. And then I'll have a nap and restart. After the nap is when it starts, rather than trying to sleep in as late as possible.
Pages?
I'm very much a devotee of [Julia Cameron's book] The Artist's Way. I've been doing morning pages pretty much every day since 2003. I've got pages and pages of crazy in my closet. I find the morning pages really important for my creative process. It's really vital to do those every day in order to put my inner critic down on the page and then put the book away, out of my head for the day. It's a way to cleanse my mind, because that inner critic, that inner dialogue I find is really destructive even on a rehearsal day. It makes it impossible to take risks and it makes it impossible to sing. It's like putting a vise on your throat. Doing morning pages helps to shut that person up.
Up with Downward-Facing Dog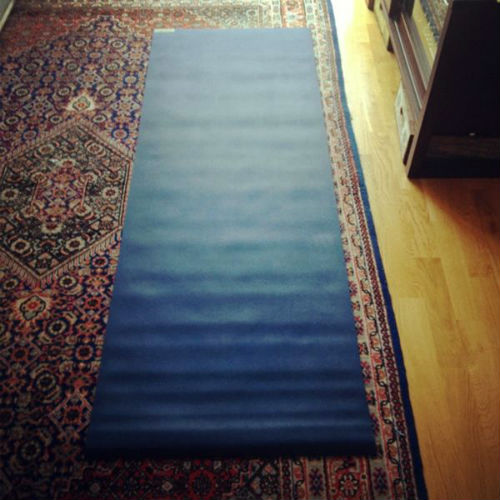 I have a travel [yoga] mat that has gone with me all over the world. That's the first thing that goes in any suitcase, actually. I have a couple of routines on DVD, some on podcast, and I'll pick one of those that feels right for the day. If I have a matinee and I've overslept, perhaps I'll pick a shorter one. [Laughs.] That's something I do daily. If I'm going to sing at all during the day, ideally the yoga has to happen. I learned early on that yoga was the key because it was a great way to have that physical moment with myself, just to get the blood-flow going. The focus on breathing and the moving meditation aspect of yoga is really helpful in terms of getting your mind in the right place for a performance.
A Bit of Bach
The one thing I do listen to every day is a little bit of Bach. I tend to listen a lot to the B-Minor Mass, particularly the John Eliot Gardiner recording. One thing I tend to listen to daily is the "Et incarnatus est," the Baritone solo—the Credo. I'm a complete Bach dork. There's something about it that just helps me focus and there's something meditative about listening to Bach. It's so complex you have no choice but to focus on the moment. It puts my mind in the right place. The only time I have not enjoyed listening to Bach was when I went to get a massage in London and the spa was playing the St. John Passion and I just thought, This is weird… this is not relaxing. 
Nibbles and Nosh
I never really eat a huge breakfast, I'll generally have some yogurt and berries or cereal. My favorite breakfast is an English muffin with some cream cheese and salmon. I'll try and have an early lunch before I take a nap. I try to avoid foods that are really complex or exciting in terms of spices and whatnot. And then after the nap when I have dinner, I have a really, really light dinner. A banana is generally key because they have a lot of potassium which is key for focus.
Meeting in the Middle
I like to warm up at the theater, because that's my place of work—my office—and the place where I want to start focusing. I'm so envious of the people who roll out of bed and sing Tosca. I just don't know how people do that. My warm up is basically the same ten to 12 exercises every day that I have to do before I go onstage. That generally takes about 15-20 minutes, closer to 15 normally. I do a lot of concerts and that involves a lot of sitting around onstage waiting to sing. For Carmina Burana, I sit there through all of part one, which is great to listen to. But then you have to stand up and sing in the stratosphere and pop out high Ds after having just sat around doing nothing for an hour. 
Come Together
So much of the day I'm trying to gather my focus, it helps to have a distraction or two otherwise by the time you walk out onstage you're just totally psycho. You have to find some balance. After I'm done warming up, it's nice to be with people. I find performing to be such a communal experience. Performing is all about communicating with other people; even if you're just onstage yourself, you're singing for whoever has bought a ticket for that night. So I find that having that moment to communicate with the people around you, that draws you a little bit out of yourself and gets you into that communicator mode as well.
Facebooking the Music
The worst part of the performance is the agony of waiting. And that's why I prefer matinees to evening shows, actually, because there's less waiting. On a performance day, you're like a horse at the start gate. You're just waiting for the gun to go off. So the more time you're waiting for the gun, the more agonizing it is. So any way you can distract yourself… I always check in with my partner. That's always the one person I check in with. Everyone else varies. Whoever is interesting on Facebook at the moment. I don't know what we did before smartphones.

Family Meal and Post-Show Cocktails
If I'm doing a full opera, like I was doing Don Giovanni last month in Atlanta, my colleagues and I had this little ritual where we would have a light dinner or snack during intermission. So Donna Anna, Donna Elvira and I would gather in Elvira's dressing room and basically sit there and eat and have coffee klatsch. And after the show, I enjoy a good gin martini: Hendrick's with cucumber. Either that or a nice glass of really good champagne.