When Opera Companies Place Audiences in the Action
This season's Ojai Festival, opening Thursday in Ojai, California, starts with a bang: 48 players will assemble throughout Libbey Park and the Libbey Bowl to play John Luther Adams's percussion opus, Inuksuit.
The work is not without ample playtime in New York of late. In February 2011, it got its local premiere as part of the Tune-In Music Festival at the Park Avenue Armory. And, being written for the outdoors, the piece also made an appearance in Morningside Park, produced by the Miller Theater at Columbia University as part of Make Music New York, in June 2011.
For a work composed in 2009, that's pretty impressive so far, especially given its malleable yet mammoth proportions: Written for an ensemble of nine to 99 players, Inuksuit is the sort of work that defies a concert stage. Of the Park Avenue Armory concert, New Yorker music critic Alex Ross aptly summed up the experience: "Because both ensemble and audience were in motion, no two perceptions of the performance were the same, and no definitive record of it can exist."
But that's also part of the work's power and potency. Reviewing the same performance for the New York Times, Steve Smith described the some 1,200 audience members in various positions, whether sitting on the Armory's floor or roaming the hall, "approaching each percussion station as a new and distinctive trail marker on a picturesque nature hike." The sum of the parts was, in Smith's words, "some small part to an engrossing aural environment conjured at the heart of a teeming metropolis.
As presenters, producers and programmers reconsider various performance forms for 21st-century tastes, moving beyond the unspoken protocols of Wagner's grand theater seems par for the course. The most adventurous producers today are returning to the idea of a communal theater that takes place in an intimate living room (as it often did for families of the Medici era) or around a campfire in Ancient Greece. They're harkening back to early American theater when it wasn't unheard of for a drunken young lad in the audience to jump onstage and flirt with a chorus girl.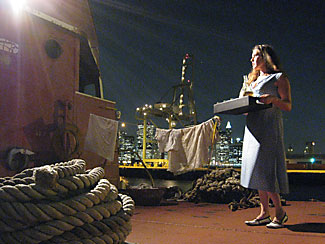 This has been seen in New York in various media in recent years: Vertical Player Repertory did Puccini's Il Tabarro on a site-specific retired oil tanker (right), American Opera Projects presented a setting of Walt Whitman's Leaves of Grass in Brooklyn's Fort Greene Park. In the UK, the Tower of London Music Festival presented Anna Bolena in the purest sense of site-specific theater, while the Philly Fringe Festival went for a similar period setting with a Fidelio performed in the early-19th-century Eastern State Penetentary.
But this isn't exactly a new phenomenon. Airports factor into some site-specific works: Lisa Bielawa's Tempelhof Etude is to be performed at the now-retired eponymous airfield in Berlin before it is converted into a public space. Likewise, Philip Glass's 1988 opera 1000 Airplanes on the Roof was first seen and heard at Vienna International Airport. Going back even further to the 1950s and '60s, we see the proliferation of happenings. The composer Robert A. Baker described these events in connection with John Cage performances for Erudit.org:
"The spatial distinction between performers on stage and a seated audience was abandoned. The performers would be found throughout the theater and amidst an audience free to circulate at will," he wrote. He later added: "Since they have no pre-organised dramatic narrative, and many of their performed elements are often presented in random intervals and combinations determined by chance operations, these events take place in the present, without a storytelling element. This is a theatre of the now, and it is one which fundamentally questions our notions of both the passage of time and the nature of space."
What Baker questions is whether or not the format known as the happening can coexist alongside operas, operettas and musical theater. Perhaps one of the strongest cases for this in New York right now is Punchdrunk Theatre Company's Sleep No More, a version of Shakespeare's Macbeth (below, left) that puts the audience into the action, allowing them to pass voyeuristically through a hotel, going from room to room and viewing a familiar story told from an unfamiliar angle. Like Inuksuit, Tempelhof Etude or other works, one audience member's experience of the work will not equal that of another's. In fact, Sleep No More's deal goes further into this idea by separating parties into distinct groups to ensure that even a husband and wife don't encounter the Moody Thane in the same way.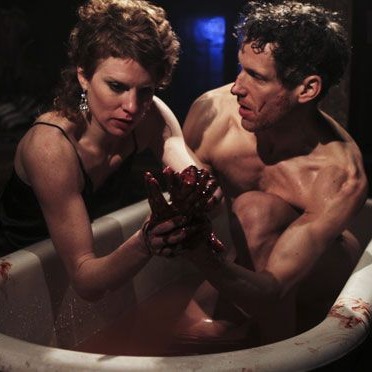 And perhaps that is a plausible way to consume opera. Directors have frequently recontextualized repertory standards, dropping 18th- and 19th-century plots into another time, to make the work seem fresh and appealing. Audiences approaching an over-familiar work by Mozart or Gounod would appreciate a nuclear family or nuclear war overshadowing the works, the theory goes.
But consider if it's not what they see, but how they see it. What if the traditional proscenium stage were abandoned for a more interactive experience? This could keep one person close to the Almavivas and another exploring Cherubino's corner of the estate, while yet another up in Figaro and Susanna's business.
After all, we live in an age where on any given day we may "talk to" Alec Baldwin or peek at blurry iPhone photos snapped by Martha Stewart herself via Twitter. We want a hand in voting for our new wave of pop stars. We even have viewing parties fashioned after the worlds of Mad Men or Glee to feel like part of the action. If 100 years ago we began to encounter the Lost Generation, we're now in a sort of a Found Generation, in which we seek every opportunity to be as involved—artificially though it may be—as our attention spans let us.
We'll get another taste of such interaction when, as part of their program Philharmonic 360 (June 29-30), the New York Philharmonic performs the Act I finale to Don Giovanni in the Park Avenue Armory. Here's hoping it's a happening.
Weigh in below: Tell us about an interactive opera performance you attended.
Photos: 1) Judith Barnes of Vertical Player Repertory, in a scene from Puccini's 'Il Tabarro' (Carolina Salguero/PortSide New York); 2) Tori Sparks as Lady Macbeth and Eric Jackson as Macbeth in the Punchdrunk production of "Sleep No More" ((c) Yaniv Schulman)