When Formative Recordings Set the Bar
This morning was partly spent trying to remove my fingers from my skull, having accidentally embedded them in there after much head scratching over the inscrutable wording to describe a new Grammy category: "Best Classical Compendium."
Over at NPR, Anastasia Tsioulcas did the rest of us a favor by calling the Recording Academy for clarification (for those of you playing the home game, it is, in Tsioulcas's words: "meant for new albums and boxed sets that encompass more than one compositional form — for example, an album that includes both a symphony and a concerto").
All this calls to mind a piece I wrote around the time of the last Grammy Awards, considering the nominees to question why we need yet another recording of Traviata, or even one of Bill Budd. Fortunately, a new work—Adams's Doctor Atomic—rightfully won Best Opera this year. In that article, I asked you the reader to name which operas you thought warranted new recordings, and many of you answered, complete with cast picks.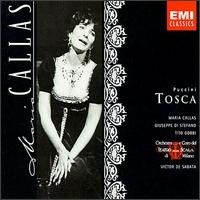 But on the flip side, there are many operas that people simply don't need to hear re-recorded. I was once told by a friend that the Callas-Di Stefano-Gobbi Tosca had ruined them for any other incarnation of the opera with a totally open mind, particularly Tito Gobbi's chillingly-crafted "Va Tosca." Such an adoration was so extreme that even seeing Tosca live failed to live up to Callas's mid-century standard.
Admittedly, I felt similar at last week's Carmina Burana at the Philharmonic. As many elements as there were to love in that concert, I felt myself itching to revisit a striking 2010 recording of the work on Deutsche Grammophon by Daniel Harding and the Bayerischen Rundfunks orchestra. If such a thing as perfection is unthinkable in performing arts, then Harding and company nevertheless get pretty darn close in moments like the unbridled joy of the "Uf dem Anger" dance, Christian Gerhaher's devastatingly Teutonic "Estuans interius" and Patricia Petibon's sublime "In trutina." I hadn't enjoyed a recording of Carmina that much since James Levine's take on it for the same label in 1985. Some people pride themselves on owning as many recordings of a work as possible, but in the case of this piece, I'm fine with just the two.
It's not hard to divorce yourself from these moments and push those thoughts out of your head when you're in the concert hall, especially when you realize that comparing singers against one another is a zero-sum game (contextualizing them in relation to other singers, however, is a different story). But it's still natural and bound to happen. In a way, it's a lot like dating: You never want to think about your exes when with your current partner, but you invariably carry all of the lessons you've learned from past experiences and often apply what you learned from those situations to your current relationship.
And there may always be that first love that inhabits a recess of your memory. Perhaps you let it live there, smiling at what you shared with it but knowing that you had to move on: I recently re-listened to the first Turandot I owned, an unknown Romanian recording that I bought because it was $10 and I, as a teenager, was broke and thought the then-average price for full opera recordings may as well have been the debt we currently owe China. It's embarrassingly, excruciatingly bad, but that didn't keep me from getting my "Nessun Dorma" (or, as the tenor on that recording sang it, "Nessun-y Dorma"). Or, it's possible, that the specter of your first Don Carlo cannot be matched by any subsequent fling.
Sometimes, open relationships just don't work.
What recordings have ruined you for all other versions of an opera? Confess your affairs of the ear in the comments below.