The American (Operatic) Dream Resonates in LBJ Oratorio
In the pilot for Aaron Sorkin's new show for HBO, "The Newsroom," Jeff Daniels, playing a cable news anchor famous for not espousing any political side, is needled into saying why America is the greatest country in the world.
His ensuing breakdown, in which he attacks both left and right and expands on why America is, in fact, not the greatest country anymore—though it could be—provides the framework for his character and the ensuing program. The sentiments are also mirrored by his gun-ho producer (Emily Mortimer), who believes America is great because "we are a country that keeps saying that we can do better."
This line easily gets stuck in the brain, a verbal earworm, and comes crashing back to the forefront of one's memory when listening to August 4, 1964, composer Steven Stucky and librettist Gene Scheer's "concert drama" about a pivotal, tragic day in the LBJ administration. Towards the beginning, after it's revealed that three bodies of murdered young civil rights workers are discovered in Mississippi, LBJ has an intensely personal moment of rage and contemplation.
In the midst of grousing about historians and how he "spilled [his] guts getting that Civil Rights Act," the president recounts a visit to a poverty-stricken family in the Appalachians. "I promised the mother, the father, I'd do something to make things better for them," he sings. It's a striking concept—"better"—that resounds over the events of August 4, a day that also brought a bogus attack on two American warships stationed in Vietnam.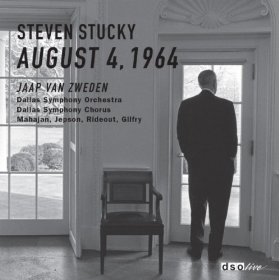 And the idea of betterment is something that rings as uniquely American, particularly in opera and, by extension, musical theater. The latter art form is rife with works about presidents and politicians, from Stephen Sondheim's Assassins (with its singsong refrain of "Everybody's got the right to be happy" sung by the slayers of Lincoln and Kennedy alike) and Michael John LaChiusa's history-bending First Lady Suite to Sherman Edwards's 1776 and even Annie (with FDR motivated to pull the U.S. out of the Great Depression thanks to a spunky orphan singing about the sun coming out tomorrow).
Opera, too, has its moments, the most notable of which being John Adams's Nixon in China. But Bill Clinton, George W. Bush and Andrew Jackson have factored in as characters for recent works like Kristin Hevner Wyatt, Daniel Wyatt and Royce Vavrek's Bully Pulpit Bonnie Montgomery's Billy Blythe and Roger Rudenstein's The Devil and George Bush.
In a way, such elected political figures provide the opportunity for a far more intricate character development than their monarchial counterpoints. Nixon, for all of his demons in the wake of Watergate, comes across as a troubled, but sympathetic character in Adams's opera. Likewise, Lyndon B. Johnson's manifold emotions—both as a man and a president—are explored in great detail by Stucky (fully realized by a stellar performance from the Dallas Symphony Orchestra, led by Jaap van Zweden). Mussorgsky's Boris Godunov has a similar three-dimensional quality, brought on by the fact that he gained control of Russia through murder.
And perhaps the argument can be made that characters like Donizetti's Henry VIII seem a little more stock or archetypal because they aren't the main players (it's called Anna Bolena for a reason). But there seems to be a greater, heightened drama surrounding elected officials in opera versus monarchs, who are believed to be placed on the throne by God. Very rarely do we see a king or queen in opera wish to do better; they're more likely interested in maintaining the status quo against some outside force challenging their sovereignty.
Maybe that added pressure to do better rather than the same is felt even more by an operatic president because of the democratic system: If a president screws up beyond all reason, they can be impeached, a legal regicide of sorts, or simply not reelected after their term limit comes up. With time so palpably of the essence and every move being closely monitored and criticized without fear of repercussion, there's no choice but to be better.