Your Perfect Weekend: July 6-8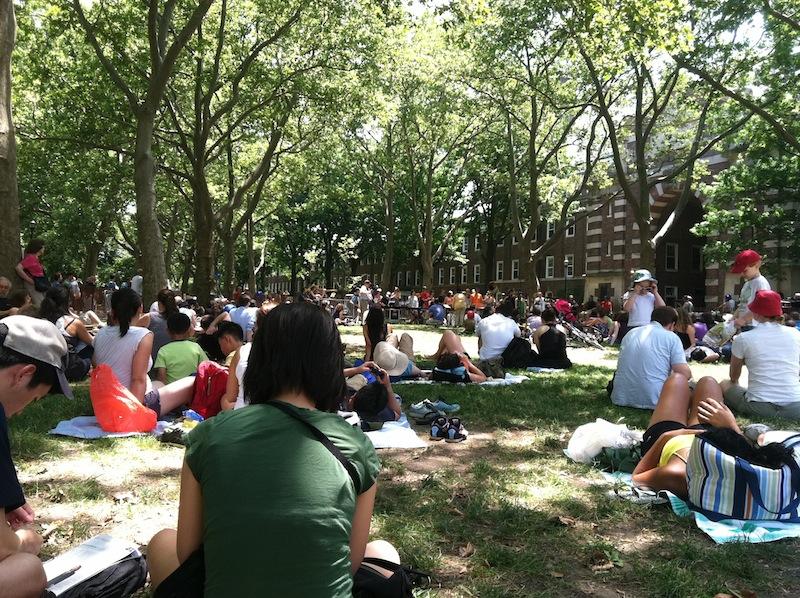 A Rossini premiere, a light program of Tchaikovsky, a Governor's Island jamboree and an all-French program at Bargemusic are among this weekend's concert picks.
Friday, July 6 (repeats Monday and Tuesday)
New York Philharmonic
Bramwell Tovey leads an all-Tchaikovsky program
With Simon Trpceski, piano soloist
Details>> 
Tchaikovsky's 1812 Overture didn't make the cut for the Macy's July Fourth Fireworks this year, after a Facebook poll excised it from the playlist. Enter the New York Philharmonic, which will cap this all-Tchaikovsky program with the stirring crowd-pleaser. Also on the bill are the Festival Coronation March, Selections from Act IV of Swan Lake and the Piano Concerto No. 2 featuring the young Macedonian pianist Simon Trpcheski. The avuncular Bramwell Tovey serves as conductor and host.
Saturday, July 7 at 8:30 pm
Bel Canto at Caramoor
Orchestra of St. Luke's
Ciro in Babilonia by Gioachino Rossini
Details>>  
Rossini's obscure opera Ciro in Babilonia (Cyrus in Babylon) gets its American premiere as part of Will Crutchfield's "Bel Canto at Caramoor," an annual series often dedicated to lesser-known works. The opera, about the fall of Babylon, is a collaboration with the Rossini Opera Festival, in Pesaro, Italy and features the contralto Ewa Podles and the Australian soprano Jessica Pratt leading the cast.
Saturday, July 7 at 1 pm and 3 pm
Governor's Island – Fort Jay
Rite of Summer Classical Music Festival
Ljova and the Kontraband
Details>>
As Governor's Island continues to serve as a weekend destination for whimsical contemporary art and music events, the Rite of Summer Music Festival returns for its second year. The composer and violist Lev Zhurbin, known as Ljova, kicks things off at the recently renovated Fort Jay with his folk-classical ensemble known as the Kontraband. The group's music blends Eastern European, Gypsy and Latin rhythms, as well as a touch of jazz and blues.
Sunday, July 8 at 2 pm
Bargemusic
Cassatt Quartet with Mark Peskanov, violin, Ursula Oppens, piano
Details>>
The Cassatt String Quartet teams up with the respected pianist Ursula Oppens and Mark Peskanov, the Barge's director, in an all-French program. On tap is the Franck Sonata, Chausson's enormously elegant Concerto for Violin, Piano, and String Quartet, and the Debussy Quartet. Stop next door afterwards for a scoop at the Brooklyn Ice Cream Factory and head over to adjacent Brooklyn Bridge Park.