Between the Sheets: Favorite Books from Futral, Calleja, Luisi and More
The last week in New York has served as a gentle reminder that summer is underway.
And while many of us around the globe are looking at weekends on a sandy towel or taking the train or plane to a nearby summer festival, the subject of what to read creeps back into collective consciousness. (Currently, I'm blazing through the Russian answer to Sherlock Holmes in the Erast Fandorin series by Boris Akunin, something brought to my attention in an Anna Netrebko interview. It's the perfect blend of beach read and chilling descriptions of Moscow and St. Petersburg that make up for my air conditioner's shortcomings.)
With this in mind, we turn to some of our favorite singers and conductors to answer the seemingly innocuous question: What's your favorite book? A question easier asked than answered, but below are ten of classical music's top proponents and their top pick (or, in some cases, picks). 
Joseph Calleja, Tenor
The Crusades Trilogy (The Road to Jerusalem, The Templar Knight, Birth of the Kingdom) by Jan Guillou
Like in music, I do not particularly ascribe to one writing style and the different cacophony of styles I do read would probably give "indigestion" to many an avid reader. My mother, a true bookworm, was always a bit of a reading "snob" opting more for "serious" biographies and other highly intellectual reads. One time I challenged her to read the translation of the Swedish journalist's Jan Guillou's crusade trilogy. She was skeptic but she agreed as I told her that it was the first book that literally jumped off the pages with quite unparalleled vividness! Did she like it? Well she couldn't put it down and she told me that she found herself "cheering" for Arn (the main protagonist in the book) in a loud voice. A very detailed historical novel this trilogy will enthrall both the casual and the experienced readers. It's a bit like Allende on steroids!
Richard Croft, Tenor
The Indispensable Calvin and Hobbes by Bill Watterson
"Calvin and Hobbes" can put more humor and philosophical commentary in three squares than most books can in three hundred pages.
Danielle de Niese, Soprano
The Life of Pi by Yann Martel
I loved reading this book because of its outcome. How you viewed the twist at the end of the story became a direct reflection/indication of your faith and outlook on life. The way in which I chose to see this novel told me a lot about my faith in God.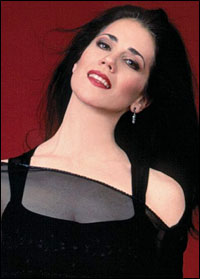 Elizabeth Futral, Soprano (right)
To Kill a Mockingbird by Harper Lee
The southern setting has always resonated with me, a southern girl, as has the theme of justice prevailing. The characters are so beautifully wrought… makes me want to read it again this summer!
Thomas Hampson, Baritone
Moral Fire by Joseph Horowitz
Horowitz revisits four astonishing personalities—Henry Higginson, Laura Langford, Henry Krehbiel and Charles Ives—whose missionary work in the realm of culture signaled a belief in the fundamental decency of civilized human nature, in the universality of moral values, and in progress toward a kingdom of peace and love. I find Horowitz to be one of the most lucid and engaging writers on American culture as especially seen through the prism of the musical life in America. He uniquely grasps historical detail in an informative associative way that enlivens a contemporary reader to his own cultural identity.
Fabio Luisi, Conductor
Dialogues with Leuco by Cesare Pavese
This book, in the form of the old Greek dialogues (like we know them from Plato and Aristotle) faces timeless themes of humanity: the mystery of life, of death, the understanding of human relationships, the meaning of pride, dignity, honesty, liberty and truth.
Lisette Oropesa, Soprano
East of Eden by John Steinbeck
Anything he writes is a winner in my book (no pun intended) but East of Eden is kind of amazing. It's an epic the likes of which is less appreciated I think than his famous Grapes of Wrath. However, despite its length, I could not put this book down. The plot is one shocker after another and the characters are so present you feel like they are in the room with you. You can picture them and hear them. Plus, the setting so typical of Steinbeck is a hallmark of what makes American literature (particularly his) so organic; I feel like I've been there before yet I've never visited.  
Nicholas Phan, Tenor
A Portrait of the Artist as a Young Man by James Joyce
Not only is this book so virtuosically and beautifully written, but I can never get enough of way Joyce illustrates the roller-coaster of the artistic journey. Every up is followed by the inevitable down; after a glorious ending to each chapter, I always smile when I read the inevitable deflated beginning to the next chapter, only to follow Stephen Dedalus's journey onwards to his next epiphanic high, the cycle beginning anew.
Jennifer Rivera, Mezzo-Soprano
Room by Emma Donahue
I am really bad about picking one favorite anything — songs, movies and especially books. So I will name three fiction novels that I feel all had an enormous impact on me in various ways and at various points in my life; As I Lay Dying by Faulkner, The Time of our Singing by Richard Powers, and A Confederacy of Dunces by John Kennedy Toole... But one of the most riveting books I've read in the last couple of years was Room by Emma Donahue, who manages to narrate her entire book, brilliantly, from the perspective of a four year old boy.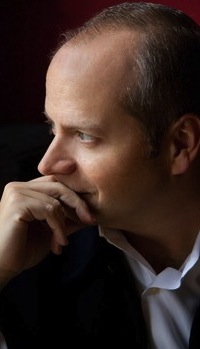 Patrick Summers, Conductor
Pax Brittanica by Jan Morris
Oh dear... a "favorite book" feels like choosing a favorite sunset, dinner, or anything else so dependent on circumstance and the moment. I guess my favorite "experience" of reading was the vast Pax Brittanica trilogy by James (now Jan) Morris. It is a work that opened the world to me, a real epiphany, for nothing in my life was the same after it. I have never had the nerve to read it again. The final two pages of Jan's book on Sydney have never failed to dissolve me into tears, for so perfect is the writing, so honest the description, and so unutterably true the feeling. Rare perfection… But for pure joy, what is greater than the final chapters of Great Expectations? 
Photos: Elizabeth Futral and Patrick Summers, both by Christian Steiner
Weigh in: what are you reading this summer?