Amy Winehouse's Operatic Lease on Life
In May 2008, the Mall Galleries of London launched an exhibition that included a work by Guy Portelli titled Excess. Its scope was a miniature Amy Winehouse splayed on top of a busted bottle of champagne, glass in hand, covered with pills.
Offering a commentary on the heady life of the obsessive consumptive performer, the work had strange resonance on July 23, 2011 when Winehouse's body was discovered in her London flat, dead from an accidental alcohol poisoning. Much like Kurt Cobain's 1994 suicide, Winehouse's slip from her mortal coil was emblematic of how she lived, fitting in both appropriate and inappropriate ways.
Because, unlike many of her rehab-refusing colleagues, Winehouse had legitimate talent, which in and of itself was codependent with her addictions. Her cover of Carole King's "Will You Still Love Me Tomorrow?" (aptly released posthumously) was tinged with a sad resignation, a doleful growl. Winehouse wore her heart and her demons on her vocal chords, strengthening the bereft and doleful wails in chart-toppers like "Back to Black" and "Some Unholy War."
Winehouse's trademark curl of eyeliner—another flourish of excess—often earned her comparisons to Maria Callas's own signature style (though Winehouse attributes the look to 1960s girl group The Ronettes). However, scratch the surface and you hear similarities between the two artists in their wholehearted devotion to their craft. Both lived for art, lived for love. And in her vocal imperfections, Winehouse best reflected La Divina's own occasionally marred but never un-marvelous way of singing broken characters, sacrificing inherent prettiness for acute emotional truths in spurned characters like Lucia and Norma.

The Bavarian Staatsoper's Les Contes d'Hoffmann, featuring a Winehouse-esque Giulietta.
In fact, it's no great surprise that "Lioness," Amy's final, posthumous album, takes its name from an adjective also often applied to Callas. Like Winehouse she was noted for her own feline grace and predatory voracity. "If I believed in reincarnation, I would firmly believe that Amy Winehouse is the reincarnation of Maria Callas," singer Linda Ronstadt told PlanetOut's Jenny Stewart in 2009. "Maria Callas is such the 'grand lady,' and Amy is such a guttersnipe, and they both are so demonically talented."
Unfortunately, it's the demonic aspect that contributed heavily to both divas' demises, even if it equally aided their talents. "I don't think your ability to fight has anything to do with how big you are," Winehouse once remarked. "It's to do with how much anger is in you."
Of course, it was the guttersnipe and fight in Winehouse that landed her in tabloids and police precincts (just as Callas's own more glam fight kept her a pop cultural icon long after her premature 1977 death in Paris, where she spent her final years alone and relying on sleeping pills and Quaaludes). But such qualities in recent years also made her a candidate for a second life in opera, one of the most excessive art forms in its own right.
Accused of abusing her husband, Winehouse's aura as a man-crusher also bent on her own destruction inspired the character of Giulietta for a Bavarian Staatsoper production of Les Contes d'Hoffmann last November. Soprano Diana Damrau, singing all three heroines, stalked the stage in the final act, equal parts predatory and lethargy, hair teased up in a Winehousean weave and with eyeliner for miles. Aware of her own shortcomings, reflected in a stage-dominating mirror, she was a man-eater with a conscience.
Less conflicted was the title character of Cherubini's Medée, which opened at Belgium's La Monnaie in October 2011, just three months after Winehouse's death. In a production by Krzystof Warlikowski, German soprano Nadja Michael played the shunned sorceress with an appetite for fight, if not all-out destruction. It's perhaps no coincidence that the role was also a favorite of Callas's: In addition to singing the Cherubini role, she also portrayed the character in a 1969 film version by Pier Paolo Pasolini.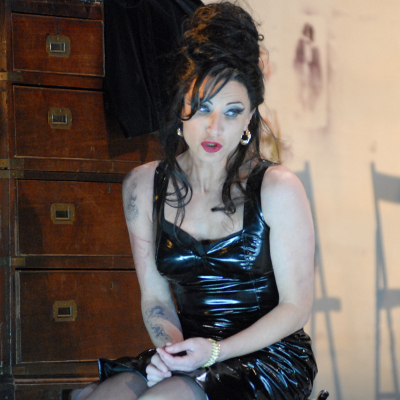 In the wake of her death, Winehouse's parents launched the Amy Winehouse Foundation to help charities that in turn aid disadvantaged, sick or addicted children. Still, for her legitimate talents and rightful legacy, Winehouse's operatic canonization has yet to be fully fathomed. She is not the first pop cultural icon to be used as a metaphor for a hero or heroine of operas from the past; nor is the idea of having opera characters represent cultural figures (or vice versa) new. Look at opera in its nascence and you'll find inferred and overt comparisons from Cavalli to Lully.
But what does it say when Lully compares a ruler to a god in the 17th century, while we in the 21st century find those similarities between a ruler and a singer? Is this the most relevant contemporary parallel? Moreover, what commentary does placing a Winehouse doppelganger in works by Offenbach and Cherubini say about our obsession with self-destruction—so long as it's someone else's? It seems that in the past, fatal heroines like Violetta were cherished because we still clung to the hope that something would survive. Today we can't wait to see how she dies.
Is her depiction in opera an homage to the eternal tragic hero, present in Greek tragedies and Arthur Miller dramas alike? Or does it continue to fetishize an element of opera gone amok in the current zeitgeist: the need to see others fail?
Image, above: Nadja Michael as Medea in Cherubini's Medée. Courtesy of La Monnaie.