Bard Summerscape Rediscovers Chabrier's Le roi malgré lui
Items you don't expect to see on an opera production's expense list: a tanning bed, a metal detector, a portrait of Pope John Paul II, and about a dozen bottles of Febreze.
Seemingly disparate, this motley assortment of set pieces and props is not unlike the opera they depict: Emmanuel Chabrier's Le roi malgré lui, or "The King in Spite of Himself," currently running as part of Bard Summerscape and helmed by director Thaddeus Strassberger in his third production with the festival in four years.
Chabrier is best known for his charming and comprehensive operetta L'étoile (1877). But he was admired by the likes of Ravel and Stravinsky for his 1887 opéra-comique about Henri de Valois, the first elected king of Poland and simultaneous heir apparent to the throne of France. It's easy to see why: There are twinkling love duets, an art-song–like pairing for the two female heroines, seductive and sonorous solos and no shortage of demanding chorus numbers.
Yet the work has never gained traction outside of small circles. It's easy to see why: Unlike L'étoile, there's an absence of a defined musical arc in Roi, which makes the three-and-a-half hour work charming and enjoyable, but not overwhelmingly engrossing. There's almost a schizophrenic quality to the way the main characters rotate that will leave you gasping for air as you try to keep up and appreciate the work as a whole (most of the characters are involved in either inciting or quelling a plot to overthrow the reluctant, homesick King and drive the French out of Poland).
With an acute directorial eye, Strassberger embraces Roi, flaws and all, and exposes its musical and dramaturgical idiosyncrasies. His production is an ally to the audience, bringing us through the operetta's rollercoaster with assurance and allowing us to enjoy the twists and curves for what they are. The sets, which suggest the soundstage of a Polish variety show, are framed by a man watching television in a spartan living room adorned with the aforementioned portrait of John Paul. (The transition from that living room to the world of the opera, courtesy of set designer Kevin Knight, earned some righteous applause.)
The overture gives us an opening credits video montage with a soft-lensed touch vaguely reminiscent of film director Josef von Sternberg (whose Morocco also had a place in this year's Summerscape programming). From there we're immediately plunged into a cultural and chronological hodgepodge of 18th-century French courtiers and 20th-century Parisian playboys. Thanks to costume designer Mattie Ullrich, there's an element of high-heeled, high-haired cosplay with a number of French maids, and references to the likes of A Streetcar Named Desire outbursts, Obama-esque fist-jabs, Godfather-ish kisses of death and Jackie-O's funeral garb peppered throughout the three acts.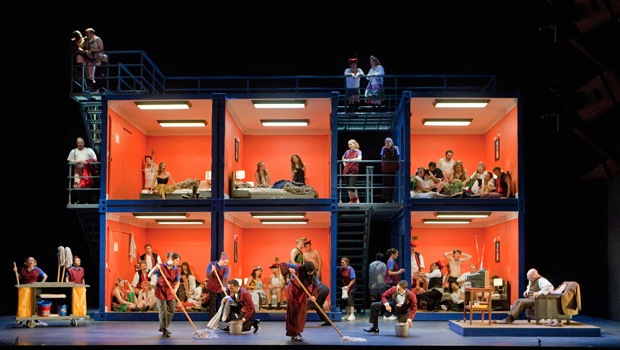 Photo: Cory Weaver
The production's overall effect is not unlike Russian Ark, Alexander Sokurov's one-take, one-continuous-shot film shot in the Hermitage. It's a gallery exhibition with no clearly defined progression from A to Z, but it still hits all of the right notes. It culminates in a third act set in a Socialist-style hotel. The innkeeper (our heretofore unnamed and silent television observer, played by tenor Jason Ferrante with a dead-on deadpan) shows himself to be a participant in the plot, but one who would rather be transported by fiction than fact. It's an apt allegory for the work: despite a happy operatic ending, the actual Henri de Valois was, in fact, assassinated some years later.
Baritone Liam Bonner continues to prove himself as a singer for whom the French repertoire is a bespoke fit. Entitled yet endearing, he sings the title role with a Gallic grace and an impish wink taken directly out of David Larrabee's playbook. His match was Italian tenor Michele Angelini as the king's ally, the Duke de Nangis. Despite seeming to hold back towards the end of the opera, Angelini unfurled his silky tenor with ease and grace.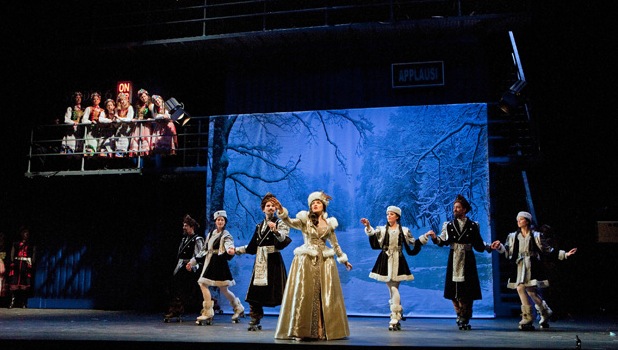 Andriana Chuchman and company. Photo: Cory Weaver.
Perhaps the greatest discovery, however, is Canadian soprano Andriana Chuchman in the starry role of Minka, a Polish slave freed by Nangis who initially exposes the plot against Henri. Chuchman's versatility was seen from a snowfall of an initial aria upon gaining her freedom to a Marlene–Dietrich vocal slink through the Act I finale. Her presence was beaming, her chemistry with both Bonner and Angelini tangible. Fellow soprano Nathalie Paulin balanced comic effervescence with a canary-rich tone in numbers like her duet with Henri, teeming with soft-focus nostalgia.
For the most part, Leon Botstein and the American Symphony Orchestra did the same from the pit, though the brass seemed to occasionally pale in comparison to the strings and woodwinds. But the virtue of this work rests squarely on the shoulders of its chorus, which introduced one of Chabrier's prominent motifs. Balancing lightning-quick costume changes with the greatest number of shifts in character and tone is no mean feat but Bard's singers delivered. In an opera rife with leads, the ensemble here is the true king.