Disappearing Ink: How Opera Companies Conceal Singers' Tattoos
Opera companies rarely flinch at casting a 25-year-old bass as an 80-year-old man, or a 40-year-old soprano as a 16-year-old ingenue. But there's another visual disconnect that increasingly keeps hair and makeup designers busy: the growing number of singers who have adorned their shoulders, forearms, ankles and elsewhere with tattoos.
Camouflaging the tattoos on a Mimi, Violetta or Siegfried becomes a crucial task in the age of HD broadcasts, when every ornament or imperfection is magnified by cameras and beamed out to worldwide movie theater audiences.
"It does come up much more with the younger generation of singers because body art has become much more accepted," said Anne Ford-Coates, a lead hair and makeup artist for Elsen Associates, which works with major opera companies around the country. "Often you can't see the tattoos because they're placed in a discrete spot. But in the modern age of opera, they like to send handsome men out shirtless. If they have chest tattoos then we do have to cover them up, depending on the period and the production."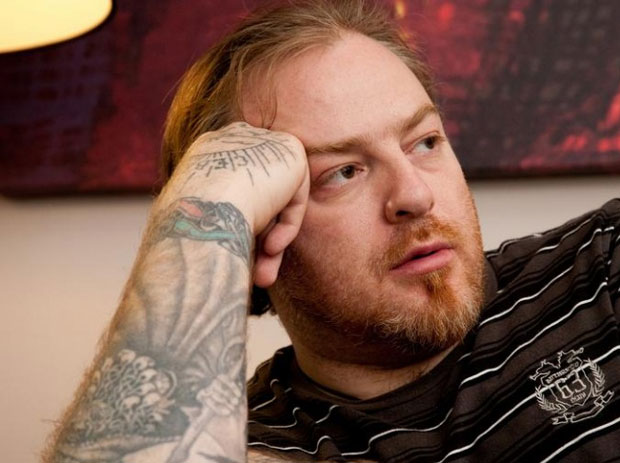 One tattoo in particular drew the attention of the opera world last month. Evgeny Nikitin, a Russian baritone who was due to sing the lead role in Wagner's The Flying Dutchman at the Bayreuth Festival, withdrew after it emerged that he once had a swastika tattooed on his body. He later said that that the alleged Nazi tattoo actually was a symbol of Nordic mythology, and it was shown in an unfinished state in a German television documentary. The strange episode prompted whispered suggestions that Nikitin's tattoos were common knowledge among stage directors.
Ford-Coates estimates that in an average season at the Glimmerglass festival or Washington National Opera (both clients) she encounters "five to ten people who have tattoos that are visible and we have to deal with." Some tattooed singers travel with their own Dermablend, a concealer product. Other times, particularly when a production is filmed for an HD broadcast, the makeup artist turns to an arsenal of professional products that can also conceal birthmarks or scarring. For artists who move a lot on stage, notably dancers, a waterproof product is needed.
"If it's a regular production and the audience is far away you can do a quick covering with any sort of flesh tone makeup and it'll be fine once the lights hit them," said Ford-Coates. "But if it's for HD, you have to take some time to color-correct for the tattoo and layer paint over that. It can be a little more of a process."
Ford-Coates said she has not encountered any singers with the kind of extensive tattoos worn by Nikitin, a former heavy metal singer and drummer. For most singers, it's "a cute little arm something on some of the ladies or like a simple band on some of the men," she noted. "I've not yet met many opera singers who have come from a metal or a punk rock background where they're really covered in body art."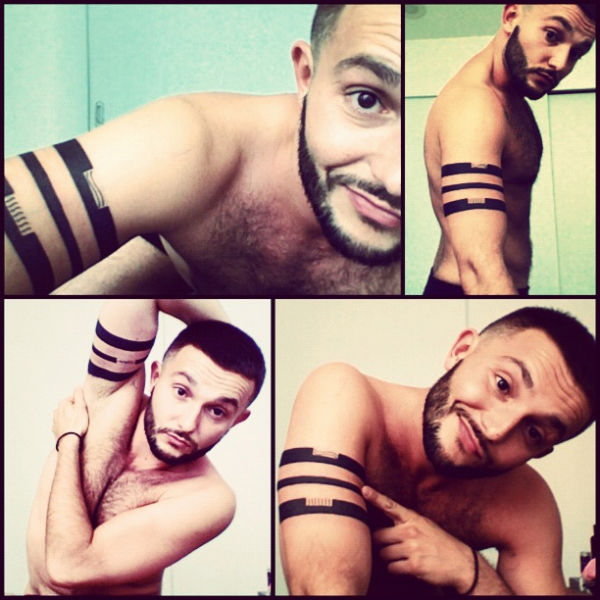 A Harris Poll in February found that one in five U.S. adults has at least one tattoo, up from 16 percent in 2008. Visible tattoos are uncommon in opera productions, however, as many directors tend to favor a naturalistic look. Still, a few flamboyant artists have made it a part of their image, including Jean Stilwell, a Canadian mezzo-soprano, and Teddy Tahu Rhodes, a New Zealand baritone whose arm tattoo has attracted some interest on opera fan websites.
Vasil Garvanliev, a Macedonian baritone now based in Canada, has gotten four tattoos on his arms, left wrist and upper back over the past seven years. Recently he hired a fashion photographer to take some photos of the designs (left). "Reaction has been both interesting and shocking," he said in an interview. "Friends and colleagues don't mind at all but when you enter the director-slash-donor world, they look but they act like they don't see it."
Garvanliev said he had some initial concern with how the tattoos would mesh with his costumes but makeup designers assured him they wouldn't present a problem. "I'm sure there will be an encounter — or two or three. At the moment I'm not worried about it. I have a show coming up in October in Der Freischütz. But I am playing the role of Caspar, who is the mean guy. So hopefully it will be okay."
Weigh in: What do you think of singers with tattoos? Listen to Vasil Garvanliev's comments on his ink and leave a comment below: