The Bad Plus Bring Jazz Touch to Rite of Spring
Wednesday, August 01, 2012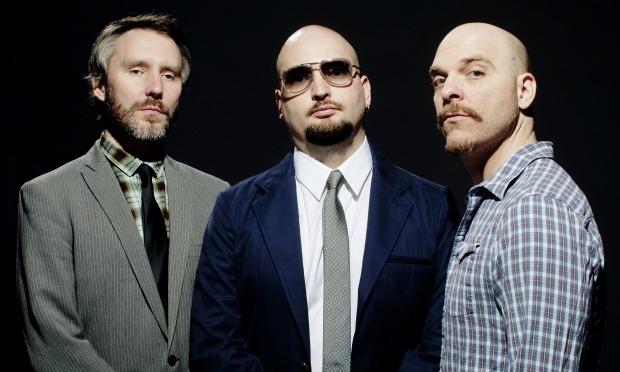 (Cameron Wittig)
At the notorious premiere of Stravinsky's The Rite of Spring in 1913, riots broke out in the audience. When the boundary-smashing jazz trio the Bad Plus gives the New York premiere of its version of the ballet suite at Lincoln Center Out-of-Doors on Thursday, the crowd will most likely be far less incensed than Stravinsky's. That's not to say, however, that the group's decision to do a jazz cover of The Rite of Spring wasn't a bold undertaking.
Reid Anderson, the group's bassist, said that a cover of the piece seemed like a daunting task when the idea was presented to them several years ago as a co-commission from Duke University and Lincoln Center. The majority of the group's music consists of original compositions and rock and pop covers. But challenges are what they are all about, so they felt that this was an idea they couldn't ignore. "The piece itself is really the motivating factor in the end, but taking on something of that scale and that iconic is audacious," said Anderson. "There's a lot of responsibility there, but it's rewarding."
Plenty of jazz musicians have done their own versions of classical pieces, but the Bad Plus take this kind of adaptation to a new level. The group approaches classical music almost as they do their covers of Radiohead, Pink Floyd and "Iron Man," except that improvisation plays less of a role in their classical covers.
"The drums are all improvised because none of these pieces had the drums in mind," explained Anderson. In the Stravinsky specifically, "some of the bass is through-composed, but it's completely made-up; I'm not playing the bass part from the score, I'm playing something new." For Anderson, doing a cover of a classical piece means staying true to its essence while taking "a somewhat irreverent stance, rhythmically or emotionally or some other way."
"We're definitely playing The Rite of Spring, and that was part of what we felt was the challenge," said Anderson. "It's probably been done before, where people play the melody and then improvise on one or two chords, but that's not very interesting to us. What's more interesting is to get really deep into the music and take it on from the inside out." Even the title of their arrangement, On Sacred Ground, came from a desire to set their version of the piece apart. "Even though it's The Rite of Spring, when we take on anything, whether it's Stravinsky or Nirvana, we like to make it our own," said Anderson.
The hardest part about arranging the piece was tackling the first movement, which opens with a bassoon solo. The group ultimately decided not to play it, but to take a recording of Iverson playing the piano part and a recording of Stravinsky conducting the piece, and combine them with some other recorded sounds to create what Anderson calls a "sound sculpture."
The Rite of Spring isn't the first classical piece to which the Bad Plus has added a jazz twist, or even their first Stravinsky cover. Their 2009 album, For All I Care, includes Stravinsky's Variation d'Apollon, as well as works by George Ligeti and Milton Babbitt. Both Anderson and the group's pianist, Ethan Iverson, have classical music as part of their background; Anderson studied at the Curtis Institute, and Iverson studied classical piano for many years.
Though the trio has made a point of crossing just about every musical border, Anderson acknowledged that classifying music into different genres can be valuable, even as the music world follows the rest of the world in becoming increasingly flat. "These classifications have been around for a long time, and people want them at the same time that they don't want them," he said. He feels, however, that progress is important in music as it is in anything else. "Classical music is looking for ways to change, too," he added. "Time marches on, and I think anyone who's involved in the arts or creativity wants to keep moving."
More in:
The WQXR e-newsletter. Show highlights, links to music news, on-demand concerts, events from The Greene Space and more.