Operatic Clarinet and Episodic Mass at Mostly Mozart
Empirical evidence states that the closing concerts of Mostly Mozart Festivals past have been known to go out with a bang. And while this year's concert went out more with a sigh, it was no less absorbing; an intriguing send-off to a festival that centered on the influence of birdsong in the composer's works.
Yet with the pre-recorded coos and calls of feathered friends beckoning audiences into Avery Fisher's auditorium on Friday night, there were plenty of initial fireworks. And in some ways, the festival's eponymous composer's clarinet concerto bore more operatic connections than its paired work, Beethoven's underperformed Mass in C major. As David Wright notes in his program notes, Mozart's Concerto for Clarinet—written in 1791, the final year of his life and carrying similar tonal qualities to the same year's La Clemenza di Tito—bears "the dramatic timing of an opera master," and rightly follows more of a three-act structure than a three-movement composition.
In that sense, Swedish clarinetist Martin Fröst, known for a playful, firebrand stage presence was in many ways an ideal interpreter for the work. Fröst spent nearly half an hour onstage not only playing with dexterity and verve, but also moving like a committed singer during a recital, the whole of his body responding to the music in graceful, articulate ways. At times he became out of sync with the orchestra, under the festival's music director Louis Langrée; the second arioso movement luxuriated a bit too silkily at times, and conversely he had moments in the third movement where he galloped ahead of the orchestral pack.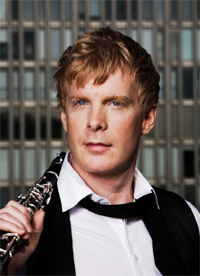 But rather than detract, such blemishes added to the content and character of Fröst's work. At one point in the B-section of the concerto's final movement, he confirmed this by flashing a grin to Langrée that was half-impish, half-angelic and all in good fun. The humor continued in a klezmer encore, an arrangement of Giora Feidman's "Let's Be Happy" that was arranged by Fröst's brother, Goran, and contained a different brand of dazzle capturing both audience and accompanying orchestra.
As Fröst introduced his infectious encore, he offered some connection between the celebratory Jewish folk music and Beethoven's Mass in C major. Yet unlike the overt emotions of Mozart and Feidman, Beethoven's first venture into liturgical composition is tonally and emotionally flummoxing, more human and foibled than divine and impenetrable (especially when taken into account alongside his later, and far more popular work, the Missa Solemnis).
Beethoven wrote this Mass while also working on both his Fifth and Sixth Symphonies, and the brushstrokes of both works are heard throughout this piece, with moments of the Fifth's finale in the Mass's opening "Kyrie" and the tinges of the Sixth's violet hour in the "Benedictus."
There are choral moments akin to Gluck's Orfeo ed Euridice and even some nods to Mozart himself (you can hear Zerlina's "Vedrai carino" from Don Giovanni in the finale of the "Agnus dei"). Accordingly, hearing Beethoven's Mass is sort of akin to sifting through an artist's sketchbooks, getting glimpses of masterpieces to come and influences of the past as the owner tries to forge new stylistic grounds. The quiet, ambiguous ending leaves you itching for what's to come.
Such crossroads were rooted in a strong, judicious musical performance that made the most of Beethoven's episodic structure. Mezzo Sasha Cooke has matured and deepened in recent years, singing here (in a gunmetal-silver dress) with 50 shades of Marilyn Horne and well-matched with soprano Layla Claire whose "Amen" in the "Gloria" was bright and pure as Christmas morning. Tenor Paul Appleby and bass Matthew Rose were equally at home in the music, and all four soloists went further than their individual talents and became a soloistic whole greater than the sum of their parts. Their "Benedictus" quartet was a bracing calm after the choral-heavy "Sanctus." Perhaps fewer liberties were taken here than with Fröst and Mozart, but there were moments no less liberating.
Photo (Fröst): Mats Bäcker