Passion Plays: Joan of Arc on the Opera Stage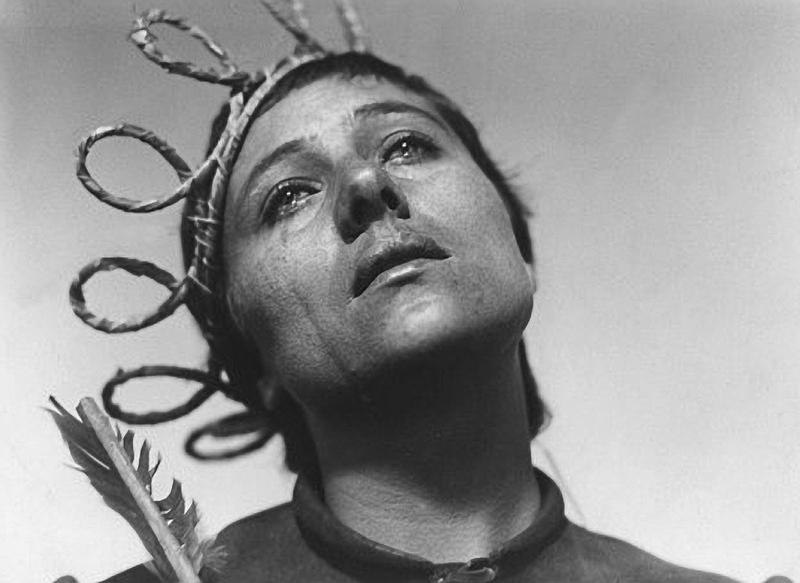 In the midst of political conventions, debates over the term "legitimate" and gender iniquity, and a recent Chris Christie keynote speech that included a baffling reference to the relationship between "a woman and her doctor," a new recording from Jordi Savall reminds us it could be worse: Women are at least no longer burned at the stake.
And regardless of your political leanings, there's a bipartisan appeal to "Jeanne d'Arc: Batailles & Prisons," the latest in Alia Vox's smart and stylish collection of albums packaged within 500-page books replete with libretti, in-depth essays and historical artwork.
Savall applies his hallmark touch with period performance to his own arrangements and compositions in the style of music from Joan of Arc's time (he previously delved into the history of the Maid of Orleans in 1994 in scoring Jacques Rivette's two-part series, "Jeanne la Pucelle: Les batailles" and "Les prisons"). Together with his ensemble Hespèrion XXI and vocalists like Montserrat Figueras and La Capella Reial de Catalunya, Savall weaves his own works together with the music of Joan's time by composers such as Dufay and Desprez.
Taken as a whole, the music constructs a narrative much like Rivette's, taking us through the military career of Joan: an illiterate provincial maid who was purportedly guided by the voices of Saints Catherine, Michael and Margaret; led the French army through several pivotal battles of the Hundred Years' War against England; saw Charles VII crowned king; and was executed at Rouen following a trial for witchcraft by the British—all while she was still a teenager. She's been portrayed as a villainess by Shakespeare, an angel by George Bernard Shaw, and unsurprisingly has seen her share of operatic representation, figuring into more than 20 works.
What's surprising is how few French composers have taken on her life story. Gilbert Duprez, the Parisian tenor who created the role of Edgardo in Donizetti's Lucia di Lammermoor, wrote one that premiered in his hometown in 1865. Among Rodolphe Kreutzer's 40 operas is his 1790 opéra-comique Jeanne d'Arc à Orléans, and Gounod composed incidental music for Jules Barbier's biographical play.
Around the same time as Duprez and Gounod, the two most famous representations of St. Joan were born: Verdi's 1845 work Giovanna d'Arco and Tchaikovsky's 1878 The Maid of Orleans. One would think that Verdi's work would be a perfect fit for a composer whose operas tended to reflect his own country's struggle for independence against foreign occupation, though like many of Verdi's historical pieces, there is very little of battles and prisons in this work.
Gone is her death at the stake (she escapes that particular fate thanks to her father, who while spending much of the opera convinced that his daughter is aligned with the devil, has a ninth-inning change of heart). It's replaced by a death on the battlefield accompanied by Charles VII professing his love for the young soldier. The music is classic Verdi, and the story is—taken on its own—intriguing.
More accurate is Tchaikovsky's take, which also interpolates a love story with historical fact (here, Joan falls for a British soldier who, in a Daughter of the Regiment move, switches alliances to the French army), but remains true to Joan's fiery martyrdom, her legendary encounter with Charles VII, and her encounters with the divine voices. While Verdi accentuated Joan's purity and virginity with his light vocal ornaments, Tchaikovsky delves into dramatic mezzo territory, creating a convincing musical portrait of a teenage girl capable of leading the French army. 
The 20th century, which saw the canonization of Joan of Arc in 1909, was also a popular time for the patron saint of France. Arthur Honegger's oratorio, Jeanne d'Arc au bûcher is very Shaw-esque in its focus on Joan's trial. Inspired by Dreyer's landmark silent film "The Passion of Joan of Arc," Richard Einhorn's Voices of Light (1994) pulls—like Savall's work—from music of Joan's time and was seen at last year's White Light Festival at Lincoln Center, accompanying the beatific gaze of Maria Falconetti on the big screen. It's this combination of Einhorn's music and Dreyer's drama, while not, technically speaking, opera, that was—until this Savall recording—perhaps the truest representation of Joan's legend.
And it shouldn't be the last. Unlike many of opera's heroines—from the mentally-frail Lucia and Marguerite to the consumptives Violetta and Mimi to the lovesick Aida and Cio-Cio San—Joan of Arc is an unapologetically strong female protagonist who doesn't need a sweeping romance. As French playwright Antonin Artaud (who played Massieu in the Dreyer's Passion) said of the film, it revealed "Joan as the victim of one of the most terrible of all perversions: the perversion of a divine principle in its passage through the minds of men, whether they be Church, Government or what you will."
No love story necessary there. She has religion, war and politics brewing together as an operatic tempest within a 15th-century teenage girl's biography. Like the Passion, Savall's "Batailles & Prisons" shows us that there's no shortage of operatic possibility in her life on the battlefield. Contemporary composers: take note.