Ten Recordings We're Looking Forward to This Fall
Earlier this week, we took a look at what's going on this fall in New York. Regardless of whether you live in Gotham or elsewhere, however, there are also a number of recordings to devour before winter. Read on for the ten albums we're most looking forward to hearing as the months get cooler.
Christiane Karg: Amoretti (Berlin Classics; September 11)
Bavarian soprano Christiane Karg is currently a member of the Frankfurt Opera ensemble, singing in just one season a diverse range of roles by the likes of Janacek, Cavalli, Mozart, and Richard Strauss. Such eclecticism is present in her newest album, which focuses on early Mozart operas (like La Finta Semplice and Mitridate). In lieu of the expected Haydn or Salieri, Karg chooses contemporaries like Gétry and Gluck, and focuses on a period of works composed within a tight, ten-year period.
Marie-Nicole Lemieux: Opera Arias (Naïve; September 11)
Lemieux lent her sultry, voluptuous mezzo to a selection of French arias in 2010, and returns to Naïve for a new solo recital in the classical vein. Like Christiane Karg, there are selections from Gluck and early Mozart, but there are also selections from Haydn's L'isola Disabitata and Il ritorno di Tobia, latter-day Mozart in the form of La Clemenza di Tito and Le nozze di Figaro, and even a rare listen from Graun's Montezuma. It also reunites Lemieux with Bernard Labadie and Canadian ensemble Les Violons du Roy, noted for their outstanding explorations of classical rep.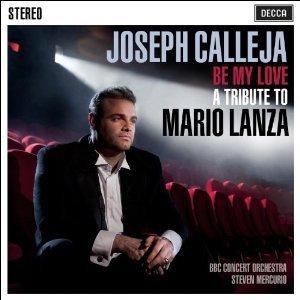 Joseph Calleja: Be My Love – A Tribute to Mario Lanza (Decca; September 18)
Remember that scene in The Great Caruso where Mario Lanza (playing the eponymous Enrico) is performing in Lucia di Lammermoor while his wife is in labor and word gradually spreads around the Met that he is proud papa to a baby girl? So does Joseph Calleja, whose Björling-like tenor is a bespoke fit to Lanza's old time opera-meets-Hollywood religion. There are tunes from Pagliacci, Carmen, Turandot, La Gioconda, and the like, but the real draw here is bound to be standards by Rodgers and Hammerstein, Sammy Cahn and Juventino Rosas.
Mozart: Don Giovanni (Deutsche Grammophon; September 18)
Sometimes a cast comes along and, even though you own several recordings of a single opera, you make room for one more addition to your library. This Giovanni, the first of a multi-part Mozart cycle, looks to be one of those moments with a cast that features Ildebrando D'Arcangelo as the Don, Luca Pisaroni as Leporello, Diana Damrau as Donna Anna, Joyce DiDonato as Donna Elvira, Rolando Villazón as Don Ottavio and Mojca Erdmann as Zerlina. Add conductor Yannick Nézet-Séguin to the mix and that's a whole lot to love.
Anna Caterina Antonacci: L'Alba Separa Dalla Luce L'Ombra (Wigmore Hall Live; September 25)
Following a recital tour that included a stopover this past spring at Lincoln Center, the Ferrara-born Antonacci brings her fach-defying performance of songs by Hahn, Tosti, Cesti and others to the masses. The program, translating to "Dawn divides the light from the shadows" (in a line from a Tosti song), was captured live in London and comes out later this month courtesy of Wigmore Hall's invaluable in-house label.
Vivaldi: L'Oracolo in Messenia (Virgin; September 25)
Last year, conductor Fabio Biondi unearthed a 1740 opera by Vivaldi and reconstructed the fragmented piece for contemporary audiences. And with Biondi and Virgin's past Vivaldi successes in Bajazet and Ercole sul Termodonte, it's hard to imagine that this latest venture will disappoint. A cast of experts, including mezzo Vivica Genaux and soprano Julia Lezhneva, adds to the allure of this rare gem.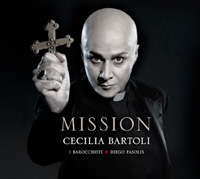 Cecilia Bartoli: Mission (Decca; October 2)
Whether or not Bartoli's distinctive mezzo is your cup of chianti, one thing is hard to deny: Girl knows how to make an arresting album cover (see: Sacrificium). Beyond the baldness and vaguely DaVinci Code artwork for this recording, however, lies a captivating collection of early Baroque works by composer and political intriguer Agostino Steffani. Separately accompanying the album will be a cinematic version and a mystery novel by Donna Leon, while French countertenor Philippe Jaroussky joins Bartoli on the recording proper.
Nicholas Phan: Still Falls the Rain (Avie; October 9)
Phan's 2011 recording of Britten songs, Winter Words, justly made numerous best-of lists last winter, and it wouldn't be a surprise if his follow-up this year does the same. In addition to performances of The Heart of the Matter and Canticle V (among others), Phan intersperses the music with readings of poetry by Britten's key collaborators, read by the likes of actor Alan Cumming.
Elina Garanca: Romantique (Deutsche Grammophon; October 23)
As far as recordings are concerned, this may well be mezzo season. Elina Garanca (who is also seen at the Met this fall in La Clemenza di Tito) adds fuel to the fire with her newest DG recital disc. There are some tracks to be expected—Siebel's aria from Gounod's Faust, Dalila's seductive "Mon Coeur s'ouvre à ta voix"—but we're really eager to hear how she handles Joan of Arc's farewell in Tchaikovsky's The Maid of Orléans, "Oh! Mon Fernand" from Donizetti's La Favorite, and a section from Nicola Vaccai's Giulietta e Romeo.
Patricia Petibon: Nouveau Monde (Deutsche Grammophon; October 30)
There's also a bevy of Baroque this fall (we're also eyeing a new recording of Handel's Alessandro on Decca, for starters). A unique twist on it comes from soprano Patricia Petibon, who looks at the new world seen from the eyes of composers. There are early-18th-century zarzuelas, traditional tunes in various languages, a nod to Rameau's Les Indes Galantes and some beguiling turns with Purcell's Dido and Aeneas and King Arthur. The concept is utterly intriguing, which is no less than we've come to expect from Petibon.