The Making of a Cult Opera
I realize this is going to come as a shock, but in high school I was never within reach of the popular crowd. Something about a 16-year-old who could quote the entire libretto of Don Giovanni just didn't seem to fly in a sports-obsessed town in suburban Rhode Island at the dawn of the new millennium.
I was fine with that, especially when I first discovered Stephen Chbosky's The Perks of Being a Wallflower, a novel about an awkward high school freshman (Charlie) who falls in with two beguiling seniors that shape his world and give him a temporary home within the unforgiving high school infrastructure. The book reached a level of cult classic among teenagers who, like me, delighted in living on the fringes of their pre-college societies, and unsurprisingly its release this weekend as a film (directed by Chbosky and starring Logan Lerman, Emma Watson, and Ezra Miller) has been hotly anticipated.
Cult classics in general inspire that rabid fandom, a brand loyalty that can return over a decade later in a large number of ex-teenagers (not to mention the teenagers who have come after them) who found solace in a fictionalized world that felt part of their own lives. Perhaps my mix tapes tended more towards Bizet and Borodin than the Smiths and Simon and Garfunkel (though I have nothing but love for those two groups), but the essence was the same. And, reliving Charlie's first year of high school on the silver screen, I began to turn my imagination towards cult operas.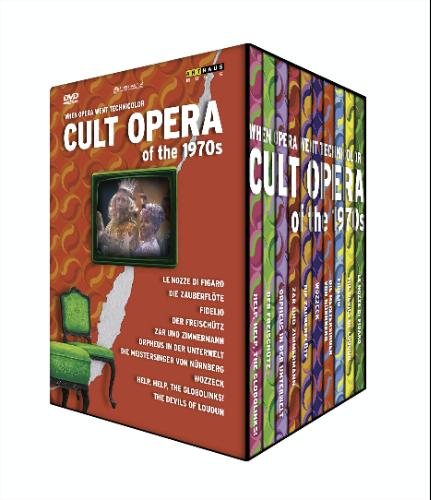 In 2008, the German DVD label Arthaus Musik released a colorful box set of historical Hamburg Opera telecasts from the 1960s and 1970s. Subtitled "When opera went Technicolor," the set of ten DVDs is boxed under the moniker "Cult Opera of the 1970s." It's the kind of thing I would have kept as a prized possession on my bookshelf, reveling in their artful glory the way Charlie does in Wallflower with works like The Catcher in the Rye and On the Road. But taken purely in the context of cult followings—followings that generally fail to merge with the mainstream—I have a hard time conceiving Le Nozze di Figaro or Die Zauberflöte as genuinely cultish. Even Die Meistersinger and Fidelio, also included in the box set, skirt the line for me. There again, inclusions like Der Freischütz and Menotti's never-seen Help! Help! The Globolinks are far more entrenched in the world of cult.
Perhaps the greatest definition of a cult opera, pulled from the Arthaus set, comes courtesy of Alban Berg; a composer whose name is often spoken in the same sentence as the phrase "acquired taste." But once you spot a Berg fan, there's an instant spark that can fuel a furtive and fervent conversation, often with the most unlikely people—I once spent nearly an hour discussing Wozzeck with a record store employee who sold me a banged-up LP of the opera for $2. And it's Wozzeck that finds a home in this Arthaus set, presenting an interesting comparison to Chbosky's Wallflower.
Opera doesn't suffer a dearth of popular characters that operate as square pegs in round holes—Puccini rhapsodized living on the outer limits of society and called it La bohème. Wozzeck, comparatively, may not head top-ten lists for popularity (it's been presented a scant 64 times at the Met, eking out over Lakmé and Nabucco in popularity, but trailing behind the likes of Le Coq d'Or, L'Africaine, and Idomeneo). And yet that seems to add to how cultish Berg's titular soldier is. It's not necessary to have a character like Wozzeck or Charlie to qualify for cult status, but such characters—humanly sketched, floating between the stereotypical monikers of "good" or "bad" guys, even though their actions may prove catastrophic—perhaps speak to a certain group of people. They become identifiers, kindred spirits, even if they don't necessarily serve as role models.
How does that compare to other cult operas? I've heard of Bernard Herrmann's Wuthering Heights described with the same label by Minnesota Opera artistic director Dale Johnson, who said of the company's 2011 production of the work, "It's one of those cult operas that everyone talks about but nobody stages." Certainly, Brontë's characters bear similar traits to our other misfits. And Johnson gives us a workable added definition of cult opera—a work talked about by many, produced by few. Which means, especially in the United States where so many companies depend on the bread-and-butter repertoire, that the majority of our operas are cult operas.
Ironically, however, we need those rarely-produced works. We also need them to stay, oftentimes like their characters, on the fringe. Personally, I doubt I'll ever tire of Bohème, Lucia, Don Giovanni or Tosca. But for each performance that I see of those top-ten works, I need a counterstretch in the form of From the House of the Dead, La Périchole, Vanessa or Prince Igor. And ultimately, our collective, hushed reverence for such rare works makes sense: Taken in context of the larger world of culture, the genre of opera itself is our greatest cult classic: It's an art form that speaks to its fans on an emotional level that makes you feel one with the characters depicted, regardless of how outlandish their actions may seem in real life. Maybe it will never once again reach mainstream popularity. Maybe that's okay. It remains, to borrow a word Chbosky uses to describe his characters in Wallflower, infinite.
Weigh in: What's your favorite cult opera?