Ten Essential London Symphony Orchestra Recordings
The London Symphony Orchestra is marking the 100th anniversary of its first appearance in America, in 1912, with a pair of concerts at Avery Fisher Hall this week. This is the ensemble's 52nd tour to the United States and its 13th annual residency at Lincoln Center. But many classical-music listeners around the globe got to know the LSO through its extensive catalog of recordings. 
Below, principal flutist and orchestra historian Gareth Davies selects ten recordings that he believes are among the most significant in the group's history. What do you think of the choices? Share your own LSO favorites in the comments box below.
1. Beethoven: Egmont Overture, conducted by Arthur Nikisch
   
In 1912, the LSO was the first European orchestra to make the journey across the Atlantic and tour North America. Narrowly avoiding travelling on Titanic, they arrived in March and played 28 concerts in 21 days. Their legendary conductor on that trip was Arthur Nikisch who 20 years earlier had been conductor of the Boston Symphony and hadn't returned since. At the time his reputation was so great that he was simultaneously principal conductor of the LSO, Leipzig Gewandhaus and the Berlin Philharmonic. The opening piece of one of the New York Concerts was Beethoven's Egmont Overture and fortunately for us, was the first commercial recording ever made by the LSO, on June 25th 1913, in London. This is the sound of the LSO, the sound that New Yorkers heard in Carnegie Hall exactly 100 years ago.
2. Mahler: Symphony No 2 conducted by Georg Solti (Decca, mid-60s)

Another centenary. As a music student in London in the early 90's, I was often able to sneak in at the back of the Barbican hall and sit down in an empty seat to hear my heroes at work. As seats were usually taken, it was often the more esoteric programmes that I managed to hear. On Oct. 10, 1992, the day before my 21st birthday I was lucky enough to find myself in possession of a ticket to hear the LSO performing Mahler 5 and Mozart's "Haffner" Symphony conducted by Sir George Solti. The atmosphere during the Mozart was electric, with the orchestra on the edge of their seats. It sparkled. I had never heard a professional orchestra play the Fifth Symphony before and I remember being pinned to my seat by the playing of the LSO and the command Solti had over the orchestra. It was the only time I ever saw him conduct. As I sat in the stalls as people filed out, I can clearly remember that moment deciding that I simply had to play in the LSO. The next morning, with some money I was given for my birthday, I went out and bought this recording of Solti conducting the LSO.
3. Elgar: Cello Concerto, with cellist Jacqueline Du Pre, conducted by Sir John Barbarolli (EMI, 1965)
One of the highlights of playing in an orchestra is performing with great soloists. I would love to have played with Du Pre. I used to listen to this recording all the time, not really realizing it was the LSO, to be honest. Her musicianship and her total immersion in the music in this performance really shines through and Barbarolli conducts the orchestra with an attention to detail and sympathy to the soloist which I still recognize in the orchestras performances today. 
4. Sibelius Symphonies Nos. 2, conducted by Sir Colin Davis (LSO Live)
I remember listening to records of Colin Davis and the LSO from the 1960's when I was a child on a Sunday morning and I always thought that I could hear someone singing in the background. Sir Colin was principal conductor when I joined the LSO in 2000 and he was already well known for his interpretations of Sibelius. It was a thrill then to find ourselves recording the symphonies again with him on our newly formed the record label LSO Live. Until recently, I was in the enviable position of only ever having played Sibelius with Sir Colin conducting. It is always an exhilarating experience, as he knows how to pace the music better than anyone else alive. In fact, it wasn't until I played this symphony with another conductor that I realized that not only was it deceptively simple, but also that Sir Colin just can't help joining in singing from time to time!
5. John Williams: Main Title from "Star Wars," conducted by John Williams; 1977 Original Motion Picture Soundtrack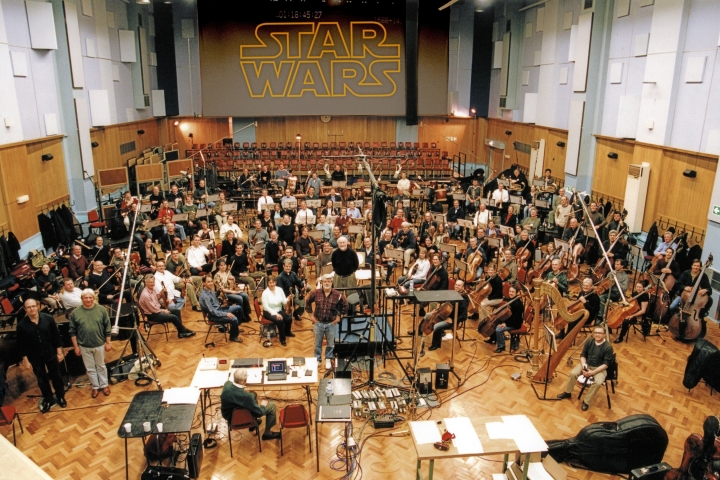 Although this isn't strictly from the classical music world, but that of film, it is so tied up with the story of the LSO that I couldn't leave it out. I imagine it was probably the first time I ever heard the orchestra, as the film was released when I was 8 years old and I was obsessed from the first chord. John Williams always makes the orchestra sound fantastic and the opening trumpet tune played by the late Maurice Murphy is as iconic an opening to a piece of music as anything in the classical repertoire. I joined the LSO just in time to play on the soundtracks of the last three "Star Wars" films and when I think about it, it is still one of the biggest thrills of my career to have been part of it.
6. Rachmaninov: Symphony No 2 conducted by Andre Previn (EMI, 1973)

In the UK, Andre Previn was a household name and celebrity when he was principal conductor of the LSO. He had a very successful television show on primetime Saturday night featuring the orchestra – hard to imagine now! He also featured in the legendary comedy show, "Morecombe and Wise" with the LSO, which is still talked about four decades later, and this was a long time before the London 2012 Olympics and Mr Bean!
As well as popularizing classical music and crossing musical genres he is of course a very serious musician and this recording of Rachmaninoff's Symphony No 2 is still, in my opinion, the one to beat. Recording the LSO at the height of their 70's swashbuckling style, it captures them on their return from a tour in Russia where they played this symphony in its entirety for the first time in is homeland for many years. I listened to this on repeat as a teenager and it still gives me goosebumps
7. Debussy: Prelude a l'apres midi d'un faune, conducted by Valery Gergiev (LSO Live)

This piece is notorious for flute players. Usually placed at the start of the concert it features a long phrase that is a test of iron lungs and nerves and has reduced many to tears. The first time I ever played the piece was actually with my old orchestra, the Bournemouth Symphony Orchestra in Carnegie Hall. Not the best place to play one of the most terrifying pieces on the repertoire but fortunately I was only about 23 years old and was too young to feel the fear. It's different now!
A couple of years ago we did a season of French music with Valery Gergiev, which was a revelation for me. I was used to the Russian repertoire with him, but the French? Maybe it's those famously fluttering fingers which act like the impressionist paintbrushes, but he conducts them brilliantly. This is a live recording from the Barbican Centre from a couple of years ago and it captures the sensual eroticism of the music brilliantly. If you listen carefully enough, you can hear my heart beating.
8. Shostakovich: Symphonies Nos. 5 & 8, conducted by Mtislav Rostropovich (LSO Live)

When a conductor says things like, "Shostakovich told me that this bit is supposed to be the war planes overhead," or "Shostakovich called me over to play through his new symphony," then you know you had better sit up and listen. Whilst I'm sure even he wouldn't have claimed to be the greatest conductor, his musicianship was so great and his link with the music of his compatriot was such that through sheer force of personality the performances were breathtaking. Rostropovich was one of the greatest musicians of all time and I was fortunate enough to work with him both when he was conducting and as a soloist. I can still hear the performances we gave with him of Shostakovich a decade ago in Lincoln Center; they were simply unforgettable. This is a recording from 2004 live from the Barbican Centre in London.
9. Berlioz: Les Troyens, conducted by Sir Colin Davis (LSO Live)

As well as Sibelius, Sir Colin is well known as one of the finest interpreters of Berlioz around. When I first joined the LSO, we recorded all of his operas and major works for orchestra, which was a wonderful experience as he brought so much humour to the music. He always had a twinkle in his eye when conducting it. I didn't play in this award-winning recording of The Trojans, which meant I was able to go and watch it at the Proms. Stretched over and afternoon and evening, Sir Colin, already into his 70s, exhibited the energy of a 16 year old,  conducting what has become a classic.
10. Tchaikovsky: Symphony No. 1, conducted by Valery Gergiev (LSO Live)
The last three symphonies of Tchaikovsky are well known and well documented on disc. Valery, always a man on the lookout for something new, recorded the first three symphonies with us last year in London and Zurich. I wasn't familiar with the first at all. Many people had said before that it lacked structure, it wasn't a great piece and, to be honest, there is usually a reason pieces aren't played very often. However, Valery, being a man of the theater, brought out some incredible playing from my colleagues in the orchestra and blew the dust off a piece which is bursting with life and melodies that you'll be singing for hours after its finished. In many ways, the music of the ballet scores that are so loved is put into symphonic form and who better to do that than a man as much at ease conducting on the stage as in the pit.
Photo: London Symphony Orchestra records 'Star Wars: Episode Three' in 2005 (LSO)