Café Concert: The Canellakis-Brown Duo
Friday, November 16, 2012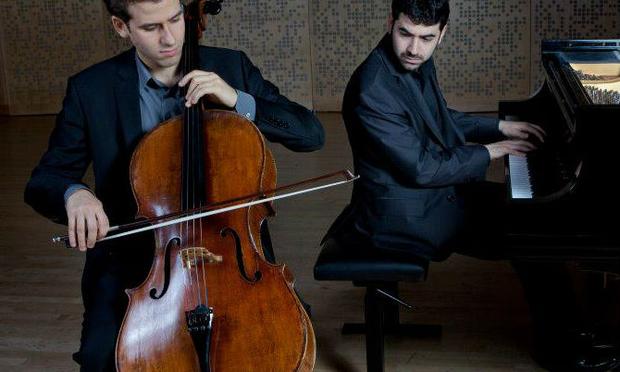 VIDEO: The Canellakis-Brown Duo performs a Bulgarian Folk Tune
The cellist Nicholas Canellakis and the pianist Michael Brown are a duo with a double life. Together, the two musicians perform in chamber venues around New York City, and have a residency at Barbès, a bar in Brooklyn. They hold advanced degrees from top music schools – Canellakis studied at the Curtis Institute of Music and Brown attended the Juilliard School – and devise programs that span eras and styles.
Watch videos of preeminent classical artists recorded live in the WQXR café.

More

Recommended Links
But to really get a sense of the two artists' personalities, watch their online comedy series "Conversations with Nick Canellakis." The interviews are set up under the guise of super-polite classical music discussions but then inevitably degenerate into something more petty and craven, revealing undercurrents of jealousy and career opportunism.
In one episode they condescendingly ask the pianist Jonathan Biss for his resume and wonder aloud why he took the subway to his Carnegie Hall debut. In another we see their bumbling attempts to hit on the young pianist Yuja Wang. Then there's a sit-down with the Emerson Quartet in which Canellakis wishes he'd instead landed the Guarneri Quartet, while purporting to give career advice to outgoing cellist David Finckel.
Directed by Canellakis, the satirical videos have acquired cult status in classical music circles and have been compared to Mike Myers' old "Wayne's World" sketches on "Saturday Night Live," or Sasha Baron Cohen's Ali G character (minus the ambush-style interviewing technique).
Canellakis has cited Larry David, Louis C.K. and Zach Galifianakis as comic inspirations. His previous filmmaking credits include a satire of "The Shining," set in the darkened halls of Curtis Institute (see parts one, two and three).
But there is also serious side to the two musicians' careers. Canellakis performs with the Chamber Music Society of Lincoln Center and was previously a member of Carnegie Hall's Academy; Brown, who was a first prize winner of the 2010 Concert Artists Guild competition and is also a composer, has recordings of Schubert and George Perle's piano music in the works.
In the WQXR Café the duo presented an arrangement of a "Ganka's Dance," a Bulgarian folk tune in 11/8 time that is a staple for Balkan folk bands. "There are a lot of different versions," noted Canellakis. "I fell in love with it and decided to make a virtuoso cello piece out of it."
Video: Amy Pearl; Sound: George Wellington; Production & Text: Brian Wise
More in:
The WQXR e-newsletter. Show highlights, links to music news, on-demand concerts, events from The Greene Space and more.