The Top Five Tastiest Feasts in Opera
Food and opera may satisfy two different appetites, but the two are inextricably linked. Both on stage and off a glass of champagne or indulgent piece of pastry is a common sight. As many of us music lovers prepare for Thanksgiving feasts of our own, we've sniffed out the five tastiest feasts that are served up on the opera stage.
1. Adams's Nixon in China
One of the most significant meals in both opera and American diplomacy comes at the end of Act I of John Adams's Nixon in China. "The world watches and listens, we must seize the hour," sings Nixon as he toasts his host Prime Minister Chou En-Lai before the banquet. The act ends as the government officials sit down to a feast of spongy bamboo shoots, shark fin soup, roast pork and Chinese sausage.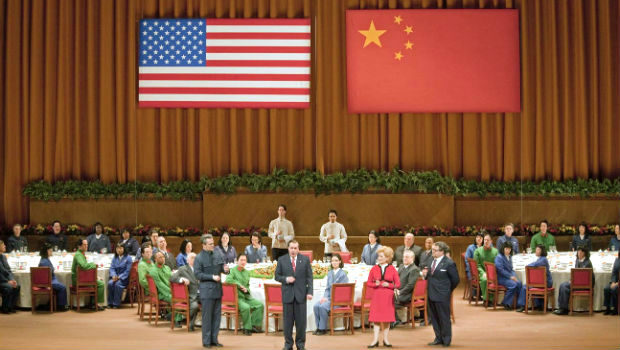 The Banquet Scene from Act I, Scene 3 in 'Nixon in China' (Ken Howard/Metropolitan Opera)
2. Verdi's Un giorno di regno
Looking at Verdi's operas, one might call the composer's appetite for food and wine Falstaffian. Pierpaolo Polzonetti, a professor at Notre Dame and author of the essay "Feasting and Fasting in Verdi's Operas," has even studied how Verdi used eating, drinking and abstaining as plot devices in his works. One of the master's most auspicious meals comes in his lesser-known opera buffa, Un giorno di regno (King for a Day), which has a chorus of waiters and diners attending a "sumptuous banquet" at the outset of the opera. However, the fact the main characters don't indulge in the elaborate spread is portentous, observes Polzonetti.
3. Donizetti's L'elisir d'amore
The townspeople in Donizetti's L'elisir d'amore don't wait for Adina's wedding to party. They turn out for an extravagant prenuptial feast to open the second act, as Adina and Belcore are about to sign the marriage contract. The traveling salesman, Dulcamara, and purveyor of the titular love elixir, speaks for many of us when he comments: "Weddings are all very nice. But what I like best about them is the pleasant sight of the banquet."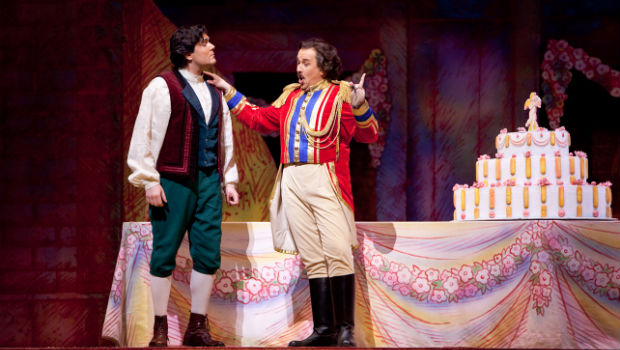 Massimo Giordano & Simone Alaimo in Donizetti's 'L'elisir d'amore' (Marty Sohl/Metropolitan Opera)
4. Puccini's La Bohème
In spite of—or perhaps due to—their meager subsistence, the bohemian characters in La Bohème seem to spend the time they aren't contemplating love on deciding what to eat and drink. In the second act, one of opera's most delightful meals is served at Café Momus. After traversing the Latin Quarter full of venders selling everything from candy to salmon, the young group indulges in a meal of venison, turkey, lobster, custard and plenty of wine.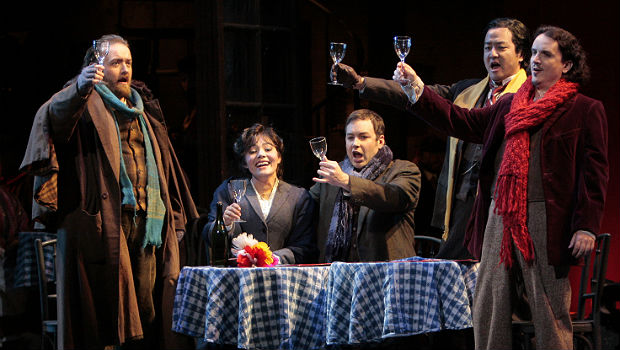 Robert Millard for LA Opera
5. Humperdinck's Hansel and Gretel
A list of operatic feasts would not be complete without the saccharine meal the witch prepares at the end of Engelbert Humperdinck's Hansel and Gretel to plump up her unsuspecting prey. But first the famished siblings gobble up the edible architecture of her gingerbread dwelling: chocolate cream details, Turkish delight roof tiles and sugar windowpanes.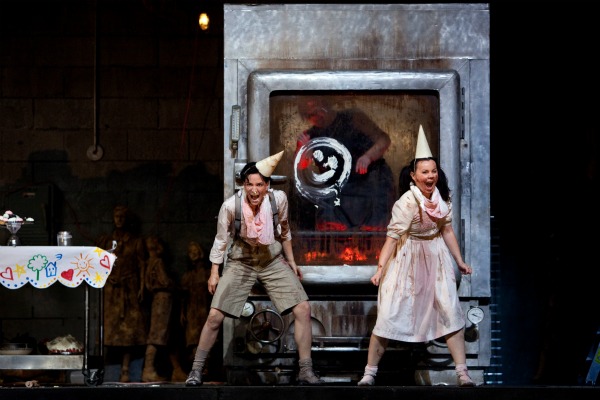 Kate Lindsey as Hansel, Robert Brubaker (in the oven) as The Witch, and Alekandra Kurzak as Gretel in 'Hansel and Gretel' (Marty Sohl/Metropolitan Opera)

What's your favorite depiction of feasting in classical music and opera? Leave your nominations below: