Film to Set La Bohème in Williamsburg (Beards and Tattoos Included)
Mimì and Rodolfo face many adversities in La Bohème – a drafty garret, a creepy landlord, tuberculosis. But all are mere annoyances compared to the L train at rush hour.
Puccini's opera is the subject of "The Bohemians" a film adaptation scheduled for 2013 that updates the story from 1830's Paris to contemporary Williamsburg, Brooklyn. Now in post-production, it was shot over the past year in the streets, shops and nightclubs of the gritty-yet-fashionable neighborhood. Mimì is an artist and part-time bartender who falls in love with Rodolfo, a struggling writer. Fellow bohemians include Schaunard, a DJ, and Marcello, a photographer.
The film's well-connected production crew includes Alvaro Domingo, a filmmaker and son of Plácido Domingo. The director is José Luis R. Cortes, whose credits include a documentary on the Washington National Opera's Domingo-Cafritz Young Artist Program. Several cast members were classmates at the Manhattan School of Music, Juilliard and other conservatories.
Adam Margulies, a tenor and resident of Williamsburg, conceived of the film. "We thought, what's the modern-day Latin Quarter of Paris? It's Williamsburg," he said in an interview at WQXR. "And really, if you're going down the street in Williamsburg, you can find the characters in this story. You can find people making jewelry, you can find DJs and you can find philosophers. And people that don't care about what society necessarily thinks about them, but care very much about what is right."
Along with a production credit, Margulies plays Marcello, who is Rodolfo's roommate.
The producers are pitching the film at a younger, non-traditional audience in an effort to make opera more approachable. To make the narrative cohere for the screen, some liberties were taken with the libretto and score. A few choruses were cut and arias were arranged to bring out strains of jazz or folk music. Everyday sounds intrude; so does English-language dialogue (staunch purists may thunder their objections).
"We use approximately 90 percent of the original score," said Margulies, noting that the spoken dialogue provides connective plot tissue. "I'm really excited to see what happens when somebody sees 'The Bohemians' and they think it's an opera and all the sudden somebody starts to speak in English," he said. "And then they start to sing in Italian. What's going to be the reaction?"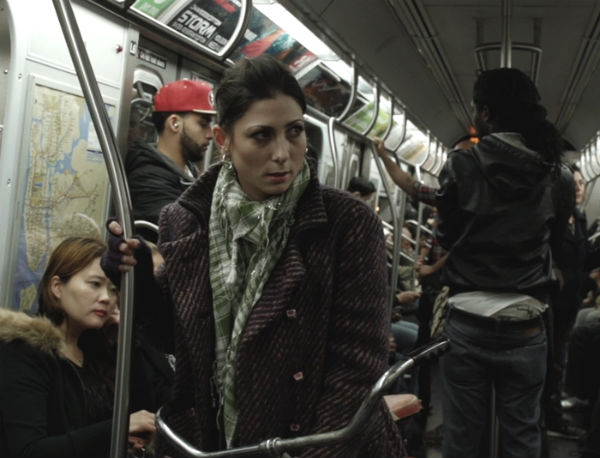 Suzanne Kantorski-Merrill, a Vermont-based soprano who plays Mimì (right), believes the film will emphasize details that even HD opera broadcasts can miss. "When you're getting the Met in HD broadcast you're getting maybe a pan of the stage from a wide view and the interviews," she said. "Now we're getting those performers from very close angles in ways that really connect with the audience cinematically."
An early rough cut of "Musetta's Waltz" ("Quando me'n vo'"), from Act II offers a sense of the film's visual and musical style. Filmed in the Williamsburg bar/gallery Cameo, it stars the soprano Claire Coolen, who sings in full operatic voice, and accompanied not by strings but by a jazzy accordion and upright piano. The camera swoops around her in the manner of an artful rock video.
Creating a Bohemian Backdrop
Puccini's portrait of bohemian story has been modernized and transformed before. The musical "Rent," made a transition from Broadway to Hollywood, and Baz Luhrmann staged La Bohème on Broadway in 2003, featuring a young cast and pumped-up amplification.
While "Rent" portrayed the East Village at a time when it was still a ragtag Bohemian outpost, Williamsburg has taken some knocks for its rapid gentrification; posh hotels and multi-million dollar lofts are now area fixtures. Still, Margulies believes the neighborhood retains a creative spirit that aided in location scouting. "We walked around for hours knocking on doors with no shame saying, 'hey, we're making an opera movie. And they said, 'what?'"
Kantorski-Merrill added: "That's the nice thing about the Williamsburg community, you can knock on a door and very likely the door will open for you." (A few scenes were also shot in a wooded area near Pleasantville, NY.)
The filmmakers say they plan to finish post-production on "The Bohemians" in February, and from there will take it to potential film festivals and distributors in the spring or summer. A recent fundraising campaign on Kickstarter fell short of a $65,000 goal, and funds are still needed to pay for music orchestration and marketing. But Margulies insists there's enough cash to finish the production.
There remains the question of reception: At a time when updated versions of the classics sharply divide operagoers, is there a concern about a backlash? Kantorski-Merrill takes a long view. "There are ways that we can keep interest [in opera] alive," she said. "I don't think there's anything wrong with experimenting. It doesn't mean it's always going to work but it does mean if you don't take risks sometimes and if you don't experiment a little, quite a bit is lost."
Watch the trailer below and tell us what you think: