For Alagna and Gheorghiu - Opera's 'Posh and Becks' - End of an Era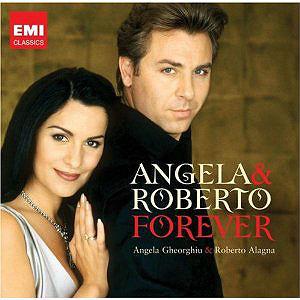 Soprano Angela Gheorghiu's announcement last week that she and her husband, tenor Roberto Alagna, are getting a divorce surprised few in the opera world. The famously volatile marriage has had as many public ups and downs as the operas in which the singers starred.
Still, the news had an end-of-an-era feel to it, particularly as it came after reports that the couple had put aside past difficulties.
Indeed, in a December 2011 interview with WQXR's Naomi Lewin, Gheorghiu spoke enthusiastically about plans to celebrate the couple's 20th anniversary in a special production at the Royal Opera House Covent Garden last June.
Gheorghiu, 45, went on to recount the famous story of how they met while performing in La Bohème at Covent Garden in 1992 and then married two years later, at the Metropolitan Opera House. Then-mayor Rudolph Giuliani presided over the ceremony, which took place during intermission in Bohème. "It was like everybody participated in a way in our lives," she told Lewin. "It is a lovely story."
The happy sentiments are no more. Over the weekend, the two singers took their battles to their respective social media. Photos of the 49-year-old tenor and a new girlfriend showed up on Alagna's Facebook page Saturday (the new girlfriend is Polish soprano Aleksandra Kurzak, 35). Hours later, Gheorghiu's Facebook page showed photos of her with David Bisbal, a 33-year-old Spanish pop singer and former reality TV star.
The Gheorghiu-Alagna partnership has spawned numerous recordings and opera dates over the years, as well as nicknames, including "Posh and Becks" and, more acerbically, "Bonnie and Clyde."