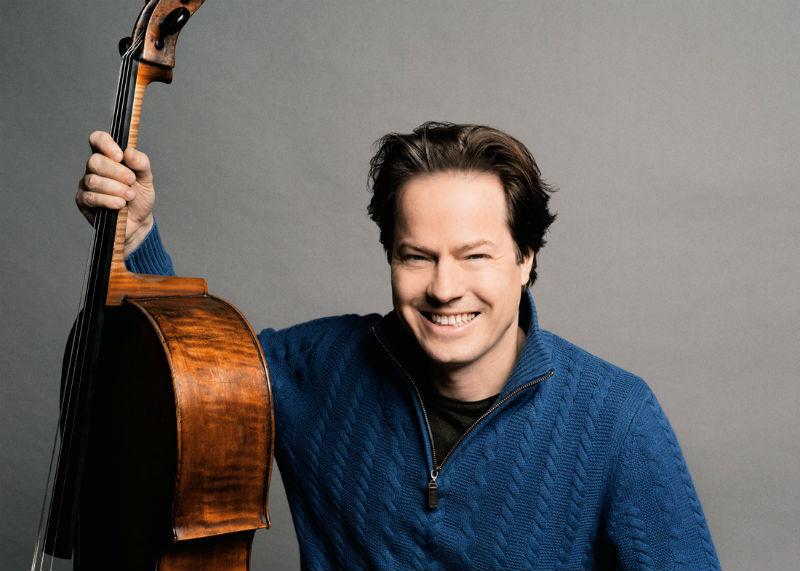 VIDEO: Jan Vogler Plays from Bach's Suite No. 3
Jan Vogler is often identified as a German cellist but in many ways, he's a quintessential New Yorker: he lives on the Upper West Side with his wife and two daughters, enjoys jogging in Central Park and biking along the West Side Highway, and speaks impeccable English in an enthusiastic, rapid patter. He married his wife, the violinist Mira Wang, downtown at City Hall.
Vogler, 48, has also infiltrated the city's classical music institutions since moving here in 1997. Last year, he released his third album with Brooklyn chamber orchestra The Knights, featuring Beethoven's Triple Concerto. He is a frequent soloist with the New York Philharmonic, having made his breakthrough recording of the Dvorak Cello Concerto with the ensemble in 2005. He is to appear with the orchestra again in Bloch's Schelomo on Feb. 21-22.
But Vogler is also of a generation of musicians trained in the isolation of the former East Germany, a place that "felt very small," as he explained. Born in Dresden, Vogler was the son of a respected cello teacher whose students included Western diplomats who would cross into East Germany for lessons. Some would smuggle in CDs, tapes and books by Western artists.
"My father had the best library you can imagine in East Germany – all the American authors, all the French authors," Vogler recalled. "We felt the world was very great and very big. But we were captured in a rather small space. I was always dreaming of speaking many languages and traveling the world."
He continued: "We had to be careful. We grew up in two worlds. At home we were in a very liberal and open household. [But] we were trained very early, when you leave the house you're in a different world."
After fall of the Berlin Wall in 1989, Vogler spent several summers at the Marlboro Music School and Festival in Vermont, that ultra-American training institution where he met Wang. They began performing together, and recorded a 1999 album of cello and piano duos (the cover photo shows them posing on the Brooklyn Bridge).
Around the same period of the late '90s, Vogler recorded two of Bach's cello suites, on a CD with three suites by Max Reger. But only recently did he begin performing all of Bach's landmark suites in public. "It took me a long time to decide to play in concert all six," he said. "I did this last summer and I discovered first how thrilling it is for the performer. But also it seemed not boring for the audience."
Part of the impetus for tackling the complete Bach suites was a new cello: a Stradivarius called the "Ex Castelbarco/Fau," which Vogler acquired last spring on a long-term loan. A recording of the suites is due out in March. In the meantime, he performed three movements from the Suite No. 3 in C Major in the WQXR Café.
What does the Stradivarius bring to the equation? "The clarity, the articulation and just the maturity of the Strad," he said. "I don't know what it exactly it is. It was just working."
Video: Amy Pearl; Sound: Edward Haber; Text & Production: Brian Wise