Edinburgh Festivals: The Year of Creative Scotland
Airs at 8 pm on March 3, 10 and 17 on WQXR
Sunday, March 03, 2013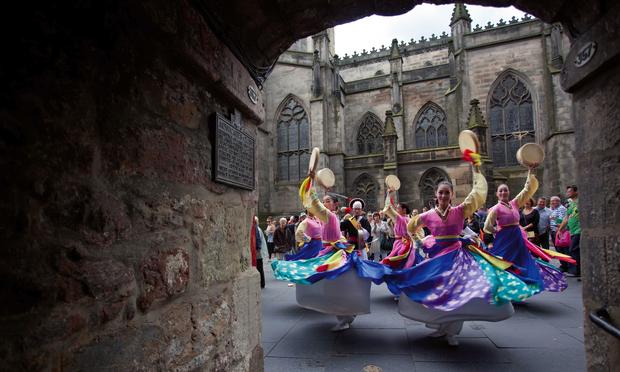 Scotland's Edinburgh Festivals are a combination of festivals encompassing classical music, theater, literature, popular and folk music, science, visual art and a city-wide sharing of culture. This series offers a first-hand experience of being in one of the world's most creative and cosmopolitan cities during a period when more than 4,000 performances take place in hundreds of venues ranging from exquisite concert halls to site-specific fringe spaces.
Among the classical music highlights from 2012, "The Year of Creative Scotland," are: pianists Leif Ove Andsnes and Daniil Trifonov; chamber music by Trio Zimmerman, Les Vents Français and the Calder Quartet; violinist Leonidas Kavakos with pianist Nicola Lugansky; bass-baritone Luca Pisaroni with pianist Justus Zeyen; the European Youth Orchestra conducted by Gianadrea Noseda; and the Iraqi Youth Orchestra, led by Paul MacAlindin.
In addition, the series, produced by the WFMT Radio Network, features conversations with Scotland's National Poet Liz Lockhead; Edinburgh Book Festival Director Nick Barley; Dr. Donald Smith, Director of the Scottish Storytelling Centre; and Edinburgh Tattoo Director Brigadier Alfrey. We'll also hear from Edinburgh International Festival Director Jonathan Mills; Scottish Cabinet Secretary Fiona Hyslop; VisitScotland Chief Executive Malcolm Roughead; and Edinburgh Chorus Director Christopher Bell.
March 17 program details:
Stravinsky: Three Dances from The Firebird
— Daniil Trifonov, piano.
Brahms: Violin Sonata No. 1 in G
— Leonidas Kavakos, violin; Nicolai Luganzky, piano.
Debussy: Reflet dans l'eau from Images
— Daniil Trifonov, piano.
Thomas Adés: String Quartet No. 1, Arcadiana
— Calder Quartet.
Liszt: Three Songs: Vergiftet sind meine Lieder; O lieb, so lang du lieben kannst; Die Vätergruft
— Luca Pisaroni, bass-baritone; Justus Zeyen, piano.
Malcolm Arnold: Tam O'Shanter, based on the poem by Robert Burns
— Scottish national Orchestra, Charles Mackerras, conductor.
March 10 program details:
Ibert: Trois pieces bréves
— Les Vents Français.
Ezzet: Desert Camel
— Iraqi Youth Orchestra; Paul MacAlindin, conductor.
Scriabin: Piano Sonata No. 3
— Daniil Trifonov, piano)
Schubert: String Trio in B-Flat Major
— Trio Zimmermann.
Taffanel: Quintet in G
— Les Vents Français.
Zemlinsky: Humoreske
— Les Vents Français.
Janacek: Violin Sonata
— Leonidas Kavakos, violin; Nicolai Luganzky, piano.
March 3 program details:
Nikolai Medtner: Three Fairy Tales
— Daniil Trifonov, piano.
Mendelssohn: String Quartet in f minor, Op. 80
— Calder Quartet.
Stravinsky: Duo Concertant
— Leonidas Kavakos, violin; Nicolai Luganzky, piano.
Debussy: Trios Nocturnes
— European Union Youth Orchestra; Edinburgh Festival Chorus; Gianandrea Noseda, conductor.
Ravel: String Quartet in F, second movement
— Calder Quartet.
More in: