Van Cliburn: An Appreciation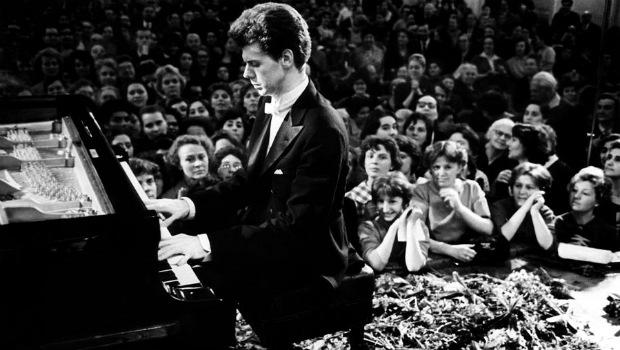 Pianists, Americans and the world lost one of the most iconic musicians of the second half of the 20th century on February 27. A mild-mannered Texan, a hero of the Cold War and the concert stage, Van Cliburn's touch reached millions all over the world. Join pianist, teacher and author David Dubal for an hour-long special, Van Cliburn: An Appreciation. 
In so many ways, Van Cliburn was the man of the hour. As a youngster he was the most luminous talent at the Julliard School. As a pupil of the legendary teacher Rosina Lhevinne, he was in a class of his own. He dazzled his own classmates. At piano competitions, he too was the man of the hour. Everything he touched, it seemed, turned to gold. 
Dubal offers his personal memories and appreciation of the late Van Cliburn in this survey of the legendary pianist's recordings.
Playlist:
Tchaikovsky: Piano Concerto No. 1 in B-flat Minor, Op. 23
Rachmaninov: Rhapsody on a theme of Paganini, Op. 43, Variation 18
Beethoven: Bagatelle for Piano in A minor, WoO 59 "Für Elise"
Scriabin: Etude for Piano, Op. 8: no 12 in D sharp minor
Tchaikovsky: Song of the Lark
Ravel: Le tombeau de Couperin: no 6, Toccata
Brahms: Waltz for Piano 4 hands, Op. 39: no 15 in A flat major
Tchaikovsky: Concerto for Piano no 1 in B flat minor, Op. 23 (Allegro con fuoco)
Rachmaninoff: Prelude for Piano, Op. 32: no 5 in G major
Rachmaninoff:   Prelude for Piano, Op. 23: no 7 in C minor
Schumann: Kinderszenen, Op. 15: no 7, Träumerei
Chopin: Etude for Piano, Op. 10: no 12 in C minor, B 67 "Revolutionary"
Rachmaninoff: Prelude for Piano, Op. 32: no 12 in G sharp minor
Rachmaninoff:  Concerto for Piano no 3 in D minor, Op. 30 (Finale Alle breve)