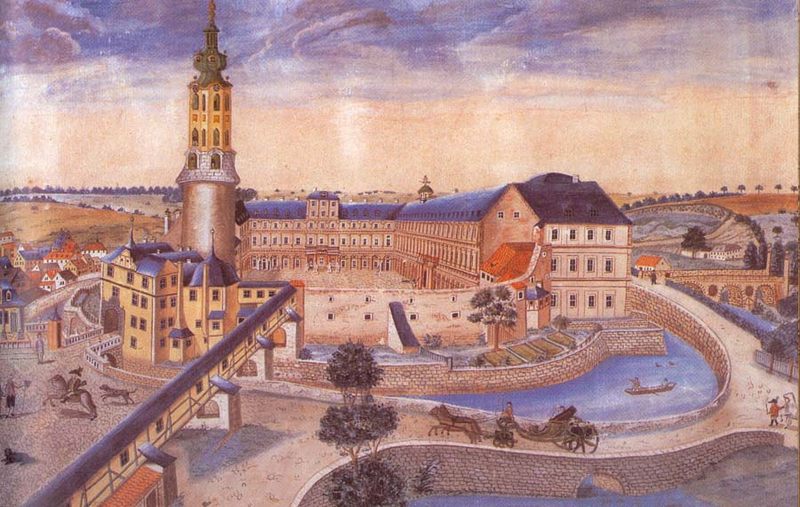 Free Download: Bach's Chromatic Fantasia and Fugue

Johann Sebastian Bach has suffered from the somewhat humorless and dour image presented by some of his portraits. Unlike Mozart or Beethoven, he's never been the subject of a blockbuster movie biography. And he wrote a lot of religious music, usually for a church or court, earning a comfortable but never lavish salary.
But Bach also led a colorful life, full of professional intrigue, unjust treatment and domestic misfortune. He was married twice, sired 20 children and played keyboards with deftness that won him many public admirers and the derision of religious authorities.
Even Bach connoisseurs may be surprised by some of the lively details in the composer's biography, from his early years as a quasi-orphan to his final decline in health (possibly due to diabetes, though there is plenty of debate about this). Here are a few that caught our attention:
Twinkle Toes: As a virtuoso organist, Bach was especially admired for his footwork. After seeing a recital, a colleague marveled how Bach could, "by the use of his feet alone – while his fingers do either nothing or something else – achieve such an admirable, agitated and rapid concord of sounds on the church organ that others would seem unable to imitate, even with their fingers."
The Organ Whisperer: "As a boy, Bach certainly involved himself with organ builders and probably was constructing organs quite literally," said Paul Jacobs, the chair of Juilliard's organ department. "He was always inside them, evaluating these great machines and making them into artistic objects." Bach was frequently hired as an organ consultant, evaluating the instruments and making sure their air supply was working properly. Some church leaders may have felt a bit nervous when inspector Bach showed up.
Bach behind bars: We think of Bach as a pillar of rectitude, but he sometimes came into conflict with the church authorities for adding too many embellishments to the music. He frequently argued with them and was accused of being absent from his duties – off drinking at a local pub.
Bach's headstrong nature may have gotten the best of him when he asked the Weimer authorities to be released from his duties in order to assume the Kapellmeister job in Coethen. "He may have used some strong language that offended the ducal or ducal administrator," said Bach biographer Christoph Wolff. The former employer refused to grant his release and there was a struggle between the noblemen over Bach; for this the prodigy was thrown in jail for about six weeks.
The 4,000-Mark Bribe: In 1722, Bach applied for an organist's position St. Jacobi's Church in Hamburg, but he is not accepted since he refuses to pay his prospective employers a bribe. After Bach withdrew his name from consideration in Hamburg and Johann Joachim Heitmann was given the job, Heitmann promptly paid 4,000 marks in gratitude.
A Path to Blindness: Bach had two unsuccessful eye surgeries – almost unheard of in the mid-18th century – to restore the vision he lost from years of toiling on his craft by candlelight. In 1750, he visited the Chevalier John Taylor, a flamboyant, traveling English eye surgeon who was known to operate before crowds in the town square – and then skipping town when the patients took their bandages off. After the two surgeries, Bach developed a painful infection and was completely blind when he dictated his final work. He died a few months later, some believe due to the infection.
---
Free Download: Lise de la Salle plays Bach's Chromatic Fantasia and Fugue (Naïve)*
The young French pianist Lise de la Salle recorded an album of Bach and Liszt in 2005, highlights of which are included in the new release, Lise de la Salle: A Portrait. 
Available at Arkivmusic.com
---
Listening Highlights for Friday, March 22 (all times are approximate)
6 am "Schlafe, mein Liebster" (Sleep, my dearest) alto aria from the Christmas Oratorio, BWV 248
7 am  Cantata: Herzlich Tut Mich Verlangen BWV 727
8 am  Concerto for Oboe and Violin in C Minor, BWV 1060
9 am  French Suite No. 6 in E (will be a well-known interpreter)
10 am  Toccata and Fugue in D Minor, BWV 565
12 pm  Cantata BWV 208, "Was mir behagt" ("Hunt" Cantata)
2 pm  Cello Suite No. 6 in D Major, BWV 1012
3 pm  Violin Concerto No. 1 in A Minor, BWV 1041
5 pm  Brandenburg Concerto No. 2 in F Major, BWV 1047
6 pm  Keyboard Concerto No. 2 in E Major, BWV 1053
7 pm  Cantata BWV 60, "O Ewigkeit, du Donnerwort"
8 pm Mass in B Minor, BWV 232
→ View the full day's playlist

*Not into Facebook? This download will be included in this week's WQXR E-Newsletter.