The Lions of Tel Aviv Come to New York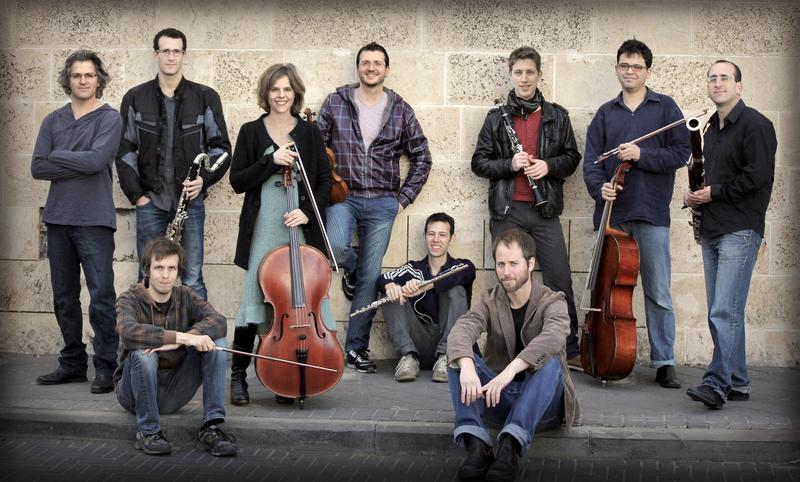 On April 18, the enterprising, Israel-based Meiter Ensemble made its U.S. performance debut, presenting works by an international array of young composers, including Bryan Jacobs, Ofer Pelz, Enda Bates, Marcin Stancyzk and Christopher Bailey, at the opening night of the 2013 MATA Festival at Roulette. 
In anticipation of their upcoming show, artistic director Amit Dolberg took time to answer some questions about the ensemble's international touring, its extensive works to foster emerging Israeli talent, and what to expect from its U.S. debut.
Aside from strings and winds, Meitar Ensemble's unique roster also includes three singers and a viola da gamba player. How did this formation come about, and how does it influence the kind of repertoire the ensemble performs?
We always look for new material and new ways of expressing ourselves... new sounds. It's important for us to give the composers that work with Meitar as many options as possible. We believe that baroque instruments can give great contemporary performances. A good example is a work Walter Zimmermann wrote for us that features four baroque instruments and singers. It was premiered in Tel Aviv with the Bach soloists ensemble, and we will perform it again and record it this September in Stuttgart with the Neue Vocalisten.
You co-produced a documentary following the group as they traveled to Berlin to perform works of Israeli composers in the notorious Wannsee conference room; the exact space in which high ranking officials from the Third Reich introduced their "final solution to the Jewish question" in 1942. What was the genesis of this project, and what was it like performing in that room?
A few years ago, I visited the museum with my wife, Osnat, and couldn't believe that, at the time, the museum was a summer resort for students. In that moment, I felt that we needed to play our music there. It wasn't until later that I realized how difficult it would be to turn this impulse into an actual event. Emre Sonmez, a director and producer from L.A, heard about my idea and wanted to make a documentary of this performance. We were all very moved by his devotion and vision.
It was a special and emotional day when the concert finally came about. We played so much music that in the editing, Emre had to make significant cuts. We just felt that we needed to play more and more. The movie was screened in many festivals around the world and all of us are very happy about the final product.
Meitar Ensemble recently named Phillip Leroux as a resident composer, starting in 2012. What led the group to choose Leroux, and what kind of interaction does he have with the ensemble in his position?
My friend, the composer Ofer Pelz, introduced me to Leroux's music. I immediately felt he would be a fit for us and for our audience. Leroux's role as a professor at McGill University and at IRCAM in Paris also appealed to us. As part of his position with Meitar, every year Leroux will teach a course for composers in Tel Aviv. We will also premiere a new work that he is writing for the ensemble, in addition to recording a CD of his music.
Meitar's appearance on April 19th at this year's MATA Festival is billed as a workshop of pieces by American and Israeli composers. Why is the label of "workshop" important, and how will it affect the audience's experience?
We work a lot with young composers and young instrumentalist as part of our youth ensemble, the Tedarim ensemble, and in our international workshops. It's important for us to assist composers, conductors and instrumentalists in finding their way to the contemporary music scene. We have many consultations with students and we conduct many workshops like the one we will do for MATA. For the audience it is a special, behind-the-scenes opportunity to be part of the intimate meeting between the composers and performers as we explore these new pieces.
Meitar Ensemble has an impressive output, both in the traditional sense - the recording and publication of new works through partnerships with the Israeli Composers League and the Israeli Music Institute - and in surprising spin-offs like the formation of an autonomous string quartet founded by Meitar members. What kinds of growth do you see for Meitar Ensemble as the group moves forward?
Our youth ensemble, The Tedarim Ensemble, is an important part of our work. We coach them in chamber music groups, conducting sessions, masterclasses, as well as provide opportunities for them to perform with us in Israel and abroad. This year we also offered two international masterclasses with Fabian Panisello and Phillipe Leroux; Leroux and Ivan Fedele will offer masterclasses next year. A year ago we opened the center for contemporary and electronic music in collaboration with the Israeli Conservatory, Tel Aviv, providing courses for musicians and to the public on improvisation and electronic music.
I can definitively say that there is a revolution in Israel in the contemporary music scene. More and more young musicians are getting involved. We have great guests who perform with us in Tel Aviv, then take their new-found knowledge of Israeli composers and perform this music in their home countries.
Next season will be our tenth year. In the time since we began, the ensemble members have become more and more involved such that it no longer feels like a one man show. Roy Amotz is in charge of our tours, Moshe Aharonov is the head of the education program and is the artistic coordinator, Gilad Harel is the head of the center for contemporary and electronic music, Guy Feder is our conductor-in-residence working with young conductors, Ayal Adler is our advisor, Phillipe Leroux is the composer in residence, and everybody has a say in picking repertoire. It really is a group effort, and for us it feels like a family.