Ireland's Explosive Crash Ensemble Returns to Carnegie Hall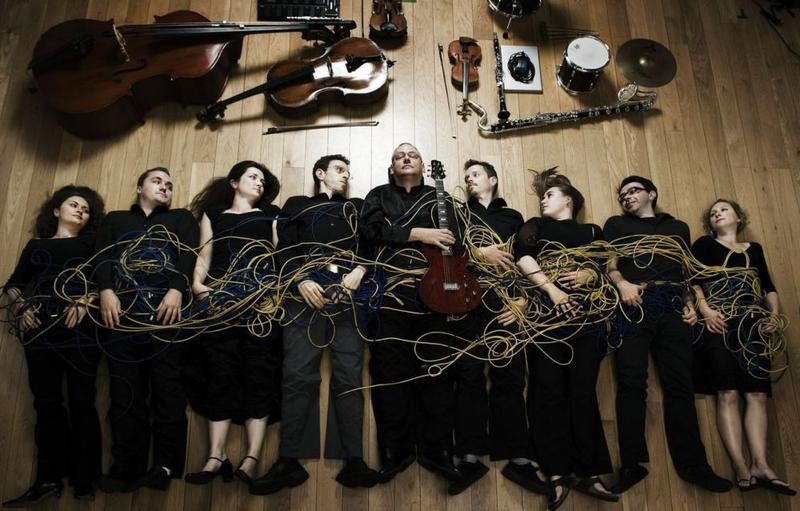 On May 17, Ireland-based Crash Ensemble returns to New York City to perform a concert with guest Dawn Upshaw at Carnegie Hall. Composer and artistic director Donnacha Dennehy took time out to answer questions about Crash's sustained contribution to the new-music scene in Ireland, and what to expect from their New York performance and beyond.
The name "Crash Ensemble" has a kinetic energy to it. Tell me about the origins of the choosing your ensemble's name.
We wanted a name that turned a negative into a positive. A lot of people used to refer to new music dismissively as crash, bang, wallop music, so we decided we'd come right out front with it in the name. It kind of suggests a collision of energies too.
Many of Crash's performances have a visual element, be it video or lighting design. Was this an integral part of the group's beginnings, or has it evolved over time with the kind of repertoire the group pursues?
It was very important at the start, and these days we have become more relaxed about it. It depends on the venue or the concept of the concert. In the early days nearly every Crash gig was a multimedia event. Now, we are not afraid to let the music do the talking too.
Speak about the programming of Crash's Carnegie Hall performance on May 17, which includes the New York premiere of your That the Night Come. What led to this line-up of works, and what should audiences expect from this show?
The upcoming concert at Carnegie Hall is built around my Nonesuch release of 2011, "Grá Agus Bás," which contained both the piece of that title, and the song cycle That the Night Come (on the poems of William Butler Yeats). Grá agus Bás is a kind of epic for a sean nós singer (which is someone who sings a traditional ornamental style of Irish music not so well known here in the States) and amplified ensemble. It is unremitting and fierce, and not at all what you might expect for a piece that incorporates a traditional singer. Iarla O'Lionáird has been very brave to be connected to this project.
That the Night Come is as lyrical as Grá is fierce. I wrote it for Dawn Upshaw. Bob Hurwitz of Nonesuch alerted Dawn to my music, and it has been wonderful to write this and other pieces for her. It is an ongoing relationship. That The Night Come was in fact recorded immediately after its premiere so these are the first new performances since then, and the first in America. Dawn will also be performing three beautiful Osvaldo Golijov songs with the group – Golijov is composer-in-residence with Carnegie this season.
Crash will curate the 40th Kilkenny Arts Festival – an annual festival of music, literature and visual arts in Ireland. As part of this curation, this is the first year the festival will accept electroacoustic music submissions. Talk about what it means to be able to acknowledge this genre of composition as part of a major arts festival.
We are always very encouraging of electronica, and present it often as part of ordinary concerts or in the context of installations connected to these concerts. There is so much sonic invention in this field; a mainstream arts festival like Kilkenny needs to acknowledge it and spotlight it.
Crash celebrated its 10th anniversary in 2007 with a marathon weekend of concerts, a sold-out national tour and its New York City debut. Seeing as the 20th anniversary is just four years away, are plans already brewing for your next milestone?
Yes, we better start thinking about that! We have big projects such as conceived operas/music theater works planned over the next few years. So, maybe a marathon event made up of a bunch of those! As long as we don't provoke exhaustion for the audience. Or maybe that should be the goal.