Deerhoof's Bite-Sized, Mullet-Grabbing Mixtape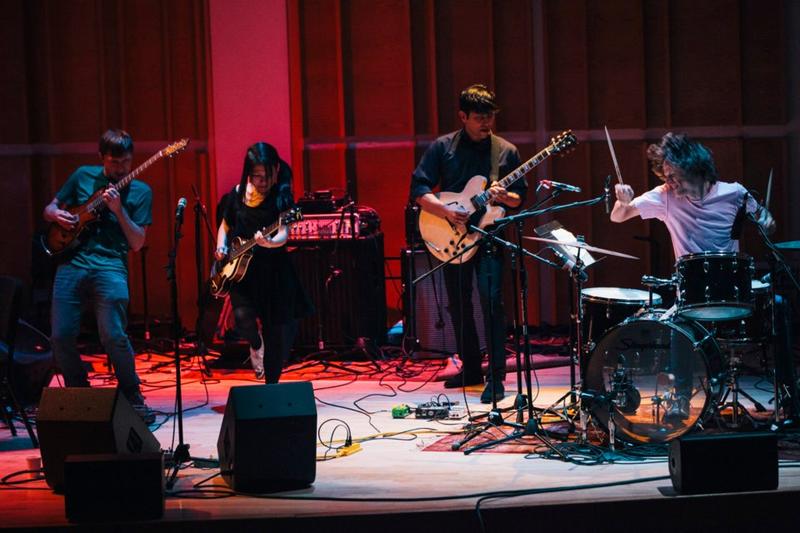 Over the course of twelve albums and a nearly two decade-career, Deerhoof has proven itself one of independent rock's most consistently inventive and eclectic ensembles, taking cues from noise, punk, jazz and modern classical composition among numerous other varied influences.
For their Mixtape, members Greg Saunier (drums), Satomi Matsuzaki (vocals/bass), John Dieterich (guitar) and Ed Rodriguez (guitar) each contributed 15 minutes of their favorite modern music.
Greg's Playlist
At last, the sum total of modern music, boiled down to a bite-size playlist.
A century of hand cramp-inducing struggle over reams of manuscript paper, 
concentrated into 15 minutes of fame in the WQXR klieg lights. 
Once concision is the goal it becomes clear that this last one was definitely one of the funniest centuries. 
So let me waste no more time in wordy introduction, 
as there are traditions in need of bucking
and rules in need of breaking. 
There are dissonances in need of emancipation
and rhythms in need of disruption; 
Forms in need of explosion
and techniques in need of extension; 
Feathers in need of ruffling
and gods in need of blaspheming; 
Perspectives in need of skewing
and curves in need of cubing; 
World views in need of critique
and universes in need of imagining; 
Aesthetic wars in need of fighting
and bold tunes in need of being let rip...
Igor Stravinsky - Ebony Concerto: I. Allegro Moderato (Igor Stravinsky with Woody Herman and His Orchestra)
Pierre Boulez - Messagesquisse: "aussi rapide que possible" (Ensemble InterContemporain; Jean-Guihen Queyras, cello) 
Newman Guttman - Pitch Variations
Arnold Schoenberg - Pierrot Lunaire, Op. 21: "Raub (Rote, Fürstliche Rubine)" (Irmen Burmester, Klaus Billing, Hans Peter Schmitz, Alfred Bürkner, Hans Bastiaan, Werner Haupt & Josef Rufer) 
John Williams - The Droids are Captured (from "Star Wars, Episode VI: Return of the Jedi")
Alexander Scriabin - Pieces, Op. 56: "Desir" (Michael Ponti, piano)
John Cage - Sixteen Dances: I. (Paul Zukofsky, New Music Concerts, Toronto & Michael Torre) 
Douglas Grindstaff, Jack Finlay and Joseph Sorokin - Enterprise Doors Open into Transporter Room (from the album "Star Trek Sound Effects")
Sofia Gubaidulina - Mechanical Accordion (Ensemble Indigo) 
Mauricio Kagel - ...den 24. XII. 1931 Garbled News: I. (Grave) (Ensemble Modern)
Billy Strayhorn - Tonk (Duke Ellington, piano) 
Anton Webern - Quartet, Op. 22: "Sehr Schwungvoll" (Marty Krystall, Amy Hershberger, Christine Frank, Ida Kavafian, Matthew Cooker, Peter Serkin, Richard Stoltzman & Shawn Mann)
John's Playlist
I grew up disliking classical music in the same way I disliked jazz and for many of the same reasons. It felt monolithic, impenetrable, smarmy and dead. This was all largely due to my own ignorance, but there was something else. My brain often requires an abstracted version of something, someone laying out the materials methodically, in order to see its heart and have proof it's alive.
In the case of Jazz, it was Miles Davis's "Kind of Blue," as I think it was for a lot of people. Here was an album that had gotten rid of so many of the aspects of jazz that others had said defined it, and it left you with some little jewel for everyone to see, every solo absolutely clear and unadorned. The language necessitated the players to simplify and condense. And it gave me the tools to see beauty elsewhere in jazz. 
I didn't start listening to classical music until I was in my early 20s, in college. My friends were getting into Xenakis and Ligeti and Stockhausen. We would sit at our friend Chad's house, and he would excitedly blast the most severe music I'd ever heard and pace the room, staring at you, smiling. Those were some bizarre house parties. I could relate to Xenakis in particular in that you sensed something very basic inside him that he needed to express—a desperation to make sound take up residence in the room, shake you, wake you up.
Around this time, I was reading a lot about Cage, and it was through him that I discovered Satie's piano music, and he was the one that did for me for classical music what Miles did for me for jazz. He gave me the ability to really feel the person making the music, across time. I could sense his prickly sense of humor, his isolation, and I loved the way he used repetition. My favorite piece was and is Les Fils des Etoiles. 
Soon after, I discovered Feldman's Patterns in a Chromatic Field, which became my close companion for several years. It almost feels like a dissection of gesture. So, this combination makes you feel this way? Are you sure? How about now? And now?  Around the same time I heard Feldman for the first time, I was in Europe on tour with Gorge Trio, another band Ed and I (and the aforementioned Chad) have together. I was alone on a train. I can't remember where I was going, but Chad had loaded me up with tons of CDs to listen to. I put in a CD by Toru Takemitsu called "In An Autumn Garden," and I was instantly transported. I can't explain it. I listened to it 4 times in a row. It has become one of my touchstones. It feels as if he's explaining a language to you at the same time that he's speaking it. The instruments are all from traditional Japanese Gagaku ensemble. I heard Janacek for the first time maybe 3 years ago, and I fell in love with this In the Mist cycle of pieces.
Erik Satie - Le Fils des Etoiles: Prelude to Act 1, "La vocation - Theme decoratif: La Nuit de Kaldee" (Roland Pontinen, piano)
Toru Takemitsu - Melisma
Leos Janacek - In the Mist: 2. Molto Adagio (Andras Schiff, piano)
Satomi's Playlist
I had never heard of Gerald Barry until recently.  "______" makes me wanna spy on a suspicious person on a street at dark night. Suspense gradually builds up.
The climax is that the person realizes I am following and we have a confrontation! 
Gerald Barry "______" (performed by Dairine Ni Mheadhra, Noriko Kawai & Nua Nos)
Ed's Playlist
As a teen I thought the make-up of every band HAD to be guitar/bass/drums. More than once I started a band with someone who also played guitar and we had to have that uncomfortable discussion... which one of us is going to switch to bass? Glenn Branca was one of the people who taught me that there were no rules and even though I was playing unconventional music, my thinking was still incredibly limited. You could have 2, 10, 100 guitars, ANYTHING! Of course, you idiot!
It's so obvious now. It meant even more to me that he embraced the power that made me pick up a guitar in the first place and he made it everything. Penderecki was among the first who taught me that I could feel that same power from something other than an electric guitar. He grabbed me by my mullet and showed me there was this other amazing world out there.
Glenn Branca - Symphony No. 6: Third Movement
Krzystof Penderecki - Threnody For The Victims Of Hiroshima (Matrix 5 London Symphony Orchestra; conducted by Krzystof Penderecki)